LAVA, The Feminist Acrobatic Dance Troupe, presents the World Premiere of A GODDESSY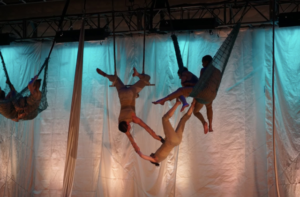 LAVA, the noted Brooklyn-based feminist acrobatic dance troupe, announces the world premiere of its much-anticipated epic new work, A Goddessey -- a feminist survival story, told through movement and athletic feats, slated to take the stage from November 30 to December 10, 2017 at the newly renovated Flea Theater in TriBeCa.
A Goddessey is a ground-up reworking - literally - of the classic "hero's journey." Our Heroine is no single swashbuckler but rather a plurality of beings, embodied by the diverse women of LAVA. The totems and adventures of this curvaceous feminist journey represent the wisdom of the earth and the spirit of the ancestors, rather than the wrestling of obstacles. We travel with the Wonder Women of LAVA, from a bleak and blurry patriarchal present into a rainbow-colored feminist future. Using their signature hybrid of acrobatic feats, contemporary dance, humor, and playful athleticism, they personify Amazonian strength, spirit, and resilience as they dive through hoops, hang from trapezes, ropes, and nets, build teetering human pyramids, wrestle, spar, and fly through the air onto each other to deliver a message of hope and vision for all.
The performance begins with a walk through the City - aggressions and obstacles at every turn, including Oppression Dance Class where competition, conformity, objectification and body shame are the lessons of the day. On the way home from class, the Traveler falls down an open "man hole" cover in an homage to traditional folk tales influenced by Dorothy's trip to Oz, Alice's fall down the rabbit hole, A Journey to the Center of the Earth, and Odysseus' travels to faraway lands.
More about The Journey
The Traveler goes to six landscapes, each of which offers her a valuable lesson to carry home. After her fall down the open manhole cover, her first exploration is the limestone Cave. In a tribute to the importance of internal, secret, mysterious spaces, the Traveler folds into very intimate dances with her eyes closed, embarking on the journey by listening to her gut, finding her people, and embracing the importance and intimacy of underground hidden movements. Next comes the enchanted Forest, where she is initiated into a secret culture of physical strength, group harmony, and focused bravery deep in the woods with talking trees whispering wisdoms. The world of Moon and Water then teaches the Traveler about all of the different kinds of love--attracting, melting, holding, lifting and revolving to portray the passionate relationship between two bodies that are always affecting each other. In the landscape of Rocks and Mountains, a family reunion party celebrates the drama, destruction, passion, and romance that come with earthquakes, volcanoes, landslides and mountain-building, complete with drunken human pyramids, romantic trysts between mountain ranges, and dysfunctional ancestor drama. The next stop on the journey is to Outer/Inner Space, which is a colorful, warped, trippy ride that undoes notions of what is possible, what is practical, what is real, and what is important and ends with the Traveler standing on the tip of another's head, contemplating loneliness, courage, and vision. When we get to the Desert, she is ready to simplify and incubate the lessons along the way with a dance of navigation that has been one of the guiding threads of the entire trip, constellations of stars and voices providing sign posts to follow for clues about where we are headed.
At the end of the journey, our Traveler arrives at a world transformed. Her lessons and connections have delivered us to a vision of transformation- an Atlantean landscape at the bottom of the sea, where new rock is building up and spreading out and forming a new kind of home that is balanced, passionate, ecstatic, rainbow-colored.
LAVA's re-telling of the traditional "hero's journey" subverts the lone hero's quest of fights, feats, and loss and instead offers the tale of a string of connected women seeking pre-patriarchal knowledge, unearthing a shared legacy of lost lessons, and enjoying a return home to a vision of future feminist balance and equality.
Performances run November 30 through December 10, 2017
Showtimes Thursday through Saturday at 7pm; Sundays at 5pm with special guests, Magma, LAVA's youth company
At The Flea Theater, 20 Thomas Street, NYC
Tickets $15.00
Conceived and directed by Sarah East Johnson. Original music by DJ Tikka Masala with additional tracks by Lee Free and Toshi Reagon; Costumes by Claudia Brown; Lighting by Alison May; Choreography and performance by LAVA members Molly Chanoff, Lollo Romanski, Sarah Dey Hirshan, Hilary Melcher Chapman, Efe Alibo, and Lex Garnnett. Directorial consultants Anni Davey of Circus Oz and Niegel Smith of the Flea Theater. Text by Starhawk, Kay Turner, bell hooks, Robin Wall Kimmerer, and Sarah East Johnson. Video projections by Sarah East Johnson.
For more information:
LAVABrooklyn facebook
LAVABrooklyn Instagram
LAVABrooklyn YouTube
Media Contact:
Meryl Cooper, The COOPERation, meryl@theCOOPERationinc.com, 917-974-0022
Related Articles
View More Dance

Stories
More Hot Stories For You