Japan Society Presents Akiko Kitamura's CROSS TRANSIT Tonight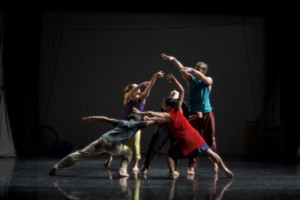 Japan Society proudly presents Cross Transit, a collaborative multimedia dance work by acclaimed Japanese choreographer/dancer Akiko Kitamura, with video, photos and narration by Cambodian visual artist Kim Hak. Cross Transit arrives at Japan Society (333 East 47th Street) for two performances only: Friday, March 22 and Saturday, March 23 at 7:30pm, as part of a North American tour, produced and organized by Japan Society, that includes stops at Towson University (North American Premiere; March 15; Asian Arts & Culture Center / Stephen Halls Theatre) and The Kennedy Center (March 19).

How can Cambodia's past be preserved through the human body? Akiko Kitamura, internationally acclaimed Japanese choreographer/dancer and founder of the Leni-Basso dance company (1994-2009), tackles this challenge together with Cambodian visual artist/photographer Kim Hak. Ambitious yet poetic, Cross Transit is a multimedia dance piece that intertwines serene and eloquent images rooted in Hak's personal history with various movements from Kitamura's extensive dance lexicon. Sharp-edged turns, street-dance inspired moves, and traditional Asian martial arts invigorate her bold, progressive choreography. An international company of six superb dancers representing Japan and Cambodia step into the world of Hak's photos, illuminating his personal experiences with a visceral physicality.
Cross Transit took shape through the creative union of Akiko Kitamura and Kim Hak, which began with Kitamura's fieldwork in Cambodia - hosted by Amrita Performing Arts Center in Cambodia's capital, Phnom Penh. As part of an artistic and cultural exchange, Kitamura met many Cambodian dancers while delving into traditional dance, music, spiritual rituals and martial arts. During her research and travel in Phnom Penh, Kitamura met Hak, whose projects often aim to pass down the fading memories of Cambodia to a younger generation through photography. The two artists began a rich collaboration: they shared stories and experiences while working together in photo shoots and dance workshops, all leading to a formal collaboration on this project. Additionally, with several years' worth of experience collaborating with Indonesian artists and learning movements from traditional martial arts and other dance vocabularies found across Southeast Asia, Kitamura endeavored to gain a new Asian perspective on which to build her own artistic style. In this process, Cambodian artists, who have overcome the atrocities of their country's past and seek a new form of expression, were united with Japanese artists to create and collaborate under Kitamura's direction. Cross Transit utilizes the body, film and photography to imagine a new vision of Asia's future through these interactions between Japan and Cambodia.
Cross Transit is performed by Akiko Kitamura, Ippei Shiba, Yuka Seike, Yuki Nishiyama, Llon Kawai, Chy Ratana. Sound Design is by Hiroaki Yokoyama. Video Direction & Design and Set Design is by Akihiko Kaneko. Lighting Design is by Yuji Sekiguchi. Costume Design is by Tomoko Inamura. Production Manager is Satoshi Fukuoka.
Akiko Kitamura (Choreographer / Dancer), born in 1970 in Tokyo, learned ballet and street dance in her youth. In 1994, as a graduate student at Waseda University, she founded her company Leni-Basso. Two years later, her work, Enact Frames of Pleasure, was selected as the Best Choreographic Work of the Year by Dance Magazine (Japanese version), resulting in a yearlong residency in Berlin as a research fellow through the Agency for Cultural Affairs' Overseas Study Program. In 2001, Bates Dance Festival commissioned two short pieces from Kitamura. In the same year, Kitamura created Finks (2001), which has since been presented more than 60 times worldwide and was awarded the 2015 Best Dance Work Award by the Montreal Gazette's Hour magazine. In 2003, the American Dance Festival invited her, under its International Choreographers Commission Program, to create a new work for American dancers. Her piece Ghostly Round (2005) was commissioned by the Haus der Kulturen der Welt in Berlin, and received great reviews worldwide. Kitamura has performed and choreographed for many international companies, such as ACE dance and music in the U.K. (2007 and 2011) and Art Zoyd in France (2009 and 2010). By the time she disbanded Leni-Basso in 2009, the company was one of the most sought-after contemporary dance companies among international presenters and festivals. In April 2010, Kitamura shifted her focus towards solo enterprises. She began an international collaborative project, To Belong, with Indonesian artists in 2011. This resulted in a series of new works, which were presented between 2012 and 2014 in various cities including Jakarta, Tokyo, Kobe and Singapore. In 2014, Kitamura partook in an international collaboration with Indonesian opera performers, Gandari Dance Opera (December 12-13, 2014), which she choreographed. For this work, she received a Best Performance Award by the Indonesian magazine Tempo. In 2015, she started the Cross Transit project, a series of collaborations with Cambodian artists. Cross Transit premiered in Tokyo in September 2016, followed by a performance in Phnom Penh, Cambodia in November 2017. The second performance in the series, entitled Cross transit - vox soil, premiered in Yokohama, Japan in October 2018. In 2015, Kitamura was awarded a Fellowship Grant for Individuals by the Asian Cultural Council. Her solo short piece TranSenses premiered in January 2017 at Japan Society, with The New York Times hailing the work, "technically impressive" and "brilliantly controlled." She is currently an associate professor of Art Communications at Shinshu University.
Kim Hak (Photographer / Videographer) was born in Battambang City, in northwestern Cambodia. Hak is a full-time photographer whose work has been featured at art and photography festivals such as the Ballarat International Foto Biennale in Victoria, Photo Quai in Paris, World Event Young Artists in Nottingham, the OFF_festival in Bratislava, the Singapore International Photography Festival, Photo Bangkok and ASEAN Eye Culture in Bangkok, the International Multimedia Art Festival in Yangon, Photo Kathmandu in Nepal, Photo Phnom Penh and Angkor Photo Festival in Siem Reap. His photographs have been exhibited in Australia, France, Great Britain, the Netherlands, Slovakia, the United States, Canada, Hong Kong, Singapore, Thailand, Burma and Cambodia. In 2012 - and again in 2014 - he was interviewed about urban trends in Phnom Penh for the French television program Faut Pas Rêver, which was filmed in Cambodia and broadcast in France on the France 3 network, and in Asia on TV5 Monde. His portfolio and interviews have been featured in several internationally well?known publications throughout his career. In 2013, Hak published his first photography book, UNITY, in which he documented the reflections of ordinary citizens after the death of the King Father Norodom Sihanouk in October 2012. In 2014, he traveled to Australia to engage with Cambodian-Australian people living in the Marsden/Logan region as part of a larger contemporary art and history project entitled Jorng Jam that aims to remember and reclaim Cambodian history from before, during and after the Khmer Rouge era. He was invited back to do an artist residency to work on the project, Jorng Jam II, in Australia, which was supported by Arts Queensland.
Japan Society's Performing Arts Program
As announced, Japan Society's 2018-2019 Performing Arts Season features works by visionary artists in dance, music and theater. The current season commenced in September with the traditional concert Hauta Shamisen: Love Songs from the Edo Period by shamisen master Hidetaro Honjoh (September 14); and continued with the contemporary music concert Hidejiro x ICE: Shamisen Evolution, in which young shamisen standout Hidejiro Honjoh performed three world premiere pieces by Vijar Iyer, Nathan Davis, Yu Kuwabara and more (October 5); and the contemporary music and flower arranging event Unusual Pairings: Akiko Yano + Seiho, featuring renowned pianist and singer/songwriter Akiko Yano and electronic sound artist and ikebana enthusiast Seiho (November 10); and most recently, the Contemporary Dance Festival: Japan + East Asia, including Akira Kasai's Pollen Revolution performed by Mitsutake Kasai, Kuan-Hsiang Liu's Kids and Goblin Party's Silver Knife, brought groundbreaking artists from Japan, Taiwan and Korea to New York (January 4 & 5). The season continues with an installment from the Play Reading Series: Contemporary Japanese Plays in English Translation, this year delivering 100 Years Stray by SaringROCK, translated by Aya Ogawa (February 4); the traditional puppet theater presentation Hachioji Kuruma Ningyo Puppet Theater led by master and director Koryu Nishikawa V featuring fantastic female characters from classical literature, and a new work from Nishikawa based on a story from The Tale of Genji (February 28 - March 2). Following this presentation of Cross Transit, the season concludes with contemporary dance event You Took a Part of Me, choreographed by Karole Armitage and performed by Megumi Eda in the lead role (April 12 & 13); and the contemporary theater presentation Ashita no Ma-Joe: Rocky Macbeth by Yu Marai (May 15 - 19).
Since the inception of the Performing Arts Program in 1953, Japan Society has presented nearly 700 productions of Japan's finest performing arts to an extensive American audience. Programs range from the traditional arts of noh, kyogen, bunraku and kabuki to cutting-edge theater, dance and music. The Program also commissions new works to non-Japanese artists, produces national tours, organizes residency programs for American and Japanese artists and develops and distributes educational programs. "At once diverse and daring, the program stands toe to toe with some of the most comprehensive cultural exchange endeavors today." --Back Stage.
Founded in 1907, Japan Society in New York City presents sophisticated, topical and accessible experiences of Japanese art and culture, and facilitates the exchange of ideas, knowledge and innovation between the U.S. and Japan. More than 200 events annually encompass world-class exhibitions, dynamic classical and groundbreaking contemporary performing arts, film premieres and retrospectives, workshops and demonstrations, tastings, family activities, language classes, and a range of high-profile talks and expert panels that present open, critical dialogue on issues of vital importance to the U.S., Japan and East Asia.
Tickets & Information:
Performances are Friday, March 22 at 7:30pm* and Saturday, March 23 at 7:30pm†.
Tickets are $30 / $25 Japan Society members.
* followed by a MetLife Meet-the-Artists Reception
† followed by an artist Q&A
Tickets can be purchased by calling the Box Office at 212-715-1258 or in person at Japan Society (M-F 11:00am - 6:00pm and Sat-Sun 11:00am - 5:00pm). Japan Society is located at 333 East 47th Street, between First and Second Avenues (accessible by the 4/5/6 at 42nd Street-Grand Central Station or the E at Lexington Avenue and 53rd Street). For more information, call 212-832-1155 or visit http://www.japansociety.org