Dallas Black Dance Theatre Presents DBDT: Encore! Rising Excellence Performance
Performances run April 21-22, 2023.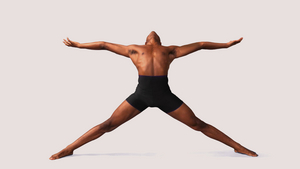 Dallas Black Dance Theatre's (DBDT) professional training company DBDT: Encore! Rising Excellence performance draws on the heritage and memories of Japanese, Polish, and African American choreographers. PNC Bank is the Presenting Sponsor for the performance scheduled on Friday and Saturday, April 21-22, 2023, at the Moody Performance Hall, 2520 Flora Street, Dallas, TX. The Kaleta A. Doolin Foundation is the Choreography Sponsor.
Takehiro Ueyama shares his Japanese heritage through his work Heroes, which combines powerful athleticism and delicate gestures. Ueyama choreographed the piece that honors the dedication and perseverance of citizens who played a crucial role in Japan's recovery after World War II and are driving its success today. 
Snow Playground is an abstract work by Katarzyna Skarpetowska who grew up in Warsaw, Poland. The work takes its inspiration from a peaceful image of swirling snow in a gentle wind as it moves across the surface of a children's playground. At times it gathers speed and brings more of itself into the fold; at other times, it settles in repose just to be picked up again soon after by another gust in a different cluster. Similarly, the dancers form and break relationships, rearranging themselves into various groupings as they coil, swivel, and surge in relentless pursuit. The work evokes the peacefulness of this simple natural occurrence that is both mesmerizing and meditative.
When Tyrone C. Walker choreographed Prototype, he had robots in mind to demonstrate the internal struggle of breaking loose from factory-made minds while searching for self-discovery to find your true self. In conceptualizing Prototype, he tried to answer the question, "What would you do if no one was watching with judgmental eyes or closed minds?" Walker, an African American, grew up in Washington, DC, and is a former DBDT dancer.
In celebration of Dallas Arts Month, Dallas Black Dance Theatre is showcasing the works of Dallas teenager Madison D. Smith at the Rising Excellence series. Patrons can enjoy an art gallery exhibit by the high school senior in the Moody Performance Hall lobby. Madison taught herself to paint at home during COVID in 2020 and has created over 150 works. Madison maintains a 4.0 GPA at Dallas Christian High School in Mesquite, TX. To view her collection, visit www.MDSARTWORX.com.