BWW Dance Interview: Roberto Campanella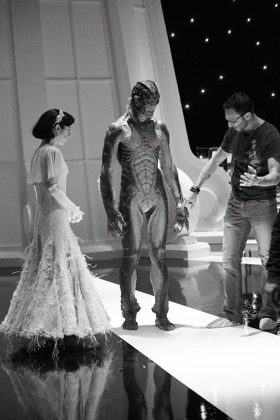 Born and raised in Rome, Roberto Campanella trained at the Scuola Italiana di Danza Contemporanea. In 1985, Roberto joined the Compagnia Italiana di Danza Contemporanea and later joined the prestigious Aterballetto. In 1993 he joined The National Ballet of Canada, where he was soon promoted to soloist and was cast in many classical and contemporary roles.
Roberto made his choreographic debut at The National Ballet of Canada's 1995 Choreographic Workshop and, upon retiring from the National Ballet in 1996, trained at the National Ballet School's Teacher Training Program, from which he graduated with distinction. He is now a sought-after guest teacher for companies such as The National Ballet of Canada and Stuttgart Ballet, as well as companies in Italy, Korea and Japan.
Although Roberto choreographs predominantly for ProArteDanza, he also choreographs a wide variety of commissioned works for companies at home and abroad. In 2001, Roberto was nominated for the Bonnie Bird Choreography Award in London. In 2007, he received the Fellowship Initiative Award from the New York Choreographic Institute, an affiliate of the New York City Ballet, and in 2008 he was awarded a Chalmers Professional Development Grant.
Campanella's first full-length work, "Alice in Wonderland", premiered at Ballet Augsburg in Germany in October 2008.
Roberto was awarded the Dora Mavor Moore Award for Outstanding Choreography with co-choreographer Robert Glumbek for " ... in between...," which premiered at ProArteDanza's Season 2010.
Today, Roberto is a highly sought after choreographer/director for Film/TV creating movement and dance choreography for The Strain, Pompeii, Mortal Instruments, Nikita, Silent Hill and four time Oscar Winner, Guillermo del Toro's "The Shape of Water," to name a few.
The interview was conducted with Mr. Campanella via e-mail.
Q. When did you first become interested in dance?
A. I started at the age of 11 at the Scuola Italia di Danza Contemporanea in classical ballet, my main focus, at the same time training in jazz, contemporary, and African-Cuban. By the age of 17 I was already dancing professionally for Compagnia Italiana di Danza Contemporanea, the company attached to the school.
Q. Any particular early influences?
A. If you refer to my dance idols, those were the days when we would constantly watch and follow the career of legends such as Mikhail Baryshnikov, Rudolf Nureyev, and Vladimir Vasiliev. They all epitomized the iconic superhero male ballet dancer with their athleticism, beauty and charisma, all traits that would inevitably influence and impress a then young ballet student such as myself. After watching a video of these kings, the other boys and I would lock ourselves in the studio and try until exhaustion to imitate them. They also made ballet popular in conjunction with the Russian ballet boom, and their effect on ballet is, in my opinion, still felt today.
Q. Any teachers stand out?
A. During my training, Elisabetta Terabust, Roland Petit's muse during the middle 70's and étoile at London Festival Ballet, now English National Ballet, came to give us workshops throughout the year. She made an impact on me, based on the more detailed work of classical ballet, physically and artistically. Up until then I worked with a Russian teacher who was mainly focused on the athleticism of male dancers, but with Elisabetta I realized there was more to ballet than just jumping high.
During my early professional years I had the privilege to cross paths with Woytek Iowski, a Polish teacher, coach, and ballet master, who not only would solidify classical ballet concepts for me in a way that I had not experienced before, but also opened up a world of musicality in his teaching that I still carry with me today.
Q. What were your first experiences as a dancer? Go into companies and roles danced?
A. My first experience as a dancer was being an understudy in the Compagnia Italiana di Danza Contemporanea. I was already ecstatic at the idea of being asked to be in a rehearsal studio with experienced professional dancers. It was the most valuable training tool that I can remember. We were working mostly on new full evening creations by the directors of the school and the company, Renato Greco and Maria Teresa Dal Medico. My best memory of those early days was dancing my first lead role in their dance version of Puccini's opera "La Boheme," where I was performed the role of Rodolfo.
I suppose the role that is still in my heart is Tybalt in John Cranko's "Romeo and Juliet." It was a big learning curve for me, having to be rigorous and dig into the character first, allowing that to inform the movement/choreography associated with it. That approach made me grow a lot as an artist; it's a style that I now try to pass onto my dancers and students, even if we're dealing with more abstract work.
Q. When did you join the National Ballet of Canada?
A. I joined the National Ballet in 1993. I was following a woman I had met, Joanna Ivey, a Canadian dancer from Ottawa, trained at the Royal Winnipeg Ballet. In Italy, as we were both dancing for Aterballetto in Reggio Emilia, it didn't take us long to start dating and then moving in together for two years. During a period of layoff from Aterballetto, Joanna went to Toronto to audition for the National Ballet of Canada, where she was offered a contract. I eventually left the company in Italy to go visit Joanna and to audition for the company, where I was also offered a contract. Although separated now, we have two gorgeous and smart daughters, Maya, now 21, and Giorgia, 15.
I was made soloist two seasons after I joined. I was privileged to have danced works by George Balanchine, Jiri Kylian, William Forsythe, James Kudelka, just to name a few.
However, the most memorable experience for me during the years at the company, without taking away from the other amazing choreographers, was working with Glen Tetley, where I had the privilege of dancing one of the soloist parts in his "Rite of Spring," the hardest choreography I've ever danced in terms of stamina, but incredibly fulfilling on an artistic level.
Glen gave us a certain freedom to collaborate in his creations and to be the artists that we were at that point to interpret his already created work as "The Rite of Spring." He would explain contemporary movement with a clarity, sophistication, and a wisdom that I had not experienced before: the physical opposition, how to create tension in the movement by moving in the opposite way from your extremities, the idea of reaching beyond your physical possibilities, the beauty of expressing human vulnerability when you reach physical exhaustion in the studio as well as on stage, all concepts very new to me at that point. He was also a great influence on my early career as a choreographer.
Q. When did you first start to choreograph?
A. The National Ballet Choreographic Workshop in 1995, which allowed the company to have access to studio space and time to experiment in creating something new. I remember my back was out those days, and therefore I was off work when Robert Conn, a dear friend as well as a colleague, suggested to me to at least get into the studio and take advantage of this opportunity. Up until then it never crossed my mind to be or become a choreographer.
I decided to use five dancers from the company who were also part of my close circle of friends; I guess it felt safe for me to create on my buddies. The piece was a very vignette-like kind of creation, a combination of contemporary and classical genres, which still follows me to this day. My memory is fading, but I recall using music by an American-Scottish musician, David Byrne, a former Talking Heads. It was based on the human archetypes; from what I remember there were two men/dancers on stage wearing just a dance belt, a crazy woman wearing a stylized, very small black tutu, another woman struggling with her relationship. I'm getting old...not much memory of that left.
Q. You have received commissions from a number of prestigious companies the world over. Tell me about a few of them.
A. My experience with Augsburg Ballet, Germany, was very enriching. It was my first full evening creation, "Alice in Wonderland."
For the first time in my career I was surrounded by an entourage of set, lighting and costume designers, a composer, a place where they would build costumes and sets, an amazing infrastructure all under one roof. It was an incredible way to just focus on the creation, a treat that I always longed for. It was very different from what I would experience with my own company, ProArteDanza, where we outsource all of that, since we have more limited resources, as well as not having our own home.
I guess the main challenge was that it was my first full length narrative ballet. I knew I didn't want to give it a dark interpretation. I wanted to speak to a younger audience, at the same time not talking down to them either. I might have succeeded in that, but I made other mistakes. It was proposed to integrate puppets into the ballet, using the creations from Augsburger Puppenkiste, a local, very popular marionette company. In hindsight I can say that perhaps the small size of these marionettes in a big theater did not fully work out the way I had envisioned.
There's a lot to consider in a full narrative evening: the arc of the story, what's at stake, character development. I felt that perhaps I should have brought a theater director to have a look at it and give me feedback. Through that experience and mistakes I've learned the importance of having to open up to more expert eyes in certain aspects of the production and stay away from the almighty choreographer-know-it-all kind of idea.
However, the Augsburg Ballet cast/dancers were phenomenal and opened their hearts and artistry to it. Their commitment made the real difference in the show. I will be forever grateful to this amazing group of warriors.
Q. When did you first begin choreographing for film?
A. My very first experience was a dramatic dance interpretation of Daniel Defoe's novel, "Roxana," directed and produced by Moze Mossanen in 2005. That same year film director Christophe Gans hired me to be the movement coordinator of the popular horror/mystery movie, "Silent Hill," based on the video game of the same name. During the preparation I was then asked to play two of the creatures in the movie, Pyramid Head and Colin, the janitor. Since then I've been working in the television and film industry as a movement coordinator/choreographer.
I soon realized I had to learn another language, that of cinema, because it's otherwise really confusing to be at a production meeting, where a great deal of the conversation used is technical lingo and soon you don't realize what is going on. You have to familiarize with that technical lingo, the way the camera sees the action, the different lenses, the angles, the lighting, being able to breakdown the script in a way that the dance serves the scene rather than just your own choreographic "beliefs"; most importantly to be fully aware that your main responsibility and priority is to translate the director's vision. After 13 years, I'm still learning that language, an ongoing process.
Q. How did "The Shape of Water" come about?
I've known and collaborated with Guillermo del Toro and producer Miles Dale since 2014, when I was hired to be the movement coordinator of "The Strain," a FOX TV Series. In the spring of 2016 I was approached by the same team to collaborate as the choreographer on some of the scripted dances in the movie.
Needless to say, I was thrilled that both Guillermo and Miles thought of me to be the choreographer of the movie. I had my first meeting with Guillermo to go over the dance scenes. Guillermo is a director who knows exactly what he wants and how to verbalize it in a way that there's no misunderstanding. After I went through the process of breaking down the script, in addition to all the information provided by Guillermo, I did my own research, both visual and written material that would align with Guillermo's vision and my interpretation of it. More meetings followed and eventually Sally Hawkins and I were in the studio practicing a month before Doug Jones, who plays the experimental Amphibian Man, joined us. Most of the rehearsals were taped so that I could send them to Guillermo for feedback. My style in general is to start with an abundance of choreographic material for the director to pick and choose, a kind of "menu", for lack of a better way to explain it. It does help narrowing things down to the final product that we see in the movie. Working with actors requires a different kind of language and psychology than what I would use with my own trained professional dancers. I was pretty fortunate that the cast I worked with, starting with Sally, and then Doug and Richard Jenkins, were so incredibly gracious, supportive, and driven. The incredible caliber of actors I found myself working with in "The Shape of Water" was extraordinary and therefore the process was equally extraordinary. In every process there's a great deal of growth. As an artist myself, the experience of working on the "The Shape of Water" has given me a great deal of more insight into myself and an unbounded admiration into the work of the cast, director, and producer of the show. The work of my collaborator, Christina Pitts-Jazzar, was also key in delivering the choreography we see in the movie, and for that I will be forever grateful.
Q. What can we expect from you in the future?
A. I am and will continue to work for the TV and film industry, as well as my own contemporary dance company, ProArteDanza, that is now going through a process of growth and expansion: an increase in activities for the company, a full time training program in contemporary ballet by audition only that would start in the fall of 2018, and our own home to host all the above.
I'm also in a workshop process of creating with Robert Glumbek, our company's associate director, a full evening loosely based on Mozart's "Marriage of Figaro," a contemporary dance version of it. It will be premiered here in Toronto in November 2018.