Pianist Ursula Oppens to Perform in Bargemusic's Masterworks Series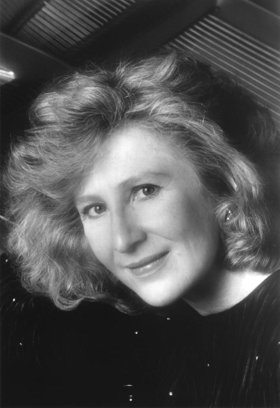 The renowned American pianist Ursula Oppens will appear in solo recital on Bargemusic's Masterworks Series, Sunday afternoon, December 3, at 2 pm.
A regular performer at the venue, Ms. Oppens will feature a program of works by American composer Elliott Carter-a close friend and longtime collaborator of Ms. Oppens-alongside selections by Stravinsky, Rachmaninoff, and Debussy.
Of her most recent performance at Bargemusic's Labor Day Festival, Harry Rolnick of ConcertoNet wrote: "Of course if Ursula Oppens performs, one never wonders...I would walk many miles (or at least take the F Train across the Brooklyn Bridge), to hear this musical miracle at work...[Nothing] she essays is anything but brilliant" (30 Aug 2017).
The complete program follows:
CARTER, Elliott 90+
STRAVINSKY, Igor Piano Sonata in F-sharp minor
CARTER, Elliott Two Diversions
RACHMANINOFF, Sergei Etudes-tableaux, Op. 33 No. 2, No. 7, No. 4, No. 5
CARTER, Elliott Retrouvailers
DEBUSSY, Claude Images Book I
CARTER, Elliott Catenaires
At 4 pm, pianist Jerome Lowenthal will take to the Bargemusic stage, in a second Masterworks concert. Mr. Lowenthal's program will feature classics of the piano repertoire by Mozart, Chopin, Prokofiev, and Debussy.
Full program details below:
MOZART, Wolfgang Amadeus Adagio in B minor, K. 540
CHOPIN, Frédéric Scherzo in B minor, Op. 20
MOZART, Wolfgang Amadeus Fantasie in D minor, K. 397
PROKOFIEV, Sergei Piano Sonata No. 3 in D minor, Op. 14
MOZART, Wolfgang Amadeus Six Variations on Salve tu, Domine, K. 398
CHOPIN, Frédéric Ballade No. 2 in F major, Op. 38
DEBUSSY, Claude Preludes, Book II, "General Lavine, excentrique"
Tickets from $20-$40 for each concert, are available for purchase online at www.bargemusic.org.
Ursula Oppens has long been recognized as the leading champion of contemporary American piano music, and her original and perceptive readings of other music, old and new, have earned her a place among the elect of today's performing musicians.
Recent recitals have included appearances at Northwestern University, the University of Maryland, and New York's Bargemusic. Ms. Oppens was also heard at Music Mountain for a performance with the Cassatt Quartet and was the featured artist along with the International Contemporary Ensemble in a residency celebrating composer Christian Wolff at Dartmouth College. She participated in the Cutting Edge New Music Festival at Symphony Space in New York City and the Ascoli Piceno Festival in Italy. As part of the 58th Annual Grammy Awards in December 2015, Ms. Oppens captured her fifth nomination in the coveted category of "Best Classical Instrumental Solo" for her second recording of Frederic Rzewski's cult classic The People United Will Never Be Defeated!
Over the years, in addition to championing the music of Mr. Carter, Ms. Oppens has premiered works by such leading composers as John Adams, Luciano Berio, William Bolcom, Anthony Braxton, John Corigliano, Anthony Davis, John Harbison, Julius Hemphill, Laura Kaminsky, Tania Leon, György Ligeti, Witold Lutoslawski, Harold Meltzer, Meredith Monk, Conlon Nancarrow, Tobias Picker, Bernard Rands, Frederic Rzewski, Allen Shawn, Alvin Singleton, Joan Tower, Lois V Vierk, Amy Williams, Christian Wolff, Amnon Wolman, and Charles Wuorinen.
As an orchestral guest soloist, Ms. Oppens has performed with virtually all of the world's major orchestras, including the New York Philharmonic, the Boston Symphony Orchestra, the Los Angeles Philharmonic, the American Composers Orchestra, the Boston Modern Orchestra Project (BMOP), and the orchestras of Chicago, Cleveland, San Francisco, and Milwaukee. Abroad, she has appeared with such ensembles as the Berlin Symphony, Orchestre de la Suisse Romande, the Deutsche Symphonie, the Scottish BBC, and the London Philharmonic Orchestras. Ms. Oppens is also an avid chamber musician and has performed with the Arditti, Cassatt, JACK, Juilliard, and Pacifica quartets, among other chamber ensembles.
Ursula Oppens is a Distinguished Professor of Music at Brooklyn College and the CUNY Graduate Center in New York City. From 1994 through the end of the 2007-08 academic year she served as John Evans Distinguished Professor of Music at Northwestern University in Evanston, IL. In addition, Ms. Oppens has served as a juror for many international competitions, such as the Concert Artists Guild, Young Concert Artists, Young Pianists Foundation (Amsterdam), and Cincinnati Piano World Competition. Ms. Oppens lives in New York City.