Manfred Honeck to Conduct NY Phil; Nikolaj Znaider to Make Conducting Debut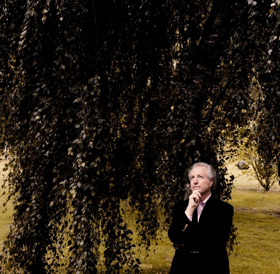 Manfred Honeck will return to the New York Philharmonic to conduct Sibelius's Violin Concerto, with Nikolaj Znaider as soloist; Mr. Honeck's own arrangement of Dvorák's Rusalka Fantasy, orchestrated by Tomáš Ille; and selections from Tchaikovsky's Sleeping Beauty, Thursday, May 3, 2018, at 7:30 p.m.; Friday, May 4 at 11:00 a.m.; Saturday, May 5 at 8:00 p.m.; and Tuesday, May 8 at 7:30 p.m. The following week, Nikolaj Znaider will make his New York Philharmonic conducting debut leading Elgar's Cello Concerto, with Jian Wang in his subscription debut, and Tchaikovsky's Symphony No. 1, Winter Dreams, Thursday, May 10, 2018, at 7:30 p.m.; Friday, May 11 at 8:00 p.m.; and Saturday, May 12 at 8:00 p.m.
Manfred Honeck and Nikolaj Znaider previously collaborated on Sibelius's Violin Concerto with the Pittsburgh Symphony Orchestra (PSO), in Pittsburgh and on tour in 2012. Mr. Znaider also conducted the PSO that year in music by Elgar, Wagner, and Mozart. Manfred Honeck completed his arrangement of Dvo?ák's Rusalka Fantasy in 2015 and led its first performances with the Pittsburgh Symphony Orchestra shortly after. Gramophone magazine praised the arrangement, heard in a 2016 recording, as "artfully stitched together.... It's an entertaining collage featuring many of the familiar characters, from the splashing water nymphs to Ježibaba's cackles."
As a violinist, Nikolaj Znaider won the Queen Elisabeth Music Competition and can be heard on the Philharmonic's recording of Nielsen's Violin Concerto. He is principal guest conductor of the Mariinsky Orchestra and formerly held that post with the Swedish Chamber Orchestra. In its review of Jian Wang's 2011 Decca recording of Elgar's Cello Concerto, Gramophone magazine wrote: "This has to be one of the most communicative accounts of Elgar's masterpiece to have come my way in recent years."
Related Event
Philharmonic Free Fridays
The New York Philharmonic is offering an allotment of free tickets to young people ages 13-26 for the concerts Friday, May 4 and Friday, May 11 as part of Philharmonic Free Fridays. Philharmonic Free Fridays offers a limited number of free tickets to 13-26-year-olds to many of the 2017-18 season's Friday subscription concerts. Information on the 2017-18 season of Free Fridays is available at nyphil.org/freefridays.
Artists
Nikolaj Znaider performs as both conductor and violin soloist with the world's most distinguished orchestras. He has been principal guest conductor of the Mariinsky Orchestra since 2010, and was previously principal guest conductor of the Swedish Chamber Orchestra. Following a triumphant return to the Tanglewood festival with the Boston Symphony Orchestra and Juanjo Mena, Mr. Znaider's 2017-18 season includes the continuation of his Mozart recording project with the London Symphony Orchestra (LSO), on which he leads Mozart's Violin Concertos Nos. 2 and 3 from the violin. Their recording of Mozart's Violin Concertos Nos. 4 and 5 was released on the LSO Live label in March 2018. He has a particularly strong relationship with the LSO, conducting and performing as soloist with the orchestra every season. He also appears regularly as violinist and conductor with orchestras including the Dresden Staatskapelle, The Cleveland Orchestra, and Chicago Symphony Orchestra, as well as the New York Philharmonic, with which he is making his conducting debut in these performances. Mr. Znaider's extensive discography includes Nielsen's Violin Concerto with the New York Philharmonic and Alan Gilbert, Elgar's Violin Concerto with the Dresden Staatskapelle and the late Colin Davis, award-winning recordings of the Brahms and Korngold Violin Concertos with the Vienna Philharmonic and Valery Gergiev, the Beethoven and Mendelssohn Violin Concertos with the Israel Philharmonic Orchestra and Zubin Mehta, Prokofiev's Violin Concerto No. 2 and Glazunov's Violin Concerto with the Bavarian Radio Symphony Orchestra and Mariss Jansons, and Mendelssohn's Violin Concerto on DVD with the Leipzig Gewandhaus Orchestra and Riccardo Chailly. Mr. Znaider has also recorded Brahms's complete works for violin and piano with Yefim Bronfman. Passionate about supporting the next generation of musical talent, he spent ten years as founder and artistic director of the annual Nordic Music Academy summer school, and is now president of the Nielsen Competition, which takes place every three years in Odense, Denmark. Nikolaj Znaider plays the "Kreisler" Guarnerius "del Gesu" 1741, on extended loan to him by The Royal Danish Theater through the generosity of the VELUX Foundations, the Villum Fonden, and the Knud Højgaard Foundation. He made his New York Philharmonic debut in October 2000 performing Saint-Saëns's Violin Concerto No. 3, led by Marcello Viotti; his most recent appearance was in November 2016 performing Beethoven's Violin Concerto, conducted by Iván Fischer.
Manfred Honeck has served as music director of the Pittsburgh Symphony Orchestra since the 2008-09 season. He and the orchestra are consistently recognized for their performances and are celebrated both in Pittsburgh and abroad, performing regularly at major music capitals and festivals, among them the BBC Proms, Musikfest Berlin, Lucerne Festival, Rheingau Musik Festival, Beethovenfest Bonn, Grafenegg Festival, Carnegie Hall, and Vienna's Musikverein. This successful collaboration has been extensively documented by Reference Recordings: their recording of Shostakovich's Symphony No. 5 won the 2017 Grammy Award for Best Orchestral Performance, and they earned Grammy nominations for recordings of Dvo?ák's Symphony No. 8 and the Symphonic Suite from Janá?ek's opera Jen?fa, conceptualized by Mr. Honeck himself, and Bruckner's Symphony No. 4. Born in Austria, Manfred Honeck received his musical training at the Academy of Music in Vienna. Many years of experience as a violist in the Vienna Philharmonic and the Vienna Staatsoper Orchestra have given his conducting a distinctive stamp. He began his conducting career as assistant to Claudio Abbado and was subsequently engaged by the Zurich Opera House, where he was bestowed the prestigious European Conductor's Award. Following early posts as one of three main conductors of the MDR Symphony Orchestra in Leipzig and as principal guest conductor of the Oslo Philharmonic Orchestra, he was appointed music director of the Swedish Radio Symphony Orchestra. For several years, he also served as principal guest conductor of the Czech Philharmonic Orchestra. From 2007 to 2011, Manfred Honeck was music director of Stuttgart Staatsoper. His operatic guest appearances include Dresden Semperoper, Royal Opera of Copenhagen, and the Salzburg Festival. As a guest conductor, Mr. Honeck has worked with the world's leading orchestras, including the Berlin Philharmonic, Bavarian Radio Symphony Orchestra, Leipzig Gewandhaus Orchestra, Dresden Staatskapelle, Amsterdam's Royal Concertgebouw Orchestra, London Symphony Orchestra, Orchestre de Paris, Rome's Orchestra dell'Accademia Nazionale di Santa Cecilia, and the Vienna Philharmonic. In the United States he has conducted the New York Philharmonic, Cleveland, Chicago Symphony, Los Angeles Philharmonic, Philadelphia, and Boston Symphony orchestras. He has been artistic director of the International Concerts Wolfegg in Germany for more than 20 years. Manfred Honeck received honorary doctorates from several North American universities, and he was awarded the honorary title of professor by the Austrian Federal President. He made his New York Philharmonic debut in January 2013 conducting works by Braunfels, Grieg, and Beethoven; in his most recent appearance with the Orchestra, in February 2017, he led works by Beethoven and Mahler.
While a student at the Shanghai Conservatory of Music, cellist Jian Wang was featured in the celebrated documentary filmFrom Mao to Mozart: Isaac Stern in China. Stern's encouragement and support paved the way for Mr. Wang to travel to the United States, and in 1985 he entered the Yale School of Music under a special program in which he studied with renowned cellist Aldo Parisot. Mr. Wang's first professional engagement was at Carnegie Hall in 1986. Since then he has embarked on an international career. Early highlights include concerts with the Gustav Mahler Youth Orchestra with Claudio Abbado, and Amsterdam's Royal Concertgebouw Orchestra with Riccardo Chailly. He has also performed with the London Symphony Orchestra, Hamburg's NDR Symphony Orchestra, Royal Stockholm Philharmonic Orchestra, Rome's Orchestra dell'Accademia Nazionale Santa Cecilia, Orchestre de Paris, and Japan's NHK Symphony Orchestra. He has performed under conductors including Myung-Whun Chung, Gustavo Dudamel, Mark Elder, Christoph Eschenbach, Alan Gilbert, Daniel Harding, Neeme Järvi, Louis Langrée, Ludovic Morlot, Mark Wigglesworth, and Nikolaj Znaider. Recent and future highlights include concerts with the Hong Kong Philharmonic, Toronto and Singapore Symphony Orchestras, Berlin Konzerthaus Orchestra, and Orchestre de chambre de Paris. In China he has played for the President and opened the season for the China Philharmonic Orchestra and the Shanghai and Macau Symphony Orchestras. He has also performed with the China National Orchestra and Hangzhou Philharmonic Orchestra, and performed J.S. Bach's complete Cello Suites at Beijing's National Centre for the Performing Arts. Mr. Wang's extensive discography with Deutsche Grammophon includes the Bach Cello Suites; Brahms's Double Concerto with Gil Shaham and the Berlin Philharmonic under Claudio Abbado; and chamber music with Maria João Pires and Augustin Dumay. His instrument is graciously loaned to him by the family of the late Mr. Sau-Wing Lam. Jian Wang made his New York Philharmonic debut performing Tchaikovsky's Variations on a Rococo Theme on the February 2014 Lunar New Year Concert and Gala, conducted by Long Yu.
Repertoire, May 3-5 and 8, 2018
Antonin Dvo?ák (1841-1904) worked on his opera Rusalka in 1900, and it was premiered in Prague in March 1901. A "lyric fairy tale" based on Slavic mythology, with a libretto in Czech by Jaroslav Kvapil, the story centers on the tragic love story of the water nymph Rusalka, who falls in love with a human prince. The Rusalka Fantasy in this performance is an orchestral suite based on music from the opera, arranged by Manfred Honeck and orchestrated by Tomáš Ille. The fantasy highlights Dvo?ák's interest in musicalizing nature through circular rondo forms, melodies that sound improvised, and orchestration that mimics natural acoustical phenomena. It also includes Act I's popular "Song to the Moon," in which Rusalka asks the Moon to tell the Prince of her love, with her voice given to the solo violin in this arrangement. This marks the Philharmonic's first performance of Mr. Honeck's Rusalka Fantasy.
Jean Sibelius (1865-1957) completed his Violin Concerto early in 1904. It was originally dedicated to violinist Willy Burmeister, who was going to premiere the work in Berlin and greeted the score with: "Wonderful! Masterly! Only once before have I spoken in such terms to a composer, and that was when Tchaikovsky showed me his concerto." Ultimately, though, the work was premiered in Helsinki by Victor Nová?ek, who was known as a teacher rather than soloist and, with little time to prepare, was unable to fully realize the complicated solo part. Following its first performances, Sibelius withdrew the work for revision, and the concerto we have come to know was unveiled in Berlin in 1905, this time played by Karl Halí? and conducted by Richard Strauss. Sibelius dedicated the concerto to yet another violinist, the wunderkind Ferenc von Vecsey, who championed it even though he couldn't quite handle its complex technical elements when he first played it, at age 13. The New York Philharmonic gave the concerto's U.S. Premiere in 1906, with Maud Powell as soloist and Wassily Safonoff conducting; Leonidas Kavakos was soloist for the Orchestra's most recent presentation, led by Alan Gilbert, in March 2016.
Piotr Ilyich Tchaikovsky (1840-93) completed Sleeping Beauty, the second of his three ballets, in 1889. He had been approached to write the piece in 1888 by Ivan Vsevolozhsky, director of St. Petersburg's Imperial Ballet, who wanted a ballet adaptation of Charles Perrault's classic fairy tale La Belle au bois dormant, which tells the story of a princess who is placed under a sleeping spell when she pricks her finger and is awakened 100 years later by a prince. Tchaikovsky felt that the music he wrote was like a "dancing symphony." Choreographed by Marius Petipa, Sleeping Beauty was premiered in January 1890 at the Mariinsky Theater; it was an instant success, and has subsequently become a classic of the repertoire. The Philharmonic first presented a selection from Sleeping Beauty, the Waltz from Act I, on an August 1926 Stadium Concert conducted by Nikolai Sokoloff. Bramwell Tovey most recently led selections on an October 2000 Young People's Concert.
Repertoire, May 10-12, 2018
Lacking the pomp and swagger that marked his earlier and more famous works, Edward Elgar's (1857-1934) Cello Concerto is a soulful, poignant work that reflects, perhaps, the maturity of the composer in his twilight years. It also marked the beginning of an emotionally low period in his personal life, as his wife was dying of a long illness. Except for a few minor scores, Elgar's life as a composer ended then. Once asked about the meaning of the Cello Concerto, Elgar replied: "A man's attitude to life." The work had a near-disastrous premiere in London's Queen's Hall in October 1919, with Elgar conducting and Felix Salmond as the soloist. Nevertheless, the concerto went on to enjoy immense popularity since the famed British cellist Jacqueline du Pré made it almost her signature piece until she had to give up her performance career when she was diagnosed with multiple sclerosis. The New York Philharmonic first performed this work in November 1940, with Gregor Piatigorsky as the soloist and John Barbirolli conducting. Its most recent performance was in February 2008, with cellist Alisa Weilerstein and conducted by Lorin Maazel.
Piotr Ilyich Tchaikovsky (1840-93), who often disliked his own music, seems to have had a lifelong affection for the earlySymphony No. 1, Winter Dreams, which he began composing in 1866, not long after accepting a position at the Moscow Conservatory. "Despite all its glaring deficiencies, I have a soft spot for it," he wrote 17 years after the score was composed and performed, "for it is a sin of my sweet youth." And to Nadezhda von Meck, his "Beloved Friend," he wrote: "Although it is immature in many respects, it is essentially better and richer in content than many other, more mature works." The composer wrestled with the work over the course of two years, and it was finally premiered in February 1868, to great success, though he revised it again before publishing it in 1875. This symphony is dedicated to Nikolai Rubinstein, who had helped the young Tchaikovsky establish himself. The Philharmonic first performed the Symphony No. 1, Winter Dreams, in February 1896, conducted by Anton Seidl; the most recent performance was led by Lorin Maazel in September 2007.
Photo Credit: Felix Broede