Book Event Panel Discussion On 'The Art Of Creativity' Comes to The Lambs, 3/12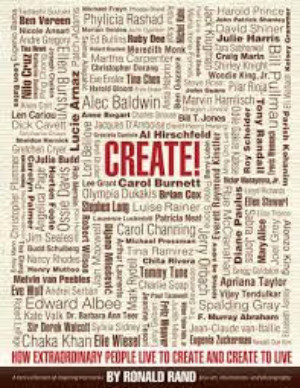 The Unique Panel Discussion will celebrate a new book by Ronald Rand, "CREATE! How Extraordinary Artists Live to Create and Create to Live" at the historical theatrical club, The Lambs 3 West 51st Street, New York City, Monday, March 12th, 2018, 7:00-8:00pm. There is no charge for the Event. Seating is limited - reservations are necessary at: (212) 586-0306 or RSVP@The-Lambs.org
Special Guest Panelists include Ronald Rand Goodwill Cultural Ambassador/Best-selling Author, Angelica Torn Actress/Director, Carolyn Palmer Sculptor, Nicole Ansari Actress, Gregg Goldston Mime Artist, Craig Marin Master Puppeteer, Tisa Chang Artistic Director-Pan Asian Repertory, Nancy Rhodes Artistic Director-Encompass New Opera Theater.
Ronald Rand's new book, "CREATE!" published by Wyatt-Mackenzie Publishing features over 100 rare interviews - actors, artists, dancers, directors, musicians, composers, mime artists and clowns, playwrights, and writers - sharing insights on the process of creativity and the importance of the arts for humankind.
Among the rare interviews inside Ronald Rand's "CREATE!" include F. Murray Abraham, Patch Adams, Edward Albee, Carol Burnett, Ellen Burstyn, Dick Cavett, Carol Channing, Kelsey Grammer, Anna Halprin, Julie Harris, Bill T. Jones, Chaka Khan, Everett Raymond Kinstler, Robert Lepage, Christopher Plummer, Harold Prince, Tony Randall, Phylicia Rashad, Chita Rivera, Ben Vereen, Elie Wiesel sharing their insights on creating art, shining a light on the inner world of the creative economy and highlights, with their words and art, these individuals' important contributions to our nation's and world's culture.
"CREATE!" also includes over 150 full-color paintings, photographs and artwork including Al Hirschfeld, Everett Raymond Kinstler, Martha Carpenter, Tim Stevenson, Tommy Tune, Sir Derek Walcott, Michael Shane Neal, Stephen Lang, and Robert Wilson.
Visit: www.CreatetheBook.com
Andre Bishop, Producing Artistic Director of Lincoln Center Theatre in New York City has said: "An enriching book for everyone, "CREATE!" captures the passion of creativity in the theater, music, dance, in fact, all the arts. An invaluable guide to the inner workings of the artist's vision."
CREATE! also includes Lucie Arnaz, Elizabeth Ashley, Tina Chen, Brian Cox, Gretchen Cryer, Ruby Dee and Ossie Davis, Andre De Shields, Olympis Dukakis, Christopher Durang, Horton Foote, Spalding Gray, Joel Grey, John Guare, Marvin Hamlisch, Sheldon Harnick, Arthur Laurents, Ming Cho Lee, Laurence Luckinbill, Jan Maxwell, Rue McClanahan, Patricia Neal, Jerry Orbach, Luise Rainer, Pilar Rioja, David Shiner, Sylvia Sidney, Charles Strouse, Paul Tazewell, Jeanine Tesori, Jean-Claude van-Itallie and Eugenia Zukerman.
Ronald Rand, author of "CREATE!" is an International Goodwill Cultural Ambassador, and will represent the United States at the Theatre Olympics in India in February performing in his celebrated solo play, "LET IT BE ART!" as Harold Clurman (touring in his 17th year). The US State Department sent him in November as a Fulbright Specialist to teach and perform for 5 weeks in Uruguay. He has performed his solo play in two critically-acclaimed Off-Broadway productions, in 23 countries and 20 states. Founder and Publisher of "The Soul of the American Actor" Newspaper celebrating its 20th year anniversary, he is also the author of "Acting Teachers of America." An international renowned director, his award-winning production of "LUV" continues into its 4th sold-out year at Sarajevo's Chamber Theatre 55. Librettist of a new opera, "IBSEN," about playwright, Henrik Ibsen. He recently played Captain Keller in his new solo presentation, "The Tuscumbia I Know" as part of The Helen Keller Festival.
The Lambs is America's First Professional Theatrical Organization, a private club established in New York in 1874, nurturing those active in the arts, as well as those who are supporters of the arts, by providing fellowship, activities and a clubhouse for its members. Established in 1874, The Lambs is a social gathering place for entertainment industry and art professionals, a historical society, and a spawning ground of plays, with Hal Holbrook's Mark Twain Tonight and Stalag 17 first performed at The Lambs. Alan Jay Lerner and Frederick Loewe first met at the Club and teamed to make theatrical history - as a result Fred Loewe bequeathed a portion of his royalities to The Lambs Foundation. Other members past and present include Fred Astaire, John Barrymore, Irving Berlin, Jim Dale, W.C. Fields, Ken Howard, Bert Lahr, Everett Raymond Kinstler, Cliff Robertson, Will Rogers, Cliff Robertson and John Philip Sousa, Bert Wheeler, the Hon. Robert Wagner, Matthew Broderick and Joyce Randolph. The Lambs website: www.the-lambs.org (Note: The Lambs is not related to Jeffrey Zakarian's 44th Street restaurant, The Lambs Club.)
CREATE!'s Rare Interviews include:
ACTORS & ACTRESSES - F. Murray Abraham, Mary Alice, Selma Alispahic, Nicole Ansari, Lucie Arnaz, Elizabeth Ashley, Alec Baldwin, Ellen Burstyn, Phoebe Brand, Carol Burnett, Len Cariou, Carol Channing, Tina Chen, Brian Cox, Ossie Davis, Ruby Dee, Andre De Shields, Olympia Dukakis, Randall Duk Kim, Ben Gazzara, Kelsey Grammer, Lee Grant, Joel Grey, Spalding Gray, Julie Harris, Stephen Henderson, Kim Hunter, Dragan Jovicic, Jack Klugman, Shirley Knight, Stephen Lang, Laurence Luckinbill, Judith Malina, Jan Maxwell, Rue McClanahan, Patricia Neal, Jerry Orbach, Angelica Page, Christopher Plummer, Bill Pullman, Phylicia Rashad, Tony Randall, Luise Rainer, Chita Rivera, Roy Scheider, Marian Seldes, Sabera Shaik, Sylvia Sidney, Kate Valk, Ben Vereen, Eli Wallach, Fritz Weaver
ARTISTS & DESIGNERS - Martha Carpenter, Alvin Colt, Al Hirschfeld, Everett Raymond Kinstler, Parish Kohanim, Ming Cho Lee, Carolyn Palmer, Tara Sabharwal, Tim Stevenson, Paul Tazewell
CHOREOGRAPHERS & DANCERS - Lori Belilove, Jacques d'Amboise, Graciela Daniele, Katherine Dunham, Anna Halprin, Alonzo King, Pearl Lang, Pilar Rioja, Tommy Tune
CLOWNS, MIME ARTISTS, & PUPPETEERS - Gregg Goldston, Barry Lubin, Craig Marin, Rob Mermin, David Shiner
COMPOSERS & LYRICISTS Gretchen Cryer, Erwin Drake, Marvin Hamlisch, Sheldon Harnick, Charles Strouse, Melvin Van Peebles, Jeanine Tesori
DIRECTORS - Eugenio Barba, Anne Bogart, Joseph Chaikin, Tisa Chang, Ping Chong, Jack Garfein, Andre Gregory, Sabra Jones, Michael Kahn, Woodie King, Jr., Robert Lepage, Emily Mann, Diljana Milosevic, Diane Paulus, Michael Pressman, Harold Prince, Nancy Rhodes, Lloyd Richards, Mark Rydell, Andrei Serban, Ellen Stewart, Tadashi Suzuki, Robert Wilson EDUCATORS - Patch Adams, Robert Brustein, Dick Cavett, Victor Masayesva, Jr., Henry Muttoo, Tina Ramirez, Charlie Soap, Dr. Barbara Ann Teer
MUSICIANS & SINGERS - Leon Bates, Julie Budd, Stephanie Chase, Karen Drucker, Chaka Khan, Meredith Monk, Vinicio Quezada, Steve Ross, Jim Seales, Travis Wammack, Melvin Van Peebles, Eve Wolf, Eugenia Zuckerman
PLAYWRIGHTS, POETS & WRITERS - Edward Albee, Harold Bloom, Ed Bullins, Nilo Cruz, Christopher Durang, Eve Ensler, Horton Foote, Maria Irene Fornes, Larry Gelbart, John Guare, Tina Howe, David Henry Hwang, Odile Gakire Katese, Arthur Kopit, Arthur Laurents, Budd Schulberg, John Patrick Shanley, Peter Stone, Apriana Taylor, Vijay Tendulkar, Elise Thoron, Jean-Claude van Itallie, Sir Derek Walcott, Elie Wiesel, William Yellow Robe, Jr.
"CREATE!" can be found at amazon.com - kindle $29.99, softcover $42, hardcover $72.
Related Articles
View More Books

Stories
More Hot Stories For You