Mikel Murfi's I HEAR YOU AND REJOICE to Be Performed in Repertory With THE MAN IN THE WOMAN'S SHOES At Irish Arts Center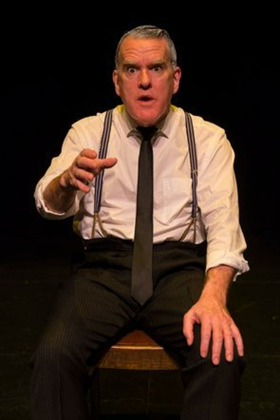 Irish Arts Center welcomes back Mikel Murfi, one of the most vital and versatile voices in Irish theater, to present two of his solo works-companion plays I Hear You and Rejoice and The Man in the Woman's Shoes(September 12-October 21). The plays, presented in repertory by the celebrated writer and performer, see Murfi embodying a mute shoemaker and the coterie of characters he encounters in a small Irish town in County Sligo. While Rejoice functions as a sequel to Shoes (whose U.S. premiere IAC presented in 2015), revealing the bittersweet next chapter of the lives of the characters audiences came to know and love inthat first play, the two works easily stand alone. Those who saw The Man in the Woman's Shoes in 2015 will find their relationship with Murfi's singular style and his depiction of small town Irish existence deepening, and audiences new to his work will marvel at how his acting acrobatics can, most importantly, access and activate our hearts.
Trained at École Jacques Lecoq, Paris, Mikel Murfi is a performer, director, and writer celebrated for his "vocal dexterity," "physical nimbleness" (TimeOut) and all-around "astonishing acting" (The New York Times). He is cherished in Ireland for his ongoing collaborations with Enda Walsh, for his poignant multi-character solo-plays, for his acting roles at The Abbey Theatre, and more. Between presentations of Walsh's plays (Ballyturk and The Last Hotel, in which Murfi performed, and Misterman, for which he served as Movement Director) at St. Ann's Warehouse and IAC's showcasing of Murfi's solo performances, Murfi has likewise been welcomed to wide acclaim in New York.
In Murfi's The Man in the Woman's Shoes, a New York Times critic's pick, the mute cobbler protagonist Pat Farnon takes a five-mile walk through town in a pair of women's flats, wearing them in for a customer, on whom he has an overwhelming crush-the vociferous football coach Kitsy Rainey. I Hear You and Rejoice is set some years down the line-years that have seen Farnon through both unexpected bliss and tragedy. Equipped onstage with nothing but a chair and his seemingly infinite physical and vocal abilities, Murfi reanimates his characters-inspired by people in his native Sligo, where the piece was first developed-to unblinkingly confront tragedy and mourning. Yet through one character's hardship, he draws a heartwarming and often hilarious portrait of the intimacy of a community. As the London Evening Standard writes in their five-star review of I Hear You and Rejoice, "The boundless power of words and storytelling to conjure worlds to involve and enchant an audience has rarely been so clearly demonstrated."
I Hear You and Rejoice and The Man in the Woman's Shoes were both created by way of commissions from Hawk's Well Theatre and Sligo County Council Arts Service for the Bealtaine Festival, which empowers older people to connect with the arts. Murfi immersed himself in the world of elderly community members in Sligo, interviewing them on their experiences of life in the town. Though Murfi may stand solo on the stage in these performances, they are bolstered by the contributions of numerous people who imparted their memories to be reflected in theatre. In parallel to IAC's mission, these works were founded on the idea of gathering and giving voice to a community-and they have continued to do so wherever they travel.
Murfi says, "My brief was to go to [elderly Sligo community members] and talk to them about their lives, and stories and characters they had met, and to bring them back the play that they had helped me make. I wasn't going to go into a care home and bring them some sort of a tragic drama. I was absolutely going to bring them something uplifting. Some consider sentimental [theatre] not as worthy as visceral and dramatic [theater]-but people have the right to go to the theatre and feel. People have a right to go to the theater and love an idea and love a character and feel sentimental, and that's the kind of work that I'm making."
Tickets ($40 General, $32 Members) will be available to purchase July 25 on irishartscenter.org.
Mikel Murfiis a writer, director, and performer hailing from Sligo, Ireland. He began his "intense collaboration" with Enda Walsh when the playwright sent Murfi The Walworth Farce. He went on to direct that play, and Walsh's Penelope, for Druid (both won Fringe Firsts in Edinburgh), and served as Movement Director on Walsh's Misterman (Landmark Productions/Galway International Arts Festival).Since then, he has appeared in Walsh's The New Electric Ballroom (Druid), Lynndie's Gotta Gun (Druid) The Last Hotel (Landmark Productions/Wide Open Opera) and Ballyturk (Landmark Productions/Galway International Arts Festival).
Murfi's acting work at The Abbey Theatre includes The Playboy of The Western World, The Tempest, The Comedy of Errors and The Morning After Optimism. He has also performed in Swan Lake (Teac Damsa) in an "excellent" (The Guardian) performance; The Man In The Woman's Shoes and I Hear You and Rejoice (Loco and Reckless Productions)-solo works which he likewise wrote and directed; The Increased Difficulty of Concentration (Druid); The Chairs (Blue Raincoat), and much more. Other directing credits include Toraíocht (Fíbín); Trad, The Great Goat Bubble (Galway international Arts Festival); The Country Girls (Red Kettle); Diamonds in the Soil (Macnas); Waiting for Godot (Theatre Du Pif, Hong Kong); Arrah Na Pogue and B for Baby (Abbey Theatre); and The Far Off Hills (Nomad).
He has appeared in a number of roles onscreen, and directed two short films.
Irish Arts Center, founded in 1972 and based in Hell's Kitchen, New York City, is a national and international home for artists and audiences of all backgrounds who share a passion for the evolving arts and culture of contemporary Ireland and Irish America. We present, develop, promote, tour, and distribute work from established and emerging artists and cultural practitioners, providing audiences with emotionally and intellectually transporting experiences-the results of innovation, collaboration, and the authentic celebration of our common humanity.
Steeped in grassroots traditions, with a commitment to inclusion that dates back to our founding, we provide education programs and access to the arts for people of all ages and ethnic, racial and socioeconomic backgrounds, and an international home for the Irish community to come together and engage with a dynamic global diaspora.
The work we present ranges from soul-stirring to touching to wrenching to hilarious to disturbing, bringing New York audiences a panoramic view of the best of what's happening in Irish arts. Recent projects include: Riot, THISISPOPBABY's politicized cocktail of theatre, spoken word, cabaret and circus (Best Production, Dublin Fringe Festival 2016), at NYU Skirball; Rooms, an installation by the Tony-winning Irish writer Enda Walsh, presented in partnership with St. Ann's Warehouse, at Cybert Tire, the site of the future Irish Arts Center; and Masters in Collaboration XII: Rhiannon Giddens Meets Dirk Powell, a weeklong residency where the Ireland-based, Celtic influenced Giddens and acclaimed Appalachian artist Powell developed material for a new musical about the events of 1898 in Wilmington, NC.
In fall 2018, we will break ground on a landmark new permanent home, including a state of the art contemporary, flexible performance and arts space for the presentation and development of work across a range of disciplines; a second, intimate performance space-the renovated historic Irish Arts Center theatre-optimized for the most intimate live music and conversation, recordings, master classes and special events; classrooms and studio spaces for community education programs in Irish music, dance, language, history, and the humanities; technology to stream and distribute the Irish Arts Center experience on the digital platform; a spacious and vibrant avenue-facing café lobby that will be a hospitable hub for conversation and interaction between artists and audiences; and a beautiful new courtyard entrance on 51st Street where the historic Irish Arts Center building and the new facility meet.