Click Here for More Articles on SHAKESPEARE SPOTLIGHT
Child's Play NY to Host Series of Shakespeare Workshops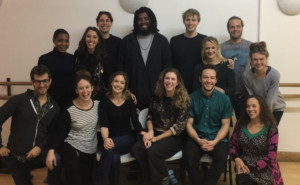 Child's Play NY announces a new series of workshops that use Shakespeare plays to illuminate Social Emotional Learning (SEL). This new program marks the first production featuring Child's Play NY's impressive roster of classically trained teaching artists.
On December 2, this ensemble will perform a 45-minute version of one of Shakespeare's greatest comedies, A Midsummer Night's Dream. The performance will be followed by a hands-on workshop for kids ages 6-16 and their families. Using the play's plot and characters as a lens, the post-show workshop will explore relationships, conflict, empathy and perspective. Classic theater games will provide a fun and engaging way to connect the play to these larger concepts.
These workshops provide dynamic programming for schools seeking to integrate social and emotional learning into their curricula.
This inaugural event gives the public an opportunity to experience what will be made available to schools during the 2018/2019 academic year.
Founder and Executive Director, Jocelyn Greene said, "Child's Play NY has always worked to foster positivity through theater. Since I started the company, Shakespeare classes for kids have,, been at the core of what we do. I - and the teachers - have an evolved understanding of why studying Shakespeare can make us better people. This new series combines the incredible talents of the teachers - as actors - with the mission of exploring the human condition. It is something I am deeply excited to contribute to the educational landscape."
Through Shakespeare's complex text and conflicted characters, these workshops are a natural way for students to explore their own emotions, build positive relationships, set and achieve goals and feel and show empathy. During these workshops, we create a fun, safe environment for kids to unleash their creativity, hone their craft and play, all while bolstering their most foundational life skills.
To register for the December 2 event, visit www.childsplayny.com/midsummer-residency. Reservations are required and seating is limited.
Child's Play NY is an education company that ignites artistry in kids through theater programs. Their team of professional actors run joy-filled after school classes, in-home classes, camps and theme-based birthday parties for kids aged 2 - 16 in New York. They also recently launched a social and emotional learning-aligned Shakespeare workshop for schools interested in tying SEL competencies to meaningful Shakespeare theater events.
Founded by Jocelyn Greene, Child's Play NY was built on the belief that when young people get to tap into their intrinsic sense of play and make theater together, they are empowered to be more creative, collaborative and compassionate human beings. Jocelyn founded Child's Play NY in 2009 as a way to transform theater education in her community. She drew from her work as a student (MFA, NYU Graduate Acting, BA, Wesleyan University), an actor (The Public Theater, NYSF), and a teacher (Will Power to Youth, Oddfellows Playhouse, Epic Theater) to develop the rigorous curriculum and imagination-based games that ignite the program today. Jocelyn was raised by actor-parents in New York and Los Angeles and now lives in Brooklyn with her actor-husband and 5 year old son. She loves directing Shakespeare with teens, re-inventing fairytales with 4-year-olds and all the beautiful work in-between. You can learn more about Jocelyn, her extensive theater background and Child's Play NY here.
Child's Play NY currently partners with more than 20 public and private schools throughout New York, including Avenues the World School, Berkeley Carroll School, Brooklyn Preschool of Science, PS 29, PS 32, PS 39, PS 58, PS 133, Williamsburg Northside and more. Jocelyn's writing and video appear in Mt Sinai Parenting, Red Tricycle, A Child Grows in Brooklyn and more.