Brick Theater Celebrates Halloween with THE TESTAMENT OF JOSH: A FLESH & BLOOD MUSICAL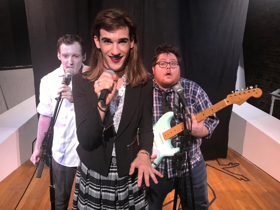 This Halloween, the Brick Theater presents The Testament of a Josh: A Flesh and Blood Musical, an original rock musical by humor writer Brian Boone (books and lyrics) and composer Julian Mesri, and featuring Maybe Burke (fresh off the acclaimed Red Emma and the Mad Monk), John Amir (Theater for a New Audience's Skin of Our Teeth) and Matt Butterfield (600 Highwaymen).
In The Testament of Josh, a new rock musical by comedy writer and humorist Brian Boone (The New Yorker, McSweeney's) and composer Julian Mesri, a small - and very Christian - American town plays host to a mysterious young stranger who just might be the second coming of Christ. As the town's teenagers incorporate the newcomer, Josh, into their midst, and the church elders scheme for him to play a leading role in their gory annual Easter Pageant, the reincarnated teenage Messiah is struggling with some zombie tendencies that seem to have followed him back from the grave.
The Testament of Josh is the first evening-length musical by Brian Boone, whose humor writings have appeared in The New Yorker, McSweeney's, MAD, and The Onion, and who writes for Anna Farris and Paul Shaffer. Composer Julian Mesri is better known as a playwright and director, the founder of bilingual theater company Sans Comedia (Immersion, Oedipus Gol), and whose first musical for which he both wrote and scored, Bethlehem, premiered in 2015. Director Patrice Miller is an interdisciplinary performance maker, whose musical credits include the celebrated Weimar-era cabaret Mad Jenny's Love und Greed, the original musical This Joint is Jumpin' (the Other Palace, London; 2017), and frequent collaborations with Edward Einhorn's Untitled Theater Company No. 61. The project is the brainchild of producerJeremy M. Barker, a critic and experimental performance-maker whose work has appeared at The Public Theater's Under the Radar Festival, Dixon Place, JACK, and elsewhere.
THE TESTAMENT OF JOSH will play at The Brick (579 Metropolitan Ave at Lorimer Street, Williamsburg, Brooklyn) OCT. 31 and NOV. 2, 3, 7, 10, 11, 15, 17 & 18. Tickets ($20) may be purchased online at www.bricktheater.com or by calling 866-811-4111.
Brian Boone's (book and lyrics) writing has appeared in The New Yorker and Mad, and on Funny or Die, Someecards, Vulture, McSweeney's Internet Tendency, College Humor, Barnes and Noble Reads, How Stuff Works, Popdose, RiffTrax, The Chive, Points in Case, Weekly Humorist, Robot Butt, ClickHole, Adult Swim, The Onion, StarWipe, and Splitsider. He writes jokes for the Anna Faris is Unqualified podcast and the syndicated radio program Paul Shaffer's Day in Rock. He has edited and written for numerous humor books by trivia publisher Portable Press, including Fake Facts, How to Fight a Bear and Win, and How to Toilet Train Your Cat. Additionally, He's written instructional books on music theory, English literature, and philosophy, and many joke books for children, including volumes on knock-knocks, puns, Harry Potter, and video games. In 2011, Penguin published his humorous book of rock music trivia, I Love Rock n' Roll (Except When I Hate It). His absurdist one-act play The Egg Play (published by Playscripts Inc.) has been produced at high schools around the country, while his pirate musical The Sea is a Restless Whore has been performed at colleges, conferences, and bars.
Julian Mesri (composer) is an Argentinean-American writer, director and composer. He is the artistic director and founder of Sans Comedia, a theater company producing work in English and Spanish. Recent work includes Red (Sancturary Fstival, HERE Arts Center), The Gauchos (Teatro Extranjero, Buenos Aires) and the musical Bethlehem (St. Paul's Theater, BAX Space Grant), Lisa and Her Thirds (The PIT, INTAR Theater),Immersion (The Treehouse), and Oedipus Gol (Dixon Place). As a director, he has worked at IATI Theater (Los Columpios and Flor de Lirio) and Repertorio Espanol. His production of Lope De Vega's Fuenteovejuna at Repertorio Espanol won the 2013 Gilberto Saldivar Outstanding Production HOLA Award and two ACE Award nominations for Classical Theatre productions. He served as Artistic Director for the 2013 PEN World Voices: New Plays from Spain festival, bringing together seven notable Spanish playwrights with contemporary New York City directors and actors during a two-day festival at the Martin Segal Theatre Center. He is a Usual Suspect at New York Theatre Workshop, where he was a 2012-2013 Emerging Artist of Color Fellow. As a member of Panorama Sur, a collective of Hispanic-American Playwrights led by Alejandro Tantanian, his work was showcased at the Buenos Aires International Theater Festival in 2013.
Patrice Miller (director) is a director-choreographer best known for her interdisciplinary performance making. Recently, she directed This Joint is Jumpin at The Other Palace, London and James Judd's Funny Stories which ran at the Crown & Anchor in Provincetown and toured . Some of her critically acclaimed collaborations include directing Mad Jenny's Love und Greed, choreographing Paul Auster's City of Glass, choreographing and co-developing with Edward Einhorn/UTC61 Vaclav Havel's The Pig, or Valcav Havel's Hunt for a Pig, and co-creating with Edward Einhorn Money Lab which featured her "hilarious, provocative" dance-theater piece Dead Cat Bounce. She has collaborated with former Moth producer/director Maggie Cino (Decompression), William "Electric" Black at La MaMa, and frequently guest curates in downtown NYC. Her installation work includes a number of projects with the Institute of Psychogeographic Adventure including work for The Brooklyn Museum, Prelude/CUNY Grad Center, and SUNY Stonybrook; Steve Valk and Michael Klein's COIL piece Excavation: Martha Graham Company at Westbeth; couture performances for NYC Fashionweek 2008 and 2009. She was the director of performance for 571 Projects Arts Gallery and is a recent PASS Artist in Residence at Snug Harbor Cultural Arts Center where she continued to develop In the Pines, a piece using murder ballads to examine narratives of gendered violence. She is also in recovery from Catholicism.
Jeremy M. Barker (producer) a contemporary performance critic and dramaturg based in New York City. He has served as dramaturg for ensemble theater company Sister Sylvester (NYC), among other performance projects, and serves on the advisory board of the Institute of Social Choreography (Frankfurt). The former editor of Chance magazine and the current editor of Culturebot.org, his work has appeared online and in print in American Theatre magazine, Theater magazine, Hyperallergic, the Brooklyn Rail, among others. As a dramaturg and writer for performance, his work has been presented at the Park Avenue Armory, JACK, and the Under the Radar Festival (They Are Gone But Here Must I Remain), Abrons Arts Center (The Maids' The Maids), and Torn Page (What's Yours Is Mine), and the Other Palace, London (This Joint is Jumpin').
The Brick is located at 579 Metropolitan Avenue (between Union Avenue and Lorimer Street) in Williamsburg, Brooklyn on the L & G subway lines (L: Lorimer stop; G: Metropolitan stop). For more detailed directions & further information, visit www.bricktheater.com. The Brick and its non-profit company, The Brick Theater, Inc. were founded in September of 2002 by Robert Honeywell and Michael Gardner. Formerly an auto-body shop, a storage space and a yoga center, this brick- walled garage was completely refurbished into a state-of-the-art theater complex, with a large sprung floor and professional lighting and sound package.
Winner of THE 2009 CAFFE CINO FELLOWSHIP AWARD, The Brick is Williamsburg, Brooklyn's destination for subversive theatrical experiences. Home to the critically acclaimed premieres of Bouffon Glass Menajoree (NY IT Award Winner-Outstanding Play), Samuel & Alasdair: A Personal History of the Robot War (NY IT Award Winner-Outstanding Play), Greed: A Musical Love $tory (NY IT Award Nominee-Outstanding Musical), Red Cloud Rising, Theatre of the Arcade and Suspicious Package (NY IT Award Nominee-Outstanding Play), The Brick has hosted some of downtown theater's most innovative artists, including Young Jean Lee, The Debate Society, Little Lord, Nellie Tinder, Title:Point, Target Margin Theater, New Georges, Jason Grote, Annie Baker, The Mad Ones and Thomas Bradshaw.