BWW Review: THE WHITE ALBUM, Joan Didion's Essays Onstage at BAM, Ponders the Predicaments of Generations Past and Present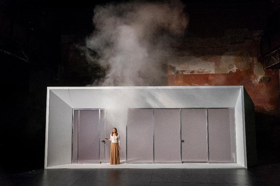 "We tell ourselves stories in order to live."
-- Joan Didion
This quote is the opening sentence from the author of the book and the words that inspired, created and catapulted The White Album -- a theatrical representation in full of Didion's autobiographical, literary essays of the same name published in 1979 but focused on the tumultuous period of time between 1966 (though it was officially started in 1968) and 1971, which had an engagement as part of BAM's Next Wave Festival November 28 - December 1, through collaborators between Lars Jan/Early Morning Opera, Mia Barron (who portrayed Didion herself), and multiple commissioners and supporters including Center Theatre Group, arts centers at CalArts, UCLA, Ohio State University and the UCross Foundation, amongst others.
Both director/creator Lars Jan and lead actress/creator Mia Barron are alumni of Ucross, a prestigious artists' residency program and creative lab for the arts located in Wyoming's majestic High Plains, and they used their three-week retreat to develop this intense and ambitious exploration of Didion's text with so many major organizations and artists behind it.
But the risk and investment seemed well worth it, as the multi-generational audience appeared utterly engrossed for the 90-minute, relentless performance and for the community discussion (importantly not called a "talkback") afterwards.
Jan and Barron's staged version of The White Album is a multi-dimensional piece. It is partly a one-woman show, with Barron as Didion, speaking in soliloquy when reflecting on her thoughts and memories or in monologues to the audience. It is also a four performer, multi-character ensemble production. And lastly, it is a much larger, improvised participatory ensemble work with a cast size of unessential characters more befitting an opera at the Met or extras on a film set. So it is sort of a play within a play within a play -- but how do they pull that off?
Let's start with Mia Barron as Joan Didion -- she is utterly brilliant, relatable, and knows how to pull you deep into the murky waters of what Didion herself was grasping to understand about those tempestuous times, through a mix of earthiness and approachability alternating with raw, exposed vulnerability. None of the charm of Didion's unique voice and writing style is lost, rather, it is enhanced by Barron as the vessel. The fact that she accomplished all of this without ever fully engaging with the others on stage is a real achievement in acting.
That brings us to the next layer -- the multi-talented cast of four who played multiple people from the era that Didion encountered in life or explored and examined in her own head. Andrew Schneider ping-pongs from a pacing psychoanalyst to a psycho killer (as one of the infamous murdering Ferguson brothers) to anguished rockstar and poet Jim Morrison of The Doors. Schneider also doubles a the lighting designer (along with Chu-Hsuan Chang) -- which was exquisite and acted like another performer in the cast, creating mood and shaping the scenes -- something that might be hard to believe one could pull off in tandem until you read his resume. Sharon Udoh lent her multitasking skills to a powerful portrayal of Black Panther Huey P. Newton and her soulful, enchanting vocals to several songs scattered throughout. Micaela Taylor's long sinuous limbs and extensive dance background allowed her performance to be expressed largely in movement and gestures by which her flexibility made enter the realm of downright disturbing -- most notably as a "stranger" sneaking around the house in a jerky, "flex" pop and lock style and in the harrowing shootout between a police officer and a student, where Taylor and Schneider fire shots at each other in a tiny, confined space that becomes splattered with redness (which the stage crew seemed to have a very hard time scrubbing off once the show was over). Stephanie Regina rounds out the quad by bringing a necessary sense of groundedness amongst the chaos in both her characters (such as The Doors keyboardist and cornerstone, Ray Manzarek) and her demeanor.
The third layer of "extras" in The White Album are audience members invited to participate, not passively like some cases where certain attendees are seated on the stage, but incredibly actively -- they become the student protestors, the partygoers and, occasionally, the observers, but always a vital part of the performance.
These three parts to the puzzle of the production are centered around and constantly going in and out of a large rectangular set piece that serves as a recording studio, university facility, party room and many different homes, including Didion's famed and often mentioned house on Franklin Street (of which her departure from also seems to usher in the end of the era examined in the White Album). It creates a sense of a box and the various feelings associated with being "boxed in" or at other times "outside of the box." The set piece also evokes a container or Pandora's Box -- as if that small space could ever hold so much history.
The White Album does not explore the more romanticized aspects of the late '60s and early '70s -- hippies, free love, Woodstock and revolutionary changes such as feminism and Civil Rights movements -- but gets to the gritty guts of that time. And there are a lot of guts. The main points of focus are pinpointed on violence and death: the Ferguson brothers murders, Huey Newton and the Black Panthers, the Black Student Union strike at San Francisco State with clashes between the police and protestors, the Manson Family murders and even the gloomy, tragic singer of The Doors was a notable figure of a darker shade to the Sixties than the sunny Beatles or even the playfully pernicious Rolling Stones.
As Didion spent those years writing and reporting on those topics (or obsessing over the ones she may not have directly engaged with -- like the Ferguson brothers murders or her acquaintanceship with Sharon Tate and prison meetings with Linda Kasabian, a former Manson follower) she developed feelings of nausea and vertigo that were examined in a psychiatric report (which is in the book and performed in the stage version) that seems incredibly heavy-handed and misdiagnosing of a condition she reflects on being less of a symptom of her own psychological issues and more a result of the times.
This is what makes The White Album so potent, poignant and utterly relevant to today as much (or possibly more) than it was when it was first published and why this production was so powerful and feels incredibly important and vital right now. I couldn't help but think the whole time how similar the topics Didion was reporting on (or obsessing over) are to 2018 as to 1968 -- particularly all the violence. Only now the mass murderers have semi-automatic weapons and such instances of the disregard for and destruction of human lives seems to have increased. The news is inundated with so many killings at the hands of police, terrorism, hate crimes or someone who suddenly just exploded and took down so many innocents with them for reasons impossible to grasp or comprehend. It is all so overwhelming that we have almost become numb to it. The bodies are piled so high that one loses count.
What kind of ongoing psychological difficulties will today's writers and reporters face? And citizens too? The significance and specificity of timeline was of great interest to me because of the first year that Didion's experiences are chronicled in The White Album began: 1966. Flash forward fifty years later to 2016, a year that truly transformed America as we thought we knew it. Now we are in 2018 (half a century after the actual starting point featured in the book, 1968) and reaching the crescendo point much like in 1968 (typically, the "8s" seem to define a decade before setting things up to move into a new one, or it would certainly seem so for 1968). I noticed that in the community discussion after the show the audience (or those who remained for the chat) were almost equally divided into Millennials and those who lived through the times portrayed. Both were outspoken and had a lot to say about the similarities between both times.
To that, the BAMbill program with notes from the director Lars Jan and dramaturg David Bruin featured an image of a painting I saw recently at MoMA by Faith Ringgold. The large-scale portrait, part of American People Series #20: Die, is both phenomenally executed as it is chilling. The scene is a murderous riot in acid-bright colors with a cement gray background of black people and white people killing each other (it is also even more disturbing to note that the pink-faced white men look suspiciously like Donald Trump and equally rosy-hued women could double for Ann Coulter). I thought that this must have been a new purchase by a hot young artist as it looked much more like something that would be at home at The Whitney Biennial than standing at the entrance to the permanent collection that houses such pieces as Monet's Water Lilies and various masterworks from Picasso, Van Gogh and others. But it was not a new work -- this oil painting was made in 1967, only demonstrating the tainted, color-conscious and blood-stained canvas of American culture hasn't changed much.
I wonder what our future Didion-types of the Millennial generation, whose parents are peers and contemporaries of hers, might write about the period of 2016-2021 (the book's purview ends around 1971) or even to 2028 (she continued to work on it until 1978), publishing a book in 2029, five decades after The White Album reflecting on what the heck happened in this era and if anything new or better has come from it? Or will it represent neither the best of times nor the worst but merely sound and fury, much like Didion's essays do? And might the next generation find the work worthy of dramatizing? Only time will tell.
Didion's sharpest skill as a writer and what makes this work so innately theatrical, actable and compelling for the stage is that she is first and foremost an observationalist who imbues her keen perceptions with a lot of emotions and humanity thus weaving occurrences into stories, with a large helping of charm and humor between the lines of fragility and pain.


Mia Barron- lead performer-in "The White Album" by Joan Didion created by Lars Jan/ Early Morning Opera at the BAM Harvey Theater on November 28, 2018, presented by BAM Next Wave Festival. Photo Credit: Stephanie Berger.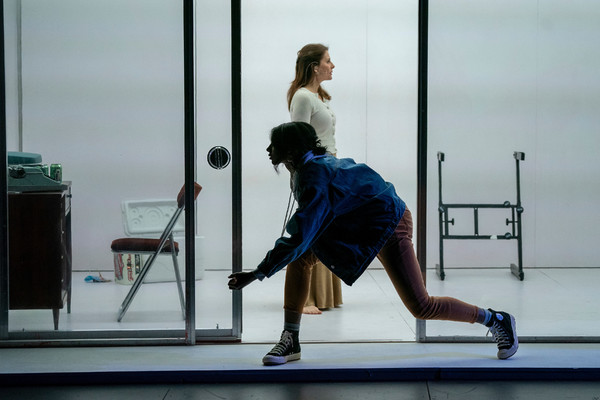 Mia Barron and Micaela Taylor in a scene from "The White Album" by Joan Didion created by Lars Jan/ Early Morning Opera at the BAM Harvey Theater on November 28, 2018, part of the BAM Next Wave Festival. Photo Credit: Stephanie Berger.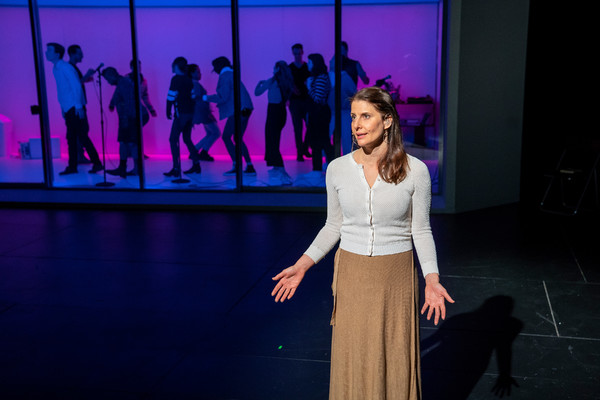 Mia Barron- lead performer-in "The White Album" by Joan Didion created by Lars Jan/ Early Morning Opera at the BAM Harvey Theater on November 28, 2018l, presented by BAM Next Wave Festival. Photo Credit: Stephanie Berger.

Andrew Schneider, Mia Barron, Stephanie Regina and Sharon Udoh in a scene from "The White Album" by Joan Didion created by Lars Jan/ Early Morning Opera at the BAM Harvey Theater on November 28, 2018, part of the BAM Next Wave Festival. Performed by and created with Mia Barron- lead performer-soloist with performances by Stephanie Regina, Andrew Schneider, Micaela Taylor and Sharon Udoh. Photo Credit: Stephanie Berger.