BAM in Association with FIAF's Crossing The Line Festival Presents CROWD
Performances run Oct 13—15 at 7:30pm.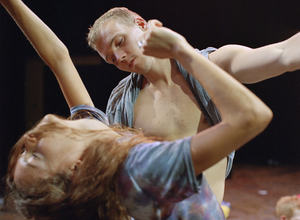 Gisèle Vienne stops time in this hypnotic work described as "a dazzling piece, transfixing and strangely resonant" (The Guardian). The acclaimed French choreographer transports us to a rave, conjuring up a cinematic fever dream, a sacred ritual, and a night spent losing oneself in the crowd. The air throbs with pulsing beats from the radical EDM artists of 90s Detroit. Time ebbs and flows, capturing a moment of explosive synchronicity or slowing down to illuminate the tiniest movements, as 15 individual stories emerge and are subsumed by the group.
The 90-minute work has captivated audiences from Tokyo to Sao Paulo. And now, showcasing Vienne at the height of her artistic power, CROWD makes its US premiere at BAM in a rush of collective euphoria and creative destruction.
Dance Reflections by Van Cleef & Arpels is supporting this engagement which will also be presented in a new version in Los Angeles, specially created as part of the collaboration between L.A. Dance Project and the Museum of Contemporary Art (MOCA).
Gisèle Vienne is a Franco-Austrian artist, choreographer, and director. After graduating in Philosophy, she studied at the puppeteering school Ecole Supérieure Nationale des Arts de la Marionnette. She regularly works with, among others, the writer Dennis Cooper. Vienne has choreographed and directed performances touring in Europe and around the world, among which, I Apologize (2004), Kindertotenlieder (2007), Jerk (2008), This is how you will disappear (2010), LAST SPRING: A Prequel
(2011), The Ventriloquists Convention (2015) in collaboration with Puppentheater Halle, Crowd (2017) and L'Etang (2021). In 2020 she created with Etienne Bideau-Rey the fourth version of Showroomdummies at the Rohm Theater Kyoto, created in 2001, and in 2021, she made the film Jerk. Since 2005, she has frequently been exhibiting her photographs and installations. Her work has led to various publications and the original music of her shows to several albums.