Theater UnCorked Announces Staged Reading Of ONE FLEW OVER THE CUCKOO'S NEST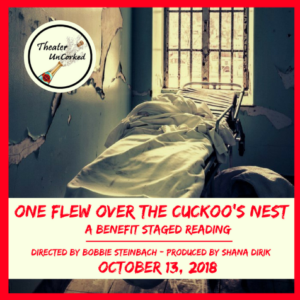 Shana Dirik, Producing Artistic Director of Theater UnCorked - Boston's newest small theater company - announces the second production in the company's debut season, a benefit staged reading of One Flew Over the Cuckoo's Nest for two performances only on Saturday, October 13th at 3:30 and 7:30 pm at Margaret Jewitt Hall, 11 Garden Street, Cambridge, MA 02138.
One Flew Over the Cuckoo's Nest is Dale Wasserman's Tony Award-winning comic drama based on the novel by Ken Kesey. The play takes audiences on an emotional roller coaster inside a mid-century mental institution as a roguish new inmate changes the lives of patients and staff while he is caught in a war of wills with the ward's nurse. The high stakes game of cat-and-mouse soon affects all of the ward's patients and leads to a showdown of shocking proportion.
"Cuckoo's Nest is a truly challenging project, one that I'm thrilled to be taking on as Theater UnCorked's second outing," said Producing Artistic Director Shana Dirik. "The play tackles difficult social issues and iconic characters that are struggling with emotional turmoil, making it a powerful and meaningful piece of theater. The show's central focus on rebelliousness and anarchy in the face of oppression is especially relevant, as are issues surrounding care of the mentally ill. I look forward to collaborating with Bobbie Steinbach to bring to life both the humor and the pathos of these intricately written characters."
Cuckoo's Nest will be lead by an all-female production team including IRNE and Eliot Norton Award winning Director Bobbie Steinbach, IRNE Award winning Producing Artistic Director Shana Dirik and Stage Manager Kailey Bennett.
"One Flew Over the Cuckoo's Nest" is presented by special arrangement with SAMUEL FRENCH, INC.
Tickets for One Flew Over the Cuckoo's Nest go on sale August 13th; $35.00 per person. Tickets can be purchased online at http://www.ticketstage.com/T/THEATERUNCORKED.
Artistic Bios
Shana Dirik (Producing Artistic Director):
Shana Dirik is thrilled to be presenting her second production in Theater UnCorked's inaugural season with a staged reading of "One Flew Over the Cuckoo's Nest." Theater UnCorked's debut "Pop Up Musical" production of "Sweeney Todd in Concert" was critically acclaimed by reviewers and audiences alike in which Dirik reprised her IRNE winning role as Mrs. Lovett along with a very talented production crew and cast. Prior to that she was seen as Mona Kent in Greater Boston Stage Company's Dames at Sea, her other credits include Miss Andrews in Mary Poppins (IRNE Nom); Wild Party/Dolores (ArtsImpulse/IRNE Nom); Kimberly Akimbo/Debra (IRNE for Best Sup Actress); The Little Mermaid/Ursula (IRNE Nom); The Little Princess/Minchen (IRNE Nom); Annie/Miss Hannigan; Into The Woods/Witch (NH Theater Nom), The Full Monty/Jeanette ; XANADU/Melpomone (IRNE Nom); Nine/Mama Maddelena; Chicago/Mama Morton; Sunset Boulevard/Norma; Nunsense/Mother Superior; A Little Night Music/Charlotte (IRNE) & Sweeney Todd/Mrs Lovett (IRNE); The King and I/Anna and Evita/Eva.
Bobbie Steinbach (Director):
Bobbie Steinbach* has been a longtime member of Boston's theatre community as actor, director, cabaret performer and acting coach. She is a Founding Member of Actors' Shakespeare Project and a Resident Actor with the company. Regional credits include Lyric Stage Company; Huntington Theatre Company; New Repertory Theatre; Commonwealth Shakespeare Company; Boston Playwrights' Theatre; Greater Boston Stage Company; Speakeasy Stage Company. Directing credits: Shakespeare Now! Romeo and Juliet, A Midsummer Night's Dream, Macbeth; Boston Conservatory: Our Town; New Repertory Theatre Touring Company: The Diary of Anne Frank. She has received two Elliot Norton nominations and an Elliot Norton Award for Outstanding Actress, and four IRNE Awards for Best Actress. In 2015 The Theatre Communications Guild honored Bobbie with a prestigious two-year Resident Actor Fox Fellowship for Distinguished Achievement. She is also the 2016 Huntington Theatre Company's Lunt-Fontanne Fellow. Bobbiesteinbach.com *Indicates member of Actors Equity Association