Click Here for More Articles on SHAKESPEARE SPOTLIGHT
Photos: First Look at Will Lyman in Commonwealth Shakespeare's KING LEAR, Opening Tonight
One of Greater Boston's most beloved traditions, Commonwealth Shakespeare Company's "Free Shakespeare On The Common" continues its 20th season with William Shakespeare's King Lear with celebrated Boston actor Will Lyman in the title role. Scroll down for a first look at the star onstage!
Directed by Founding Artistic Director Steven Maler, King Lear follows the journey of the aging king, faced with his own mortality and mental decline as he tries to secure the legacy of his kingdom by dividing it amongst his three daughters. Only through loss-of status, of love, of loyalty-does King Lear learn what is truly resonant at the end of a life. Performances are now through August 9, 2015 on the Boston Common near the Parkman Bandstand. Opening Night/Press Performance is tonight, July 29 at 8pm.
The cast features Will Lyman (King Lear)* Fred Sullivan, Jr.* (Earl of Gloucester), Jeremiah Kissel* (Earl of Kent), Ed Hoopman* (Edgar), Mickey Solis* (Edmund), Brandon Whitehead* (Fool), Deb Martin* (Goneril), Jeanine Kane* (Regan), Libby McKnight (Cordelia), Mark Soucy (Duke of Albany), Maurice Emmanuel Parent* (Duke of Cornwall), Brandon Green (Oswald) and Jerry Goodwin (Doctor/Old Man).
The design team includes Beowulf Boritt (Scenic Designer), Peter West (Lighting Designer), Katherine O'Neill (Costume Designer), Colin Thurmond (Sound Designer), Yo­el Cassell (Movement), and Jeremy Browne (Fight Director).
Again this year, pre­show opportunities will include The Greenshow, featuring CSC's Apprentice Program, and Commonwealth Concerts, with New England Conservatory.
Performances are free and open to the public. For reserved "Friends Section" chairs, special events and more information visit online at www.commshakes.org or call (617) 426-­0863. Weather hotline is (781­) 239­-5972.
Photo Credit: Andrew Brilliant/Brilliant Pictures

The cast of Commonwealth Shakespeare's KING LEAR, starring Will Lyman

King Lear (Will Lyman) and Fool (BranDon Whitehead) with the soldiers

The cast of Commonwealth Shakespeare's KING LEAR, starring Will Lyman

Regan (Jeanine Kane), Cordelia (Libby McKnight), Duke of Cornwall (Maurice Emmauel), King Lear (Will Lyman), Duke of Albany (Mark Soucy) and Goneril (Deb Martin)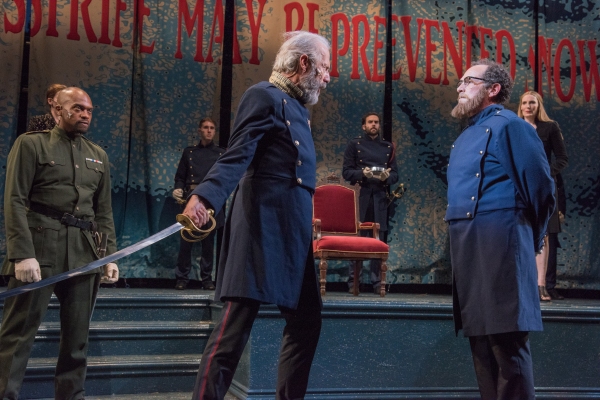 The cast of Commonwealth Shakespeare's KING LEAR, starring Will Lyman

Edgar (Edward Hoopman), King Lear (Will Lyman) and Earl of Gloucester (FrEd Sullivan, Jr.)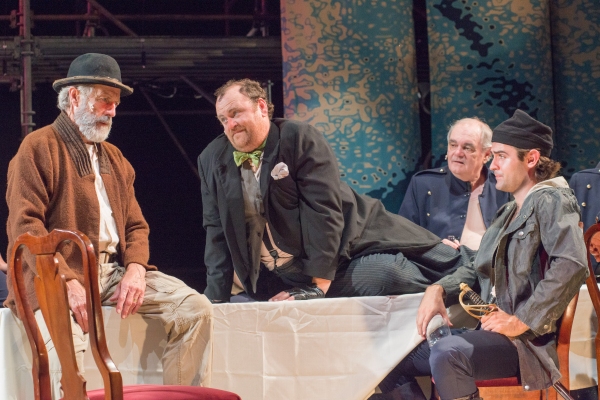 King Lear (Will Lyman), Fool (BranDon Whitehead) and the ensemble

King Lear (Will Lyman) and Edgar (Edward Hoopman)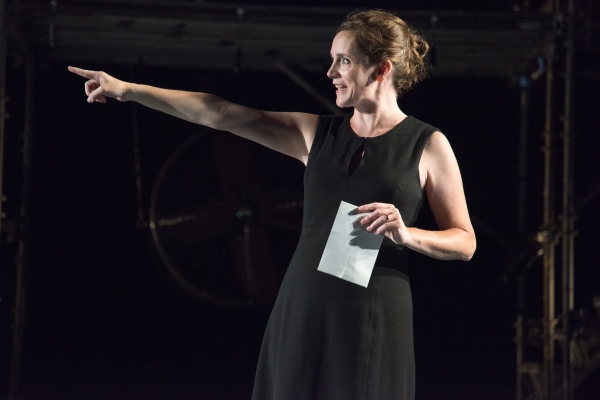 Regan (Jeanine Kane)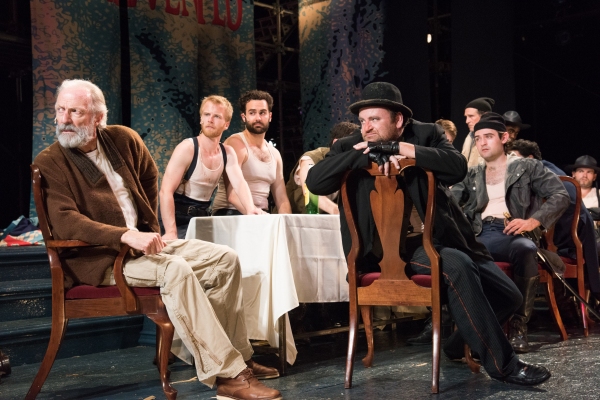 King Lear (Will Lyman), Fool (BranDon Whitehead) and the soldiers

King Lear (Will Lyman)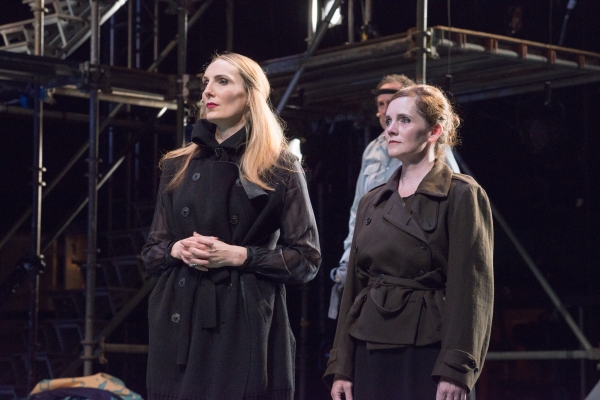 Goneril (Deb Martin) and Regan (Jeanine Kane)

Edgar (Edward Hoopman)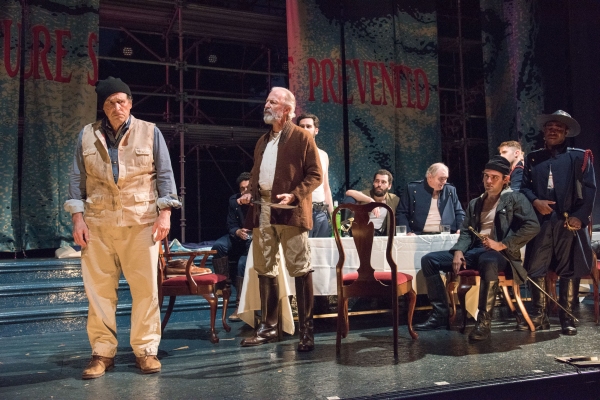 Earl of Kent (Jeremiah Kissel), King Lear (Will Lyman) and the soldiers

Earl of Kent (Jeremiah Kissel), King Lear (Will Lyman)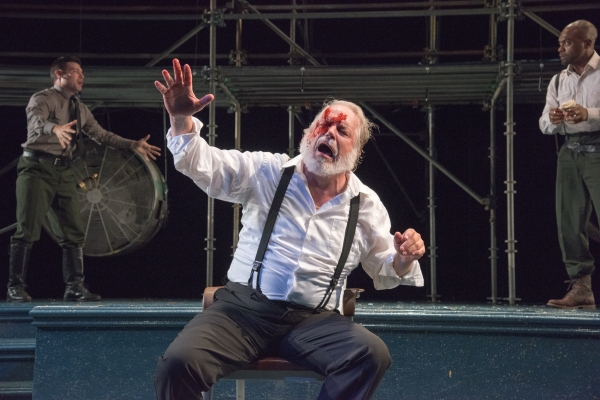 Earl of Gloucester (FrEd Sullivan, Jr.)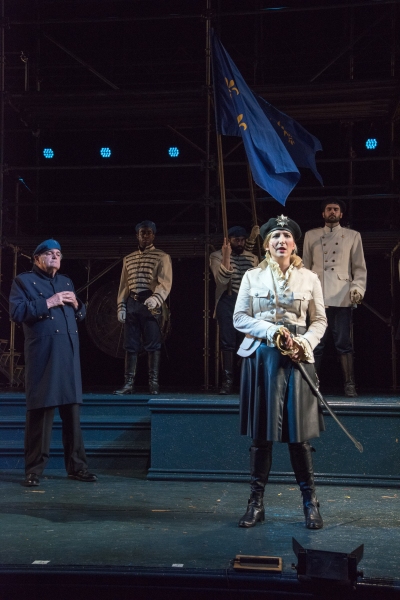 Doctor (Jerry Goodwin) and Cordelia (Libby McKnight) with the soldiers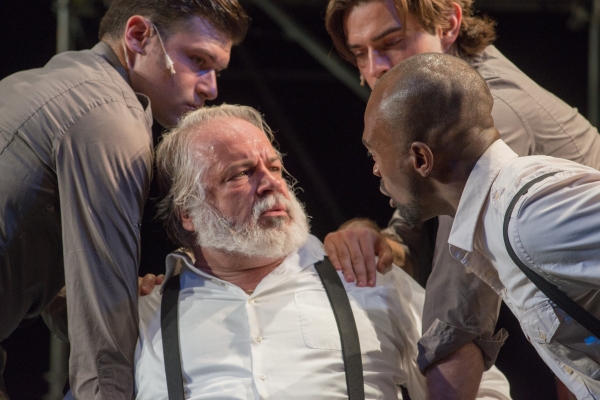 Soldier (Matt Giampeitro), Earl of Gloucester (FrEd Sullivan, Jr.), Duke of Cornwall (Maurice Emmanuel) and a soldier (Addison Williams)

Cordelia (Libby McKnight)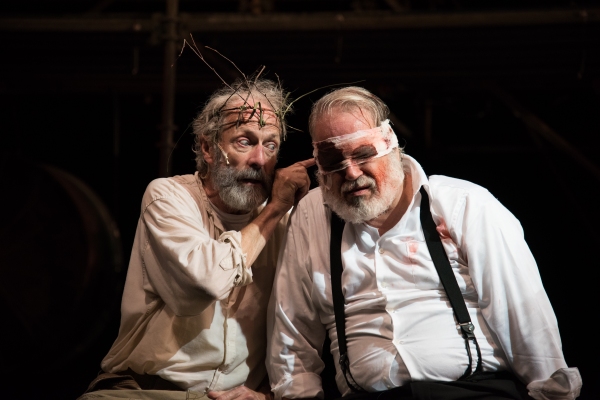 King Lear (Will Lyman) and Earl of Gloucester (FrEd Sullivan, Jr.)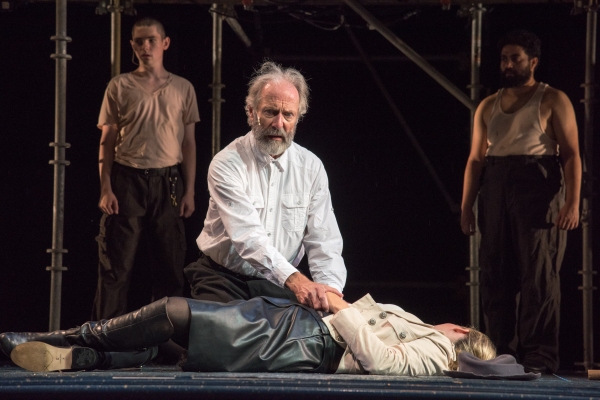 King Lear (Will Lyman) and Cordelia (Libby McKnight)

Regan (Jeanine Kane), Cordelia (Libby McKnight), King Lear (Will Lyman) and Goneril (Deb Martin)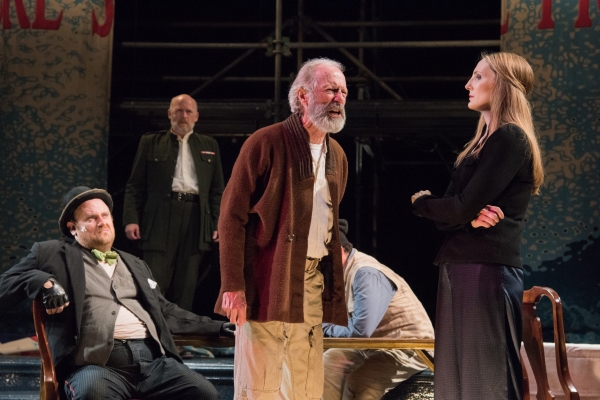 Fool (BranDon Whitehead), Duke of Albany (Mark Soucy), King Lear (Will Lyman) and Goneril (Deb Martin)

Edgar (Edward Hoopman) and Duke of Gloucester (FrEd Sullivan, Jr.)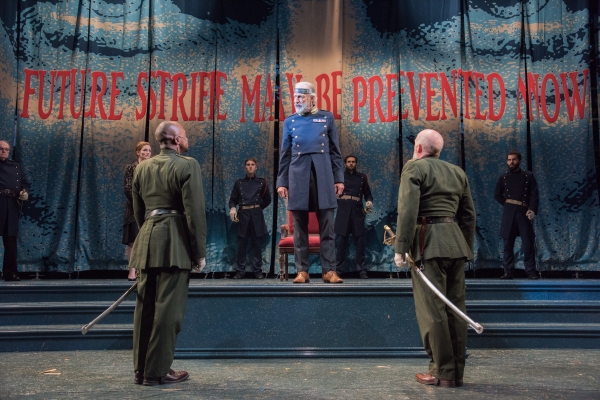 Duke of Cornwall (Maurice Emmanuel), King Lear (Will Lyman) and Duke of Albany (Mark Soucy)

Cordelia (Libby McKnight) and the soldiers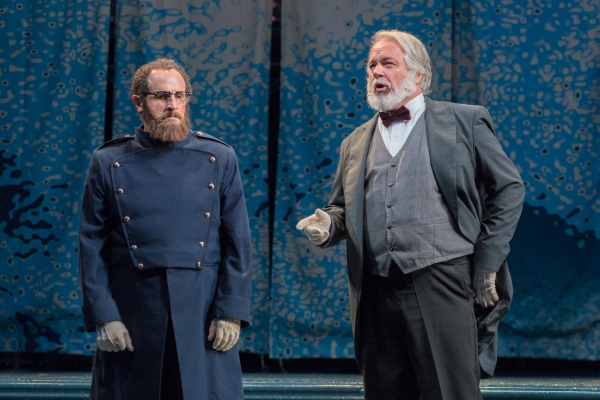 Earl of Kent (Jeremiah Kissel) and Earl of Gloucester (FrEd Sullivan, Jr.)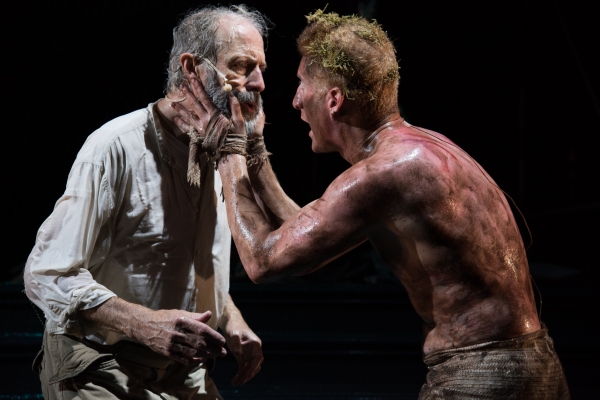 King Lear (Will Lyman) and Edgar (Edward Hoopman)

Edmund (Micki Doli) and company

King Lear (Will Lyman) and Fool (BranDon Whitehead)

Edgar (Edward Hoopman), King Lear (Will Lyman), Earl of Kent (Jeremiah Kissel) and Fool (BranDon Whitehead)

King Lear (Will Lyman, foreground) and the company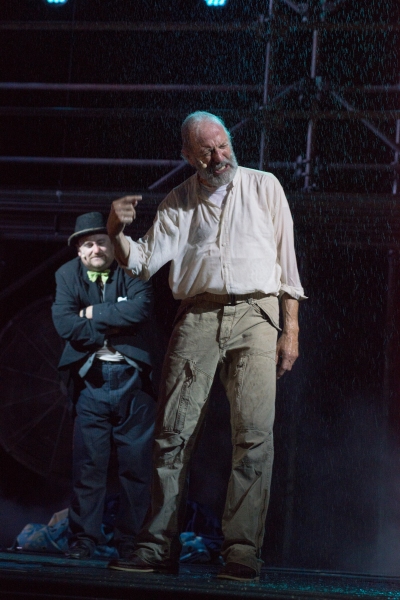 Fool (BranDon Whitehead) and King Lear (Will Lyman)

Fool (BranDon Whitehead) and King Lear (Will Lyman)

Goneril (Deb Martin) and King Lear (Will Lyman)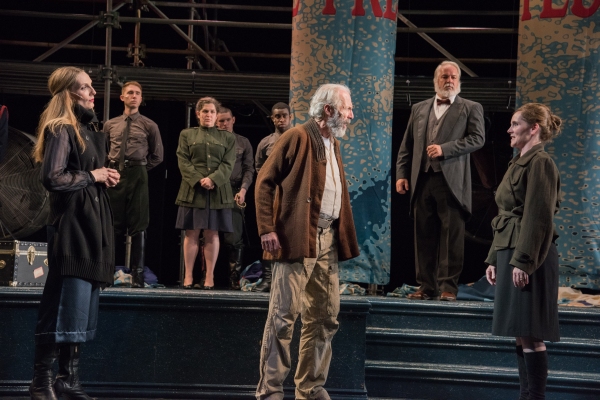 Goneril (Deb Martin), King Lear (Will Lyman), Earl of Gloucester (FrEd Sullivan, Jr.) and Regan (Jeanine Kane) with the ensemble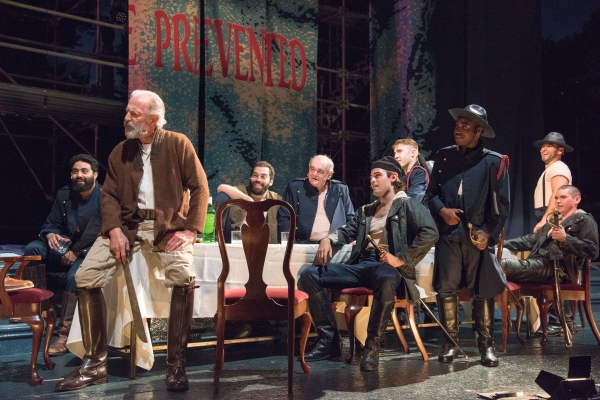 The cast of Commonwealth Shakespeare's KING LEAR, starring Will Lyman

The cast of Commonwealth Shakespeare's KING LEAR, starring Will Lyman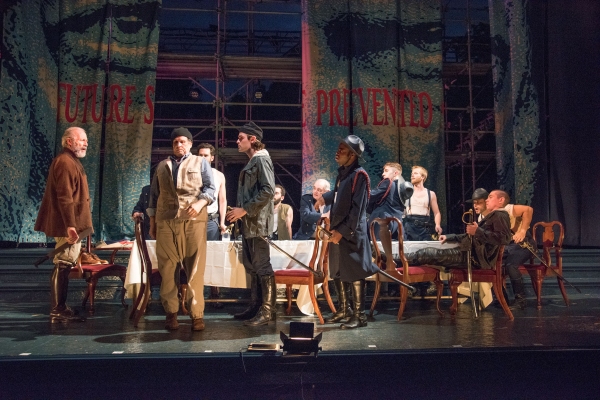 The cast of Commonwealth Shakespeare's KING LEAR, starring Will Lyman