BWW Interview: Keith Lockhart Discusses 2018 Season of the Boston Pops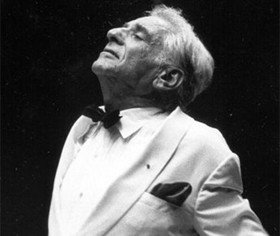 Broadway, Bernstein and the Boston Pops. " 'Tis a consummation devoutly to be wished," as Hamlet might say, and music lovers can expect this during the Boston Pops' current season. In addition to some of the biggest names from Broadway, the Pops will be paying tribute to Leonard Bernstein, the prolific composer, conductor and socialite who would be celebrating his 100th birthday this year.
The 2018 season of the Pops opened on May 9th with guest star Andy Grammar--the pop vocalist with a decidedly western lilt to his voice who proved to have some pretty good footwork when he competed on television's Dancing With the Stars a few seasons back. There will also be appearances by Leslie Odom, Jr who catapulted to fame in the musical Hamilton. Two-time Tony Award winner Sutton Foster of Thoroughly Modern Millie, Little Women and Anything Goes will show the Pops how she stops the show eight times a week on the Great White Way. There will also be an appearance by acclaimed Gospel singer Melinda Doolittle, while Alfie Boe of Les Mis and Finding Neverland will Rock the Pops when he visits Symphony Hall.
The Pops will host two performances of Dancing to the Movies, a production that has been touring the States for the past few seasons and is returning to Boston. Top choreographers will bring to life classic movie dances of yesterday's most memorable films, thrilling the audiences while doing so. Normally they perform to a pre-recorded soundtrack but at the Pops the music will be performed live by what has come to be known as "America's Orchestra". The cast includes Tristan McManus and Anna Trebunskaya, both of Dancing With the Stars, as well as Oscar nominee Lesley Ann Warren, who will always be remembered for her starring role in the television version of Rodgers and Hammerstein's Cinderella.
Perfect for Mother's Day, the Pops will feature two Disney-themed concerts on May 12th and 13th. They will feature music from some of Disney's most beloved movies such as Aladdin, Beauty and the Beast, The Lion King and The Little Mermaid. The cast will be headed by Josh Strickland, who starred in the stage version of Tarzan both on Broadway and in Germany, and Ashley Brown who delighted audiences as Mary Poppins in New York. Because of the family nature of these Disney concerts, children's tickets will be half price.
In an early morning phone call, Maestro Keith Lockhart was enthusiastic about the entire season but was especially excited about the Bernstein tributes. "Leonard Bernstein was born in Lawrence, Massachusetts and actually made his conducting debut with the Boston Pops. He was a very young man when he won a contest sponsored by the Boston Herald in 1941 which allowed him to share the podium with Arthur Fiedler at an outdoor concert at the Hatch Shell. He conducted a Wagner overture which was enthusiastically received by the crowd." The rest, of course, is history.
The Pops will honor Bernstein with several concerts of his music and these will include excerpts from Candide, Wonderful Town, On the Town and the universally loved West Side Story, as well as other Bernstein masterpieces.
Even at 7 am, Lockhart's voice becomes very enthusiastic when he discusses the concert version of West Side Story, which will feature a cast of outstanding vocalists, many of whom are familiar to theater-goers. These include Ali Ewoldt, Natalie Cortez, Ross Lekites, German Alexander and Christopher Rice. "There will also be a semi-staged version of On The Town that will have plenty of dancing," Lockhart days. "It's being directed and choreographed by Kathleen Marshall and it promises to be sensational." The cast includes such recognizable Broadway names as Brandon Victor Dixon, Andy Karl, Megan Lawrence, Laura Osnes, Christian Dante White, Mark Kudisch and Andrea Martin. David Chase will do the musical direction. Both productions will also be performed at the Tanglewood Music Festival later in the summer. They may even have lives after that.
Maestro Lockhart will be celebrating the genius of Leonard Bernstein outside of Boston as well. "I'll be taking a tiny break from the Pops to conduct the Czech Philharmonic in Prague on May 25th. We'll be performing the music that Bernstein wrote for the classic film On The Waterfront, as well as an arrangement called "Bernstein on Broadway. The rest of the program consists of Copeland's "El Salon Mexico" and Barber's "Essay No. 2 Opus 17." It sounds very interesting, but if you aren't able to book your airfare to Prague, the entire Pops 2018 schedule sounds equally exciting-and you won't have to deal with jet lag!
To purchase tickets for the Boston Pops performances in either Symphony Hall or Tanglewood, go to www.bso.org