Apollinaire Extends Letts' THREE SISTERS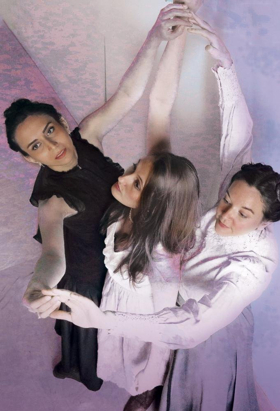 Apollinaire presents Chekhov's masterwork in an intimate production staged in three locations in the theater. Seating is limited to 30 per performance.
Chekhov's dark human comedy of longing for a better life is presented in an adaption by Pulitzer Prize-winning playwright Tracy Letts. Stuck in a provincial outpost after the death of their army general father, the Prozorov sisters dream of returning to the cosmopolitan Moscow of their childhood. Desire battles reality as they struggle to find their place in a society on the brink of upheaval. Three Sisters is a story of yearning and denial, and finding love, beauty, and meaning even in the darkest hour.
Performances of Three Sisters are Dec. 22, 2017-Jan. 14, 2018
Fri. & Sat. at 8:00
Thurs. Dec. 28 and Jan. 11 at 8:00
Sun. Jan. 7 and 14 at 3:00
Press Night: Saturday Dec. 23, 8:00
Performances are at the Chelsea Theatre Works, 189 Winnisimmet St., Chelsea. Tickets are $35, $15 student rush
Tickets can be purchased by calling (617) 887-2336 or on-line at www.apollinairetheatre.com
Information and directions at www.apollinairetheatre.com
Performances will be followed by a Reception with the actors. Dec. 22, 2017-Jan. 14, 2018
Chelsea Theatre Works, 189 Winnisimmet St., Chelsea.
(617) 887-2336 •
www.apollinairetheatre.com
Featuring: Paul Benford-Bruce, Barbara Bourgeois, Siobhan Carrol, Michael John Ciszewski, Olivia Dumaine, Demetrius Fuller, Deniz Khateri,
Becca A. Lewis
, Robert Orzalli, Juan Carlos Pinedo, Zaida Ramos, Brooks Reeves, Evan Turissini, Jon Vellante,
Arthur Waldstein
Directed by Danielle Fauteux Jacques
Costumes: Elizabeth Rocha
Sound: Camilo Atehortua
Scenic Artist: Demetrius Fuller
Stage Manager: Vijaya Sundaram
Running Time: apx. 2 hours 30 minutes with one intermission
Tracy Letts is a Pulitzer Prize and Tony Award-winning playwright and Steppenwolf ensemble member. He is the author of the plays Superior Donuts, August: Osage County (Pulitzer Prize, Tony Award), Man from Nebraska (Pulitzer Prize finalist), Bug, and Killer Joe. Also an actor, he received the 2013 Tony Award for Best Actor in Edward Albee's Who's Afraid of Virginia Woolf? TV and film credits include Lady Bird, The Lovers, Christine, Elvis and Nixon, The Big Short, HBO's Divorce and two seasons as Senator Lockhart on Showtime's Homeland.
Apollinaire Theatre Company stages passionate plays at their elegantly restored theater in the Chelsea Theatre Works, as well as free summer theater in the park. Recently Apollinaire opened two new theaters at the Chelsea Theatre Works, the Riseman Family Theatre that houses their Apollinaire Play Lab program for children and youth, and the new BlackBox Theatre, a rental house for Greater Boston's performing arts community.
Recent Apollinaire productions include Everyman by Carol Ann Duffy, Uncle Vanya by Anton Chekhov, Stupid F**king Bird by Aaron Posner, A Beautiful Day in November on the Banks of the Greatest of the Great Lakes by Kate Benson, Songs of the Dragons Flying to Heaven by Young Jean Lee, and Informed Consent by Devorah Zoe Laufer.