Photos: First Look at MET's IN THE NEXT ROOM OR THE VIBRATOR PLAY
Maryland Ensemble Theatre (MET) is proud to present a 2010 Pulitzer Prize finalist and a 2010 Tony Nominee for Best Play, In The Next Room or The Vibrator Play by Sarah Ruhl. The smart, touching, and hilarious period play will be directed by MET Associate Artistic Director, Julie Herber. In The Next Room will run every Thursday through Sunday at Maryland Ensemble Theatre from May 30 through June 22, 2014. Scroll down for a first look at the cast in action!
In The Next Room is set during the Victorian era at the dawn of the age of electricity in a prosperous spa town outside of New York City where Dr. Givings is employing the new technology to remarkable effect in the form of an apparatus used to treat "hysteria". The extraordinary sounds coming from the office in Dr. Givings' home sparks a curiosity in Mrs. Givings that demands a satisfaction more intimate than any device can provide.
In the Next Room premiered at the Berkley Rep in 2009 and made it toBroadway that same year receiving high praise from critics and audiences alike. Sarah Ruhl's other plays include, The Clean House (Pulitzer Prize Finalist, 2005); Passion Play, a cycle; and most recently, Stage Kiss and Dear Elizabeth. Maryland Ensemble Theatre produced her play, Dead Man's Cell Phone in 2011. She is currently on the faculty at Yale School of Drama and lives in Brooklyn with her family.
Herber directs a talented cast of actors in MET's production of In the Next Room all of whom are company members of Maryland Ensemble Theatre. The cast is Reiner Prochaska as Dr. Givings, Allison Duvall as Catherine Givings,Lia Seltzer as Sabrina Daldry, Tim Seltzer as Mr. Daldry, Vanessa Stricklandas Annie, Rona Mensah as Elizabeth and Jack Evans as Leo Irving.
Herber whose most recent MET directing credits include Bloody, Bloody Andrew Jackson and Antigone will be ably assisted by the design team of Ira Domser (set), Jeanine Evans (properties), Tad Janes and Thom Huenger(sound), Paul Schillinger (lights) and Sherry Shaner (costumes).
In The Next Room or The Vibrator Play will run every Thursday through Sunday from May 30 through June 22 at MET, located in the historic FSK Hotel at 31 W Patrick Street. The first Sunday performance will be preceded by a reception hosted by MET Board Members Suzanne Beal, Abby Sievers and Tina Lee and sponsored by The Perfect Blend. Tickets to In The Next Room or The Vibrator Play are $16.50 (Thursdays) through $25.50 and can be purchased at 301.694.4744, marylandensemble.org or in person at the Maryland Ensemble Theatre box office.
Photo Credit: Joe Williams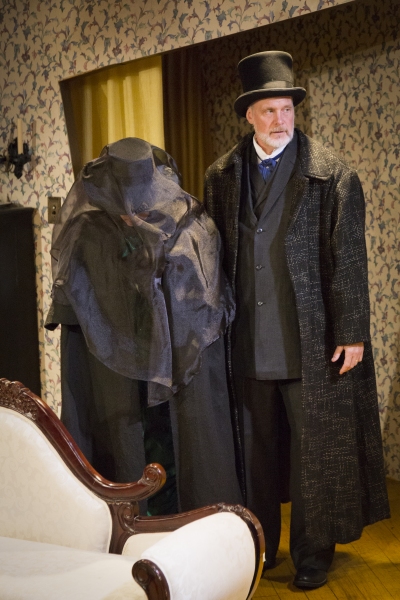 Tim Seltzer as Mr. Daldry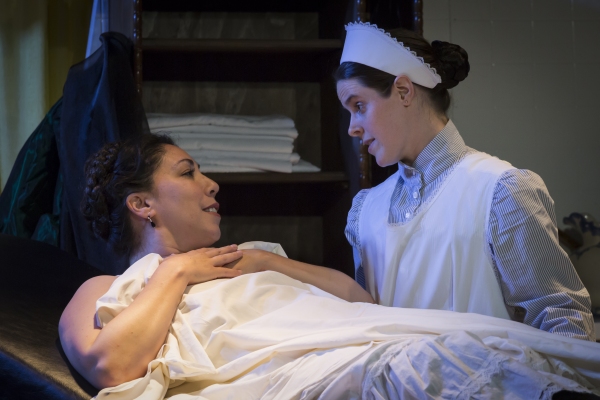 Lia Seltzer as Sabrina Daldry and Vanessa Strickland as Annie

Lia Seltzer as Sabrina Daldry, Vanessa Strickland as Annie, and Reiner Prochaska as Dr. Givings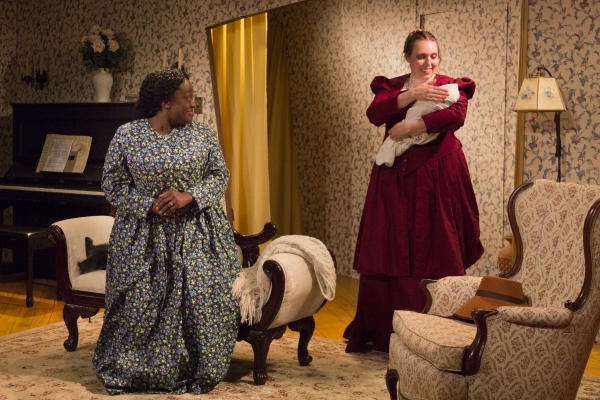 Rona Mensah as Elizabeth and Allison Duvall as Catherine Givings

Allison Duvall as Catherine Givings and Lia Seltzer as Sabrina Daldry