BWW Review: THE KING AND I Enchants Regally At The Hippodrome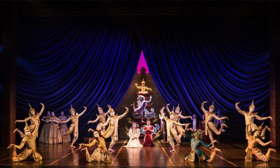 THE KING AND I plays through Sunday, February 24th at the Hippodrome in Baltimore. Singing and dancing along to the oh-so-familiar tunes is going a bit far, though some members of the audience are humming to themselves as the orchestra begins to tune.
The Hippodrome provides many nice amenities for its guests. Coat check is available at the North end of the France-Merrick Performing Arts Center, to save you from sharing your seat with bulky outerwear.
Full and mini-bars throughout the lobby space offer snacks and beverages, alcoholic and otherwise. All the staff and volunteers are wonderful. Pre-show or intermission refreshments are permitted inside the theater.
Fans of Authors Rodgers and Hammerstein were mainly concerned with whether their newest show , which opened in 1951, would be as good as South Pacific. They needn't've worried; THE KING AND I was released on film a scant few years later.
It turns out, upon consideration, that THE KING AND I is not a personal favorite of mine, which is no fault of this production. The production itself is very nicely done; I simply have philosophical reservations regarding THE KING AND I, and concerns about white people playing playing Asians. To my great relief, however, this equity tour features folk from Japan, Korea, Hawaii, Thailand, Singapore, Indonesia and Texas, many on their first national tour. Could this be an effort toward inclusion in theatre? I hope it is.
Singing in the show is lovely, particularly Paulina Yeung, playing Tuptim, who has been sent as a gift to the King. Her powerful soprano soars across the theatre and is a delight in her duets with Dongwoo Kang as Lun Tha, her secret love. Anna, masterfully portrayed by Angela Baumgardner, is brittle and as stubborn as the King Himself, King Mongkut of Siam, who is performed most wonderfully by Pedro Ka'awaloa. Their scene together in the King's study is delightful.
In addition to main characters, supporting roles are well done. Queen Thiang, played by Deanna Choi, is not only physically expressive, but regal, fierce and sweetly melodic in "Something Wonderful" and "Western People Funny." As her son, Crown Prince Chularongkorn, Timothy Matthew Flores creates a believable tension of dignity and uncertainty and has a sweet sequence with Louis, Anna's son, played by Hayden Bercy. As Kralahome, Advisor to the King, Bern Tan plays a steadfast lieutenant, warning "Mrs Anna" and doing as the King wishes, even when he doesn't agree.
Sound quality overall is satisfactory, and most head mics are well hidden. The excellent live orchestra provides uptempo, crisp accompaniment to the action, songs and dances. The dancing, choreographed by Christopher Gattelli after the original choreography of Jerome Robbins, is exquisite and amazing, most notably in the ballet "The Small House Of Uncle Thomas" performed by the Ensemble in Act II. "The Small House Of Uncle Thomas" is beautifully done, and my favorite part of the show. The dancers are extremely powerful and their feet are perfect every moment. Akina Kitazawa as "Eliza" executes with ease some difficult techniques. The whole ballet is a treat to the senses.
This national tour features a lovely gold- embossed proscenium frame that enhances rather than clashes with the gilded elegance of the Hippodrome theater. Lighting Designer Donald Holder does beautiful work, and we are treated to several lovely sunrises that indicate a whole night has passed during the course of one song. Costumer Catherine Zuber's ensembles are lush and brilliant, and Anna's gown's occasional misbehavior is offset by the sumptuously elaborate outfits of the Court Dancers, including dazzling Chada crown headgear. The set, perhaps in a nod to the original set design, is largely untextured painted cutouts flown in and out.
The Hippodrome is a lovely place to see a show. I suggest parking in one of the nearby garages. There's an open lot on Eutaw street, and the Eutaw garage a bit North of the Hippodrome. The $12 fee at the attached Fayette garage seems a reasonable charge for the convenience of no exterior perambulation (just take the elevator right down to the lobby) as I unashamedly admit to being a dreadful sissy about weather.
THE KING AND I plays at The Hippodrome through February 24th, 8 PM on Friday and Saturday evenings, 2 PM Saturday afternoon, Sunday at 1:00 PM and 6:30 PM. For tickets, phone the box office, or buy them online.
The Hippodrome is located at 12 North Eutaw Street, Baltimore, MD, 21201 410-837-7400
Photo Credit: Matthew Murphy
Related Articles View More Baltimore

Stories

Shows
Cybele Pomeroy graduated from Loyola College, before it had grown up and become Loyola University, where she studied writing, literature, education and drama. She never (read more...)