BWW Review: SOUL THE STAX MUSICAL - Baltimore Center Stage Presents World Premiere Until June 10, 2018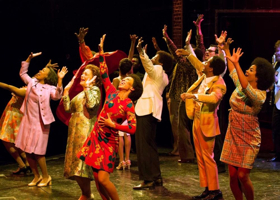 I cannot think of a more fitting way to say thank you to Baltimore Center Stage Artistic Director Kwame Kwei-Armah than attending SOUL THE STAX MUSICAL which runs to June 10, 2018.
Kwei-Armah could not have selected a better swan song to celebrate his seven wonderful years as Artistic Director. We've watched his plays, watched him direct, and enjoyed the successful works he selected. One of his biggest hits was the musical MARLEY and I am happy to report that it is finally making its way to London's West End in November, 2018. It was under his leadership that the renovations to the theater occurred.
SOUL tells the story of Stax Records, located in Memphis, Tennessee which was actually founded by Jim Stewart (Robert Lenzi), a White banker by day (a country fiddler by night). He saw an empty theater and had the idea of becoming a music producer and starting a record label for rhythm and blues and convinced his sister, Estelle Axton (Mary Jo Mecca) to join him. How did Stax get its name? They took a combination of the first two letters of Steward and Axton's last names. Axton gets to shine and belt out an Act II number "Your Good Thing (IS ABOUT TO END)". Wish she had more to sing.
They could not have accomplished this mean feat on their own. There was Black disc jockey Al Bell (Warner Miller) who wanted to get on board and they were lucky he did. To complete their success was Atlantic Records' Executive Jerry Wexler (Kevin Carolan) who helped get some artists to record on Stax but yet via contracts kept his stake in them. All three do a believable job in their respective roles.
Book Writer Matthew Benjamin does a superb job of making this story work. He alludes to the sanitation workers' strike in Memphis by having two sanitation workers walk by in their uniforms complaining of their pay. (It was the sanitation workers' strike which led Martin Luther King, Jr. to travel to Memphis where he was shot.) Benjamin makes clear that the audience realizes that Stewart is a banker, not a lawyer, and is ignorant of contracts. This will come back to haunt him and lead to the demise of Stax. While Stewart has a great ear for talent, he did make mistakes. He did not follow up on a lead to hire Aretha Franklin.
The action of the play runs from 1960 to 1975.
While I was not familiar with Stax Records as I was with Motown, the names of the performers that I was familiar with on stage is just plain staggering: Booker T & The MG's, Otis Reading, Wilson Pickett, Isaac Hayes, and The Staple Singers. And thanks to SOUL...it was an enlightening experience to hear the music of those I was not familiar with previously: Rufus Thomas and Carla Thomas, Edie Floyd, Johnnie Taylor, Jean Knight, and Deanie Parker. Believe it or not there are over 30 musical numbers!
Just seeing these historic and iconic performers on stage would be worthwhile by itself. But when you add the incredible inspiring direction by Kwei-Armah, the strong book by Benjamin, the wonderful choreography by Chase Brock, the amazing work by Tony-winning David Gallo (Set Designer and Co-Projection Designer with Alex Basco Koch), perfect Sound Design by Charles Coes and Shane Rettig, the striking Lighting by Mike Baldassari, and the spot on Costume Designs by Dede Ayite, this show becomes a must see!
One can occasionally watch the superb orchestra placed upstage behind scrims under the Direction of Rahn Coleman (also Music Supervisor). They include Jared Denhard (Trombone) who I've seen numerous times playing with O'Malley's March, DeAnte Haggerty-Willis (Guitar), Todd Harrison (Drums), Fred Irby, III (Trumpet/Flugelhorn), Matt Kruff (Guitar), Winston Philip (Keyboard), Mark Russell (Bass), and ed Wallace (Saxophone/Flute). This is Music Contractor Edward R. Goldstein's 30th musical for Baltimore Center Stage as Music Contractor. I applaud the play's program for giving biographies for the musicians. This is rarely done.
There are also house musicians in front of the scrim - Scott Stangland and Skye Scott.
I normally do not mention Casting Directors but Pat McCorkle and Katja Zarolinski have done an exceptional job and bringing the following actors to this project:
David LaMarr as Booker T. Jones
Anastacia McCleskey as Deanie Parker
Ricky Fante as Otis Redding
Boise Homes as Isaac Hayes and David Porter as Hayes' side-kick.
Jon Harrison Taylor as his father Johnnie Taylor and Wilson Pickett
Tasha Taylor as Mavis Staple and Mable John
Wayne W. Pretlow as Pops Staples
Allison Semmes as Carla Thomas and Jean Knight. She shines. I remember Semmes vividly when she was "Diana Ross" in the national tour of MOTOWN THE MUSICAL at the Hippodrome.
Harrison White and Semmes were outstanding and father-and-daughter Rufus and Carla Thomas. White nails his character "Rufus" during "Walking the Dog" and "Do the Funky Chicken" and he brings down the house at the beginning of Act II when he appears in the balcony belting out "Can Your Monkey Do the Dog. It was clever to use a video of him in the balcony for those in the theater unable to observe him. This is a performance to remember.
Filling out the talented cast are Travante Baker, Emmanuel Brown, and Mari Andrea Travis.
It's a shame what happened to Stax Records. When you see the show you will understand.
I truly believe SOUL THE STAX MUSICAL will be headed to Broadway in the future. It has amazing music and talent. With songs like "In the Midnight Hour", "Soul Man", "Respect", "(Sittin' On) The Dock of the Bay","Walk on By", and the "Theme From Shaft".
I suggest you get to Center Stage 45 minutes early for the pre-show which includes a disc-jockey, some vocalists and dancing. There is also a "Soul Shop" where you can purchase memorabilia including the best-seller, a poster colored in a bright neon orange and black which I will have to purchase ($20).
Prior to the show, Kwei-Armah took to the stage for a few comments. It was back in 2011 that Kwei-Armah took over as Artistic Director which he has held for seven years. He thanked the audience for their love and support. He added, "At times you hated me and at times you loved me. I'm a better man for having been at Center Stage." He got a well-deserved standing ovation.
I wish him luck in his new position as Artistic Director at the Young Vic in London.
SOUL continues until June 10. For tickets, call 410-332-0033 or visit www.centerstage.org.
Next season has been announced.
The shows include: CAT ON A HOT TIN ROOF, KING OF THE YEES, Tony winner for Best Musical FUN HOME, INDECENT (in association with Arena Stage), A WONDER IN MY SOUL, and HOW TO CATCH CREATION.
Center Stage has their 2018 Gala Saturday night, June 2 featuring cocktails, hors d'oeuvres, dinner, live theatrical adventures and explorations, dessert and silent auction. For more information email RBENESCH@CENTERSTAGE.ORG or call 410-986-4020.