Click Here for More Articles on THE PHANTOM OF THE OPERA
BWW Interview: Kristen Blodgette Readies the Music of LOVE NEVER DIES at the Hippodrome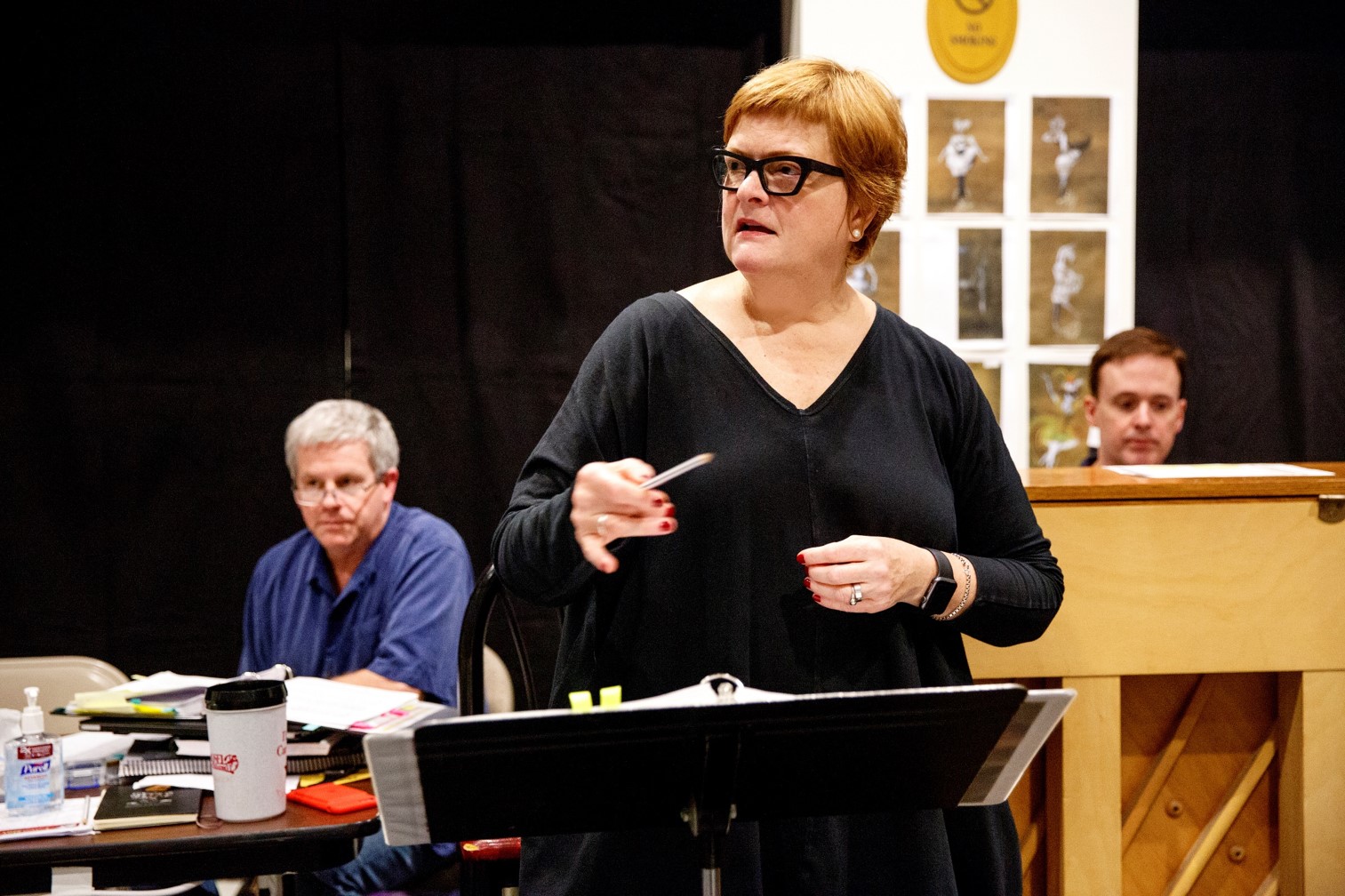 The very first show I saw on Broadway was Andrew Lloyd Webber's The Phantom of the Opera. To say that I was in awe would be an understatement. I fell in love with the show and the concept of musical theatre that day, and I've never looked back. Since then, I've been lucky enough to have seen dozens of shows, on and off Broadway, and I still get the same goosebumps each time the orchestra begins to play. There's just something special about the theatre.
Writing about this love of theatre for BroadwayWorld has given me the chance to learn more about it, and get involved in other aspects of it that I haven't been accustomed to as an ordinary theatre-goer. One of the most rewarding opportunities has been interviewing those amazingly creative people behind the scenes of each and every show. They're not often in the spotlight, but they deserve a great deal of the credit for the shows you see and love. Their creativity and vision make these productions beautifully memorable. This is how I found myself recently interviewing Kristen Blodgette, a Music Supervisor for both touring and Broadway musical productions.
I'm embarrassed to admit that I wasn't exactly clear as to what a Music Supervisor's position entailed, so I set about researching that point before the interview. It was then that I learned that not only is Ms. Blodgette the Music Supervisor for the current Andrew Lloyd Webber production of LOVE NEVER DIES, but she's also been working with him for about the last 30 years. She's worked on PHANTOM, CATS, and a host of other productions. It most likely goes without saying that I needed a few moments to fan-girl over the woman I was about to interview. How could I not? But after that, I tried to keep my inner Broadway fan-girl in check, in exchange for journalistic poise.
Speaking with Ms. Blodgette, I caught some of that same love of the theatre in her voice when she began to talk about her career. She admitted that, like me, she first became interested in theatre as a child. She began playing piano at the age of 4 and was always surrounded by music. This love of music led her to The Cincinnati Conservatory of Music for college, then on to New York City.
She began her music career conducting orchestras and acting as a rehearsal pianist. This position with the original production of CATS led her to her musical association with Andrew Lloyd Webber. After CATS, she moved on to The Phantom of the Opera where she met David Caddick and became his Associate Music Supervisor, moving up to Music Supervisor after a few productions. Since that time, she's worked on multiple Andrew Lloyd Webber productions - touring and on and off Broadway.
Among the things Ms. Blodgette finds most satisfying in her career is being in the center of these productions. She's there from the very beginning and she's given the opportunity to see the show grow from the ground up. She works with the music team and takes part in the rehearsal process, so she's able to nurture talent and relationships throughout this process. Specifically she likes good singers, so she enjoys having the chance to interact and collaborate with the cast members, and to see their work with the orchestra as the production comes together.
One of the most interesting things that I learned over the course of the conversation is that Ms. Blodgette tours with the productions she's supervising - often arriving for set up and to work with the orchestra, then traveling on to other cities to prepare for the next stop on the tour. Because Andrew Lloyd Webber's works are seen all over the world, it means that she is sometimes working with musicians in other countries, such as Germany, Sweden, or even Japan. I asked Ms. Blodgette if that presented any challenges to her work and surprisingly, she said that there were just a few but not many. For the most part, people living in other countries speak a great deal of English, therefore it's not as complicated to work with the local players. She begins with what she and the players already know about the music and the show, and works up from there.
As I said earlier, Ms. Blodgette is currently working on one of these touring productions - LOVE NEVER DIES, which makes a stop here in Baltimore at the Hippodrome October 3rd through the 8th. LOVE NEVER DIES is a sequel to The Phantom of the Opera, which tracks the return of the notorious phantom. I asked Ms. Blodgette if it was strange to work on a sequel to a piece that she began working on in 1988. Over the course of her career she's worked with over 18 companies of PHANTOM. She's accustomed to the work and the music within the show, but she says the work is always satisfying. The music is what she loves and as long as she's able to work on something she loves, she's happy. As for the sequel, she mentioned that - just like many other theatre fans, myself included - she has already imagined what happened to the Phantom after The Phantom of the Opera ended, so it's kind of neat in a way to actually see this sequel on a stage, and to see where or if her vision matches that of Andrew Lloyd Webber. As for the music, she's already comfortable with the style of PHANTOM being so closely associated with it over the years, so it's easy for her to carry that rich musical style over into LOVE NEVER DIES.
For Ms. Blodgette, this new show seems like a natural event, in a varied career that has spanned over 30 years. I think it's safe to say that without the musical talent that Ms. Blodgette has provided to these productions, some of our favorite shows may have sounded quite different. In fact, the most rewarding part of her career has been bringing these beautiful pieces to life musically from page to stage. As a lover of pretty much every show she's worked on, I'm thankful that she's done just that.
Related Articles
Kristen first discovered theater by way of Jesus Christ Superstar in elementary school and fell madly in love with the idea of singing and dancing. (read more...)