ANNIE Will Open Way Off Broadway's 25th Anniversary Season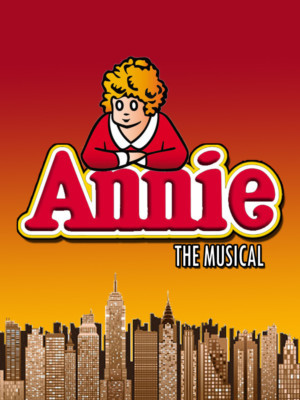 The Way Off Broadway Dinner Theatre, Frederick's only year-round producing theatre, will celebrate its 25th Silver Anniversary Season with its upcoming 2018/2019 line-up of shows. Kicking off the season in September will be the family favorite Annie.
With equal measures of pluck and positivity, little orphan Annie charms everyone's hearts despite a next-to-nothing start in 1930s New York City. The little redhead is determined to find the parents who abandoned her years ago on the doorstep of an orphanage that is run by the cruel, embittered Miss Hannigan. With the help of the other girls in the orphanage, Annie escapes to the wondrous world of NYC. In adventure after fun-filled adventure, Annie foils Miss Hannigan's evil machinations and even befriends President Franklin Roosevelt! She finds a new home and family with billionaire, Oliver Warbucks, his personal secretary, Grace Farrell, and a lovable mutt named Sandy.
The musical is based on the comic strip Little Orphan Annie created by Harold Gray and first published in the New York Daily News on August 5, 1924. Fifty-two years and five days later, Annie and Daddy Warbucks appeared on stage for the very first time in a pre-Broadway tryout of the new musical at the Goodspeed Opera House in Connecticut. Starring as the street-smart orphan in the premiere production was Kristen Vigard.
Annie transferred to Broadway's Alvin Theatre (now the Neil Simon Theatre) the following year, opening on April 21st. Taking over the role of Annie for its Broadway bow was Andrea McArdle, alongside Reid Shelton as Warbucks, and Dorothy Loudon as Miss Hannigan.
After six successful years and 2,377 performances, Annie's Broadway run came to an end on January 2, 1983, taking with it seven Tony Awards including one for Best Musical. Since its premiere, Broadway has seen two revivals of the show -- the first in 1997 entitled Annie, the 20th Anniversary followed by the 35th Anniversary production in 2012.
Like Broadway, 2018's staging will be the third time Annie has appeared at Way Off Broadway. The first was in 1997 and then again in 2003. As the most popular family-friendly musical to ever take the WOB stage, it was only fitting for Annie to be a part of the theatre's 25th Silver Anniversary Season.
Leading the cast in the title role of Annie are Katharine Ford and Kaylee Hope Geraci at alternating performances. The role of Daddy Warbucks will be played by regional theatre favorite Brian Lyons-Burke, with Melani Drummer, an international touring stage veteran, as Miss Hannigan - one of the most iconic roles ever created for the stage. They will be joined on stage by Megan E. West as Grace Ferrell, Jordan B. Stocksdale as Rooster Hannigan, Tori Weaver as Lily St. Regis, and Pete Meyers as President Franklin Roosevelt.
Playing the rag-tag group of orphans will be Clara Becker, Bekah Burgoon, Madelyn Grace Kiska, Daniella Kulp, Olivia Manos, Elizabeth Mooney, Emma Mullinix, Claire Stevenson, Eliza Strand, Rowan Olivia Tarmy, Gabrielle Witte, and Delaney Yablon.
Rounding out the cast as all of the various characters Annie meets along her way are Callaway Drummer, Jacob Hale, Melissa Ann Martin, Carrie McKnight, Ariel Messeca, Emily Meyers, Chris Reed, Eric Stewart, and Haley Wells.
Annie has music by Charles Strouse, lyrics by Martin Charnin, a book by Thomas Meehan, and is based on the comic strip Little Orphan Annie by permission of The Media Tribune Service, Inc.
Way Off Broadway's staging is directed and choreographed by Samn Huffer with music direction by Jordan B. Stocksdale. The entire production is executive produced by Bill Kiska.
Way Off Broadway's production of Annie runs September 14 - November 3, 2018, with performances every Friday and Saturday evening, and matinees on the 1st, 3rd, and 5th Sunday of each month. For evening performances, guests arrive for dinner at 6:00 p.m. with the show beginning at 8:00 p.m. For matinees, doors open at 12:30 p.m. for lunch with the show beginning at 2:15 p.m. Tickets for a Friday evening or Sunday matinee are $46; Saturday evenings, tickets are $50. Tickets may be purchased by calling the Box Office at (301) 662-6600.
Following Annie in Way Off Broadway's 25th Anniversary Season are productions of Silver Bells, Gilligan's Island - The Musical, Lerner and Loewe's classic My Fair Lady, and the international sensation Mamma Mia!
To learn more about The Way Off Broadway Dinner Theatre or any of its productions, visit www.wayoffbroadway.com or www.Facebook.com/wayoffbroadway.
The Way Off Broadway Dinner Theatre, under the direction of the Kiska family since 2002, is proud to be celebrating its 25th Silver Anniversary Season! Since it first opened in 1995, the theatre has been a leader in the area's theatre community, proudly bringing both classic musicals, as well as regional and area premieres to the Frederick stage. Productions have included Disney's Beauty & the Beast, Sister Act, Chitty Chitty Bang Bang, Monty Python's Spamalot, Noises Off, The Addams Family, Les Misérables, Sunset Boulevard, Legally Blonde, Dolly Parton's 9 to 5: The Musical, Hairspray, South Pacific, The Drowsy Chaperone, Dirty Rotten Scoundrels, The Full Monty, Mel Brooks' The Producers, CATS, The Wedding Singer, Evita, The Sound of Music, Fiddler on the Roof, Grease, La Cage aux Folles, Guys & Dolls, Steel Magnolias, Annie, Bye Bye, Birdie, The King & I, ...Forum, Lend Me a Tenor, Joseph..., Blood Brothers, Mame, and 42nd Street. In addition to its regular season, the theatre produces a number of special events throughout the year including an annual Breakfast with Santa (and Mrs. Claus) and an interactive mysteries series. www.wayoffbroadway.com
More Hot Stories For You