'John and Jen' Musical Opens Ritz Theatre 2019 Season Starring Dennis Clark and Kristen Gehling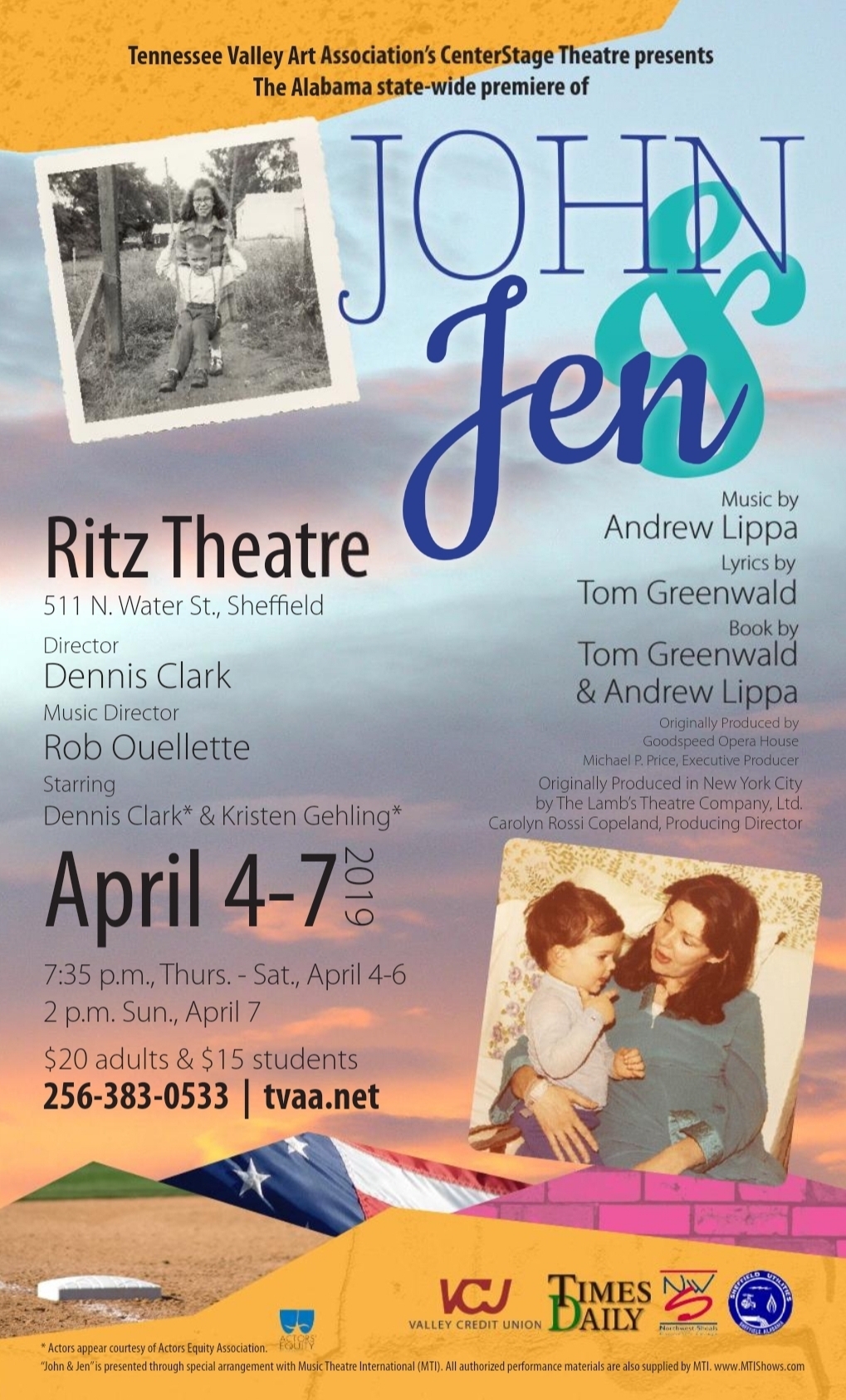 The 2019 Ritz Theatre season will open with "John & Jen" at 7:35 p.m. April 4-6 and at 2 p.m., April 7 at the Ritz Theatre, 111 W. Third St., Sheffield. Tickets are $20 for adults and $15 for students.
"John & Jen" is a musical with music by Andrew Lippa, lyrics by Tom Greenwald, and book by Lippa and Greenwald. Lippa went on to write the music and lyrics for the stage musicals "Wild Party", "The Addams Family" and "Big Fish."
"John & Jen" originally opened Off-Broadway in 1995 and had an Off-Broadway revival in 2015 during its 20th anniversary.
The show will also be the Ritz Theatre stage debut of Dennis Clark, the theatre's Artistic Director, as he stars as John. Clark will bring Kristen Gehling to star as Jen. Both are members of Actors' Equity Association - the professional union for stage actors. Rob Ouellette is the music director and pianist for the production. The set is designed by Tim Wisgerhof, the resident scenic designer for the Venice Theatre in Florida. The lighting is designed by Alex Miller-Long, a lighting designer based out of Chattanooga, Tennessee.
"Musicals are usually associated with big spectacle," said Clark. "There's a whole world of smaller musicals out there. "John & Jen" is an intimate window into the relationships of the characters, their struggles, laughter, and love. This is an example of theatre I was exposed to in New York. So, I've assembled some immensely talented artistic associates from New York to help me produce this show."
"People who don't typically go for musicals may find that "John & Jen" really appeals to them," Clark said, "because it is narrative-driven."
"The wonderful thing about this show is that it's about families and relationships: brothers and sisters, mothers and sons. Everyone is going to relate to this story one way or the other," he said. "It's much more about the characters and their story." The story is told almost exclusively through song, with everything from high-energy comedic numbers to touching ballads.
"This is a very powerful style of theatre," Clark said. "I'm thrilled to be able to share this thought-provoking and exciting experience with Northwest Alabama audiences."
Related Articles View More Birmingham

Stories

Shows