Review: SUNDAY IN THE PARK WITH GEORGE at Theater2020
The production runs through March 12th.
Have you ever met a person who represents everything beautiful about humanity? A person so undeniably certain about his identity, it simply became and was never disputed. Someone who has the power to shift life to his liking, with a mere stroke of his hand - someone not concerned with acclimating, but only with moving the pieces of existence to fit his image of how it should be. A person who needs to neither question nor understand, but to simply feel the essence of beauty.
It can be said that many of us are not brought into this world with such certainty, simply serving the purpose of fulfilling our desires until we feel valued, even valid, amidst circumstances we may not particularly care for. Dreams may fade in the dim light of reality, but not so for the man whose self is literal art - an artist whose very being thrives from what his hands can bring into the world. One who takes a blank canvas and uses each day as a sort of tabula rasa - a new opportunity to find wonder in what wasn't there before, then build on what soon becomes. It is nothing short of amazing to witness such beauty in the soul of someone who needs to create in order to survive, no matter what the cost.
Such is the story of the late Stephen Sondheim's Sunday in the Park with George, a beautiful piece of musical theater now brought to living color by the ambitious and incredibly talented troupe that is Theater2020. Acclaimed as Brooklyn Heights' only professional theater, Theater2020 brings together a group of emerging artists and seasoned professionals alike to produce quality theater - people who clearly have what it takes to be seen on a Broadway stage, but whom we are fortunate enough to have with us here in the heart of Brooklyn.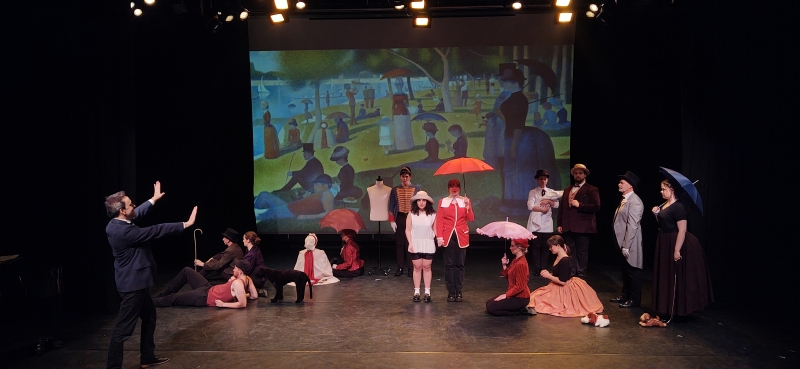 Being a fan of Sondheim's intricate plots and music, in addition to a constant advocate of all that Theater2020 does, I am truly at risk of sounding like a broken record when I say there hasn't been one production of theirs that has disappointed me yet. I truly consider them to be a blessing to the Brooklyn community. From Sweeney Todd (2017) to Assassins (2018), Theater2020 not only has an affinity for the late genius' works, but has a knack for capturing the true essence of how Sondheim must have originally envisioned his stories were to be told. Now is the chance to see yet another of Theater2020's creations, currently in performances at the Mark O'Donnell Theater thru March 12th.
With music and lyrics by Sondheim and a book by James Lapine, Sunday in the Park with George was originally produced by Playwrights Horizon, Inc in 1983. Now directed by David Fuller (alongside his wife and fellow Producing Artistic Director Judith Jarosz), Theater2020's latest production opened this past Saturday at the downtown Brooklyn venue. In the very capable hands of Music Director Michael O'Dell, this small but mighty cast makes Sondheim's world come alive soon after the opening notes are played. What a true and beautiful homage to the late composer is the performance that follows.
The level of talent and professionalism is undeniable - a special treat for any theater enthusiast looking for the next best show to see. As the show begins, the anticipation is palpable - how will one of Sondheim's masterpieces unfold before a Brooklyn audience, and will Theater2020's reputation for quality theater be upheld through the story of artist George Seurat and his short yet inspirational life?
Here's a hint: the answer is a resounding yes.
Sunday in the Park with George tells of Seurat's brief conquest of the artistic world - a world that didn't recognize his genius until after his untimely passing. Sondheim's musical is an ode to both the artist's personal life and career - two worlds barely distinguishable from one another. Seurat spent his days painting more so to satisfy the need to create, to bring his vision of beauty into the world instead of a simple desire to paint in a way that would appeal to conventional tastes. Known for his Neo-Iimpressionist style and the use of pointillism to create vibrant yet subtle scenes, Sondheim provides a tragic yet beautiful backstory of how the artist's most famous painting (A Sunday Afternoon on the Island of La Grande Jatte) not only came to be, but also the poignant circumstances of Seurat's life which surround its significance.
Through Sondheim's vision, we behold a social pariah - a man who almost has little choice in caring more about the world he creates than the world in which he lives. A man whose soul is ironically shattered by people who served no other purpose than making real the possibilities of a blank canvas. Living in the microcosm of his mind and positioning the world to his liking, Sondheim tells Sondheim's story in such a poignant way, the audience has little choice but to feel for a character that most may hardly be able to relate to. Everyone deserves to bear witness to such a story, and what better way to do so than through Theater2020's vision of the artist and his creations that meant the absolute world to him - even more so than those who tried to love him.
As the theoretical curtain rises, and before our actors take the stage, Artistic Director Judith Jarosz announces that, due to unforeseeable circumstances, two understudies have joined the cast - two brave souls who had but a single rehearsal to get a two and a half hour show under their belts in time for the first performance. The talent on that stage is so great though, good luck believing she was telling the truth!
What a truly wonderful cast, not simply keeping the audience captivated throughout the entire performance, but making us want to see more of them with each passing scene. Watching each person participate in the telling of Seurat's story, moving through the intricacies of both their characters and the music each has to keep up with (without fail, might I add) was impressive - truly and unanimously mesmerizing by anyone's standards.
Major kudos must be given to all those brought the workings of more than one genius' mind to fruition: David Arthur Bachrach, Raffaella Cicchetti, Caryn Hartglass*, Michael Hasty, Rae Hillman, Meghan Hutchins, Joseph Lee, Melissa McKamie*, Albert Nelthropp*, Rachel Patrice, Josh Powell*, Sydney Roslin, Tristen Sima, Kaylee Verble* and Chadwick Vogel*.
I just want to give special mention to Josh Powell, who plays George Seurat throughout the first act. It's difficult to explain just how perfect he is for this role (as though he were always meant to play it), and how captivating his performance truly is. It's like he understands the character he plays beyond the point of familiarity, rather to that of perfection. Watching him perform is hardly a performance at all - he causes the audience to feel empathetic during moments of awkwardness, jubilant in moments of triumph and everything in between. Whatever emotion he committed himself to, we were right there with him. Everything Seurat felt was magnified, made that much more significant because of how ardently he experienced things; he lived for himself, but allowed others to watch. And that's quite difficult to portray, especially in front of an auditorium full of people!
Joining this cast behind the scenes are Judith Jarosz (Choreographer), Giles Hogya (Lighting Designer), Nick ChampRoux (Costume Designer), Alex Kopnick (Projections Designer), JP Elins* (Stage Manager) and Emma Weiner (Assistant Stage Manager). Thank you for your contributions!
Theater2020's Sunday in the Park with George opened on February 17th, and will run through March 12th at The Mark O'Donnell Theater (located at the Entertainment Community Fund Arts Center, 160 Schermerhorn Street in Brooklyn). Tickets range from $30-$50, and can be purchased in advance by clicking here. Performances are held Thursday - Saturday at 7:30, with a Sunday matinee at 3 pm. More information on both the show and all upcoming productions can be found by visiting Theater2020's website here. For reference, next up is William Shakespeare's The Tempest.
You can also show your support for Theater2020's mission of bringing quality theater to a Brooklyn stage by following them on Facebook, Instagram and Twitter.
Enjoy the show!
*Indicates Equity Member