Cindy Marcolina - Page 4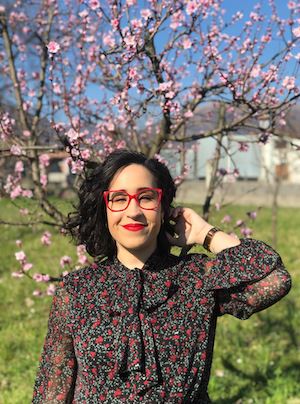 Cindy Marcolina considers herself a "critic" (yes, the inverted commas are important). Also a script reader and huge supporter of new work, she's the one wearing big red glasses and matching lipstick in the crowd. Twitter: @Cindy_Marcolina
MOST POPULAR ARTICLES
LAST 30 DAYS
BWW Review: HAIRSPRAY LIVE!, The Show Must Go On
Posted: May. 30, 2020


Shan Ako Talks LES MISERABLES
Posted: May. 12, 2020


Mark Dooley Discusses His Documentary REPEAT ATTENDERS
Posted: May. 27, 2020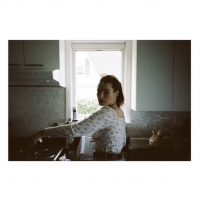 Album Review: KATHRYN GALLAGHER - DEMOS, VOL. I
Posted: May. 19, 2020


BWW Review: STUFF, The Painkiller Project
Posted: May. 6, 2020


BWW Review: MARISHA WALLACE, Royal Albert Home
Posted: May. 4, 2020


LAST 365 DAYS
BWW Review: LES MISERABLES: THE STAGED CONCERT, Digital Download
Posted: Apr. 25, 2020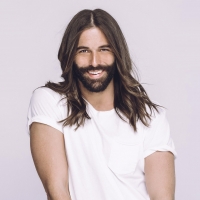 BWW Review: JONATHAN VAN NESS: ROAD TO BEIJING, Eventim Apollo
Posted: Oct. 19, 2019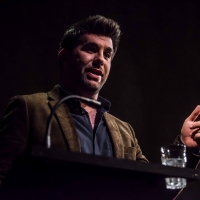 BWW Review: GHOST STORIES, Ambassadors Theatre
Posted: Oct. 10, 2019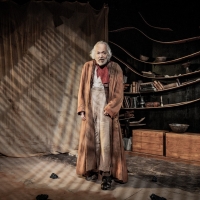 BWW Review: THE TEMPEST, Jermyn Street Theatre
Posted: Mar. 14, 2020


BWW Review: HAIRSPRAY LIVE!, The Show Must Go On
Posted: May. 30, 2020


BWW Review: AN ACT OF GOD, The Vaults
Posted: Nov. 30, 2019


BWW Review: JOHN MAYER, The O2
Posted: Oct. 14, 2019


BWW Review: THE JOURNEY OF A WARLIKE MIND, VAULT Festival

February 2, 2020

Ana Luiza Ulsig brings the result of a nervous breakdown to VAULT Festival. In The Journey of a Warlike Mind she takes on the character of Eva, a young woman who's struggling with the societal pressure she feels compelled to give into while harbouring the desire to break free.
---
BWW Review: FIRST TIME, VAULT Festival

February 2, 2020

After an acclaimed debut in Edinburgh last summer, Nathaniel Hall is bringing his autobiographical one-man show First Time to VAULT Festival before heading off on tour to tell his story of shame and acceptance.
---
BWW Review: FRANKIE FOXSTONE A.K.A. THE PROFIT: WALKING TOUR, VAULT Festival

February 1, 2020

Young property developer Frankie Foxstone has her eyes on the Waterloo area. With an over-the-top personality, a politician's attitude, and sharp ruthlessness she takes her audience on a walking tour of Leake Street explaining how she's working on gentrifying it even more than it already is.
---
BWW Review: SOMETHING AWFUL, VAULT Festival

January 31, 2020

Soph (Natalya Martin) and Jel (Monica Anne) love sitting in the dark reading creepypasta on the internet. Ellie (Melissa Parker) has just moved to their school and, while they welcome her in their group, she comes with some baggage and her own scary stories.
---
BWW Review: KUNENE AND THE KING, Ambassadors Theatre

January 30, 2020

An acclaimed classical actor is struggling with his terminal diagnosis while preparing for the role of a lifetime. When Lunga Kunene shows up to take on the job of live-in nurse, they're forced to settle their differences through their only shared passion: Shakespeare's works. Written by John Kani last year to mark the 25th anniversary since the first post-apartheid democratic elections, Kunene and the King swings between the political and personal while giving a heartfelt lecture on the Bard and his King Lear.
---
BWW Review: MACBETH, Wilton's Music Hall

January 24, 2020

The curse struck again on press night of The Watermill Theatre's London transfer of Macbeth, with Lauryn Redding (allegedly) dislocating both knees during Paul Hart's energetic opening. A hero was lying low in the audience. Emma Barclay, former Lady Macduff of the project when it was touring the country last year and a guest on the evening, took over and delivered the role and ensemble track flawlessly and seemingly off book. The show went on to be an electric and sexually charged revisitation of the tragedy.
---
BWW Review: SEX/CRIME, Soho Theatre

January 23, 2020

A and B meet to recreate the feats of a famously homosexual serial killer who's haunting the streets of London. A, who's providing the service for a price, creates the scenarios of choice while B gets off on the pain and shame that comes from it. After a successfully sold-out run at The Glory, Alexis Gregory has taken Sex/Crime to Soho Theatre leaving one to wonder if audiences at the East End venue co-owned by Gregory's co-star Jonny Woo were seeing the same piece.
---
BWW Review: FACES IN THE CROWD, Gate Theatre

January 22, 2020

A nameless woman starts writing a novel in Mexico City. She is regularly interrupted by her family as she tells about a younger version of herself living wildly in New York and little known poets in need of translation. Her reality interweaves with memories from different, distant lives as she transcends narratives through exceptionally vivid storytelling. Valeria Luiselli's 2011 novel Faces in the Crowd (originally translated by Christina McSweeney) is directed and adapted by the Gate Theatre's artistic director Ellen McDougall in a quiet but intense production.
---
BWW Review: YOU STUPID DARKNESS!, Southwark Playhouse

January 21, 2020

Every Tuesday night, four volunteers gather in a drab branch of Brightline taking phone calls from strangers facing hardship. Outside, the world is falling apart. As they try to help the callers, they attempt to conceal their anxieties and fears while trying to deal with their own personal catastrophes.
---
BWW Review: THE GIRL WITH GLITTER IN HER EYE. The Bunker Theatre

January 20, 2020

Helen is finally getting the artistic opportunity she's been coveting, while Phil is being dragged down by her own secret. When the painter is pressured to exploit her background and lifestory, she ends up endangering her closest friendship. OPIA Collective explore female understanding, not-so-inadvertent cultural insensitivity, and the importance of listening to each other in the stylish and cutting The Girl With Glitter In Her Eye.
---
BWW Review: HAMLET: ROTTEN STATES, The Hope Theatre

January 19, 2020

The new year has officially seen the passing of the artistic direction baton from Matthew Parker to Kennedy Bloomer at The Hope Theatre. Opening the decade in style are 6FootStories with their rewriting of everyone's most beloved Prince of Denmark. Hamlet has hired three players to expose Claudius's diabolic plan. We meet them deep in rehearsals when the ghost of Hamlet Sr thunders in (in uproarious fashion, one must add) to request they avenge his death.
---
BWW Review: COPS, Southwark Playhouse

January 18, 2020

It's 1957 in Chicago. Four policemen, Stan, Rosey, Eulee, and Foxy share an office in-between stake-outs in a city slain by the mob and racial segregation. It's difficult, however, to find real themes in Tony Tortora's play among its misogyny, doughnuts, and Elvis. Sophomoric humour, endless conversations about menial and inconsequential matters, and tiresome boys-will-be-boys banter build a largely uninteresting piece of theatre.
---
BWW Review: FIX, The Pleasance

January 17, 2020

Kevin is called to repair a washing machine in the middle of the woods. As he tries to fix it, he grows increasingly uneasy in the presence of the elderly lady who sent out for him. She seems to know a lot about him and the tales she tells him don't quite check out. Julie Tsang debuts an eerie and haunting play that toys with reality and conceals a dark and disturbing secret.
---
BWW Review: JEW...ISH, King's Head Theatre

January 16, 2020

TJ and Max are breaking up. They've been together since their polyamory club back at uni and they've navigated the gap between their relationship and his Jewish family, but it's not working anymore. After a sold-out and critically acclaimed run in Edinburgh this past August, Jew...ish has made its triumphant way down to London filled to brim with delectable cultural jabs and explosive humour.
---
BWW Review: SCROUNGER, Finborough Theatre

January 10, 2020

It was 2015 when Athena Stevens was forced out of a flight to Glasgow due to her disability. Upon the return of her £30,000 wheelchair, she found that the airline company had severely damaged the machine - and they were being most flippant about it. A social media war ensued, and Stevens ended up signing an NDA and settling the case months after being left with no means of autonomous mobility. Scrounger packages this disastrous event in a chirpy yet feeble comedy that becomes the opportunity for her to detail the endless systematic discrimination she faces daily.
---
BWW Review: THE TYLER SISTER, Hampstead Theatre

January 8, 2020

Hampstead Theatre opens the new year with a heartwarming but generally forgettable play on their smaller stage. The Tyler Sisters follows three girls as they grow up and find their place in the world from 1990 to 2030. What the audience gets to see of this time frame in the life of women who might not like each other all the time but who are bound by blood is a series of single scenes for each one of the 40 years.
---
BWW Interview: Jatinder Verma Sums Up His 40 Years With Tara Arts

December 21, 2019

After 40 years of leadership, Jatinder Verma is stepping down as artistic director of Tara Arts in January. After its conception in 1977, he's turned his company from a community project to a prominent presence on the British theatre scene. In recent years, Tara Arts has also become the first (and so far only) BAME-led company with their own theatre building. We had the pleasure to have a chat with Verma, who summed up his groundbreaking journey and took a look at the state of the industry.
---
BWW Interview: Alice Hewkin Discusses TEENAGE DICK at Donmar Warehouse

December 24, 2019

Mike Lew's Teenage Dick has just opened at the Donmar Warehouse. The original take on Shakespeare's Richard III relocates the action to an American high school. We talked to Alice Hewkin, who plays Clarissa Duke, about everything it takes to move Shakespeare into Mean Girls territory.
---
BWW Interview: Ellie Morris Talks THE PLAY THAT GOES WRONG at The Duchess Theatre

December 23, 2019

After being in Peter Pan Goes Wrong and The Comedy About a Bank Robbery, Ellie Morris is joining Mischief Theatre once more to star as Sandra in The Play That Goes Wrong.
---
BWW Review: SNOWFLAKE, Kiln Theatre

December 17, 2019

It's Christmas Eve and Andy (Elliot Levey) is waiting for his daughter Maya (Ellen Robertson) to come back to him. She left home three years prior after they had - according to her father - a silly argument and she hasn't spoken to him since, nor has she replied to his texts. But someone has seen her in a café in Oxford, so Andy feels that she's ready to finally meet him. He's decked the village hall to welcome her back and he's sure she's coming, even though there are no signs of her. Then, Natalie (Amber James) bursts through the door.
---
...
4