BWW Review: DIRTY ROTTEN SCOUNDRELS at Summer Stock Austin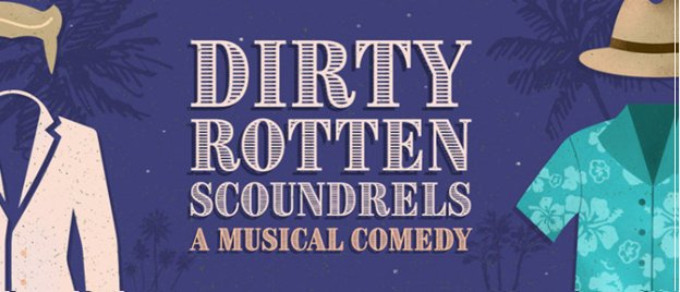 Dirty Rotten Scoundrels is one of my all-time favorites musicals. Unlike older musicals, the book to DRS could stand on its own as an hysterically funny play. It is however beautifully married to a gorgeous score with lyrics that are equally witty. The music is a perfect reflection of the plot - jazzy, sophisticated, rich.
DRS is a natural and perfect choice for the artists of Summer Stock Austin. The characters are of the young, jet-setting European glitterati - sexy, chic and a bit mysterious. The story centers around handsome and urbane Lawrence (Benjamin Roberts) and Andre (Joe Kelley), a two-man team helping themselves to the spoils of unwitting rich young ladies with money to burn. Along comes Freddy (Matthew Kennedy), also a con-man and quintessential American slob looking to make a quick buck. Lawrence and Andre are fine champagne, Freddy is a warm Coors Lite.
Rounding out the meat and potatoes of the cast is Muriel (Trinity Adams) who serves as the voice of an 'everywoman' embodied in the song "What was a woman to do". Adams is adorable as Muriel, a poor little rich girl looking for love.
Roberts' Lawrence has been around the block so many times that swindling rich ladies is almost mundane. Roberts has the voice, persona, looks and fine-tuned ear for accents necessary for Lawrence and he relishes the role.
Kennedy's Freddy is a lovable dog eager to give 100% to get what he wants, and what he wants is what Lawrence and Andre already have, described by Freddy as "Great Big Stuff". DRS provides Kennedy with a vehicle that beautifully showcases his strong voice and flair for physical comedy.
"Chimp in a Suit" is Andre's droll attitude toward Freddy's ambitions, and Kelley's Andre is the stereotypical French playboy with just enough insecurity to make him relatable; Andre serves well as the voice of reason in this madness.
The story evolves into a competitive bet between Lawrence and Freddy on who can land the biggest heist with Andre running interference between the two. All of the action happens within the backdrop of the French Riviera, playground of the rich and famous.
Along comes first possibility, Jolene (Anna Meyer) of Oklahoma who seems like an easy mark and Meyer manages to stop - and steal - Act I of the show with "Oklahoma?". Meyer's Jolene is a hoot who just will not stop and the audience could not get enough of her.
All of the characters in DRS, 'good' or 'bad' have in common the fact that we can relate to them and that they are all so likable. Case in point, Christine (Lily Myatt) the 'Soap Queen'. Christine is earnest, squeaky-clean and reminds us all that "Nothing is Too Wonderful to Be True", a lovely ballad with some incredibly funny lyrics. Myatt is lovely as the ingenue Christine and it's a shame to know her money is easy pickings for Lawrence and Freddy. Myatt works the role for all it's worth and the results are hilarious.
The chorus is the glue of this production and they make good use of the gorgeous choreography and sumptuous costumes. Everyone is having a blast delivering this rollicking good time with splendid music and a versatile set replete with gobos that set the mood for every scene. The direction is top-notch with not one dull or less-than-fully realized moment.
I want to be sure and mention how reasonable the tickets are priced for Summer Stock Austin. Next year I will be sure to order tickets for all the shows well in advance and perhaps a few as gifts. Broadway musicals are incredibly expensive to mount, and affordable tickets ensure sold-out houses these triple-threat performing artists deserve. I highly recommend Dirty Rotten Scoundrels.