BWW Review: AN ADULT EVENING OF SHEL SILVERSTEIN is Delectably Demented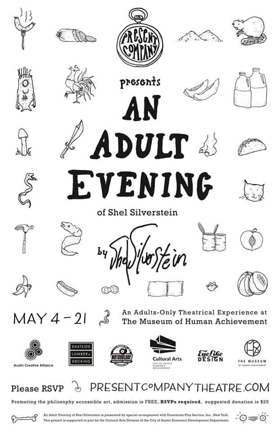 Sheldon Allan "Shel" Silverstein was a decidedly American writer who has been translated into more than 30 languages, and whose books have sold over 20 million copies. He was the recipient of two Grammy Awards, as well as a Golden Globe and an Academy Award nomination. Silverstein created a remarkable body of work that spans the gamut from county and western songs to children's literature, from poetry to short plays. He also illustrated much of his own writing. In AN ADULT EVENING OF Shel Silverstein, adapter and director Steph Carll has pulled judiciously from this body of work to craft a delectably demented, sublimely saucy and blissfully bawdy evening of adult entertainment. What is also revealed in the process is just how much Silverstein has contributed to the fabric of our lives. You may find yourself thinking more than once "I didn't know he wrote that..." .
This adults-only theatrical experience is a look into the R-rated mind of this eccentric and masterful storyteller through a combination of his provocative short plays, as well as his music, along with what he referred to as "poetry for naughty children". Carll has also designed the scenic elements and the look of the production reminded me of those wonderfully atmospheric and sadly long gone hole in the wall coffee houses that used to house folk singers and poetry readings where the audience snapped their fingers to show approval rather than applaud. Designed in a sort of tennis court and modified thrust playing area, items seem to be part of the set one moment and part of the decor the next. The only unifying design element are these striking stacks of books reaching into towers of white. Carll makes the most of the uniqueness of the space by staging all over the space. In the corners, actors pop up to read some of his poetry from "Where The Sidewalk Ends", short plays are performed in the center and on the small thrust, actors walk all around the space immersing you in Silverstein's world. Carll has created a great physical world for the piece and clearly knows how to make such an evening flow. Performing before the show itself as well as during the show are Clifton Tipton and Sonya Emory who play accordion, banjo, chimes, bells, kazoo and washboard. They cover most of Silverstein's big radio hits by the likes of artists such as Dr. Hook,
Johnny Cash
and
Loretta Lynn
. Their work was great fun, however I did have some small problems hearing Ms. Emory's microphone on the night we attended. Patrick Anthony's lighting is perfect in establishing the mood of an old warehouse coffee house and offers some nice surprises here and there that I don't want to give away. Emily Jean Gilardi's costumes are a lot of fun and full of whimsy. While I was very much familiar with Silverstein's musical works and poetry, I had never had the pleasure of experiencing his short plays, which turn out to be a real adult treat. Silverstein wrote a whole series of one-act play collections under such umbrella titles as "The Bag Plays", "The Sign Plays" and "The Bathroom Plays". Eight of these short plays are integrated into AN ADULT EVENING OF
Shel Silverstein
along with his poetry and music. Carll has assembled a company of six that function as a well oiled ensemble striking all the right comedic notes in performing these short plays and reading some of his more iconic poems.
Susan Bennett
, Jeff Britt, Dan Dalbout, Ryan Hamilton, Elizabeth Mason and Sally Strecker all portray a multitude of characters that include hookers, people at a bus stop and talking dogs... and then there's this thing about meat and potatoes. The evening gives them all a chance to showcase their comedic dexterity. I don't want to spoil the fun of these darkly demented comedic gems, so you're just going to have to go experience it for yourself. Simply put, as AN ADULT EVENING OF
Shel Silverstein
so delectably illustrates, Silverstein was a one-man talent factory and our world is a richer place because he passed through it, leaving in his wake such an eclectic creative archive. His work still resonates with the world today. Silverstein was first and most famously a cartoonist, and in the final analysis, maybe the best way to categorize this is as a medley of dramatized cartoons. Call it what you will, AN ADULT EVENING OF
Shel Silverstein
seems intent on tickling your funny bone and succeeds in doing so with panache and aplomb. If you are a fan of
Shel Silverstein
, this evening will be right up your alley; and, if you're not... What's wrong with you?
AN ADULT EVENING OF
Shel Silverstein
by
Shel Silverstein
, Adapted by Steph Carll Running Time: Approximately Two Hours, plus intermission
Adult themes and language. Note: Dress casually and appropriate to your needs for space that does not have air conditioning. AN ADULT EVENING OF
Shel Silverstein
produced by Steph Carll for
Present Company
Theatre at The Museum of Human Achievement. Note: The Museum of Human Achievement DOES NOT have an online or GPS presence. You will not be able to look the address up, which is in accordance with the wishes of the owners of the venue. Performances May. 04 - May. 21, Thursdays-Mondays at 8 PM. Mondays Performances are May 14 and 21 at 8 PM. Tickets are free; however you can not call or email for tickets. You must go to this email address and RSVP for tickets:
https://adultingwithshel.brownpapertickets.com
. The address will be sent to you along with instructions to reach the venue.
A suggested donation of $25 supports the artists and event. Tiered donation levels are available to accommodate every budget. VIP table for two is $65.
Email
info@presentcompanytheatre.com
.
Related Articles View More Austin

Stories

Shows
A Kansas native, Frank Benge has been involved in the Austin area theatre scene as a Director, Designer, Writer and Performer for the past 20 (read more...)