BWW Review: ALABAMA STORY - Southwest Theatre Productions Scores With A Wonderful Production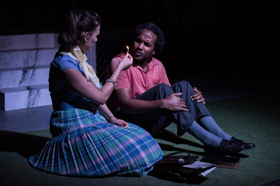 Southwest Theatre Productions (SWTP) has gained a reputation for bringing new, meaningful plays to the Austin stage. With its productions of CAGES, IF I FORGET and THE OTHER PLACE, producers Kat Sparks and Jan Phillips have shown their range in presenting thought-provoking material with excellent production values. ALABAMA STORY by Kenneth Jones is SWTP's best production to date and shows just how far the all female company has come.
The play is based on a real life event. The storybook 'The Rabbits' Wedding' by award winning illustrator Garth Williams (Derek Webster in one of several roles), is a sweet tale of two bunnies finding love that sparks controversy in 1959 Alabama because one rabbit is white and the other rabbit is black. Segregationists chose to battle over the book's inclusion in the public (whites only) libraries of the state. Claiming that the book promoted interracial marriage, members of the state legislature called for the book to be removed from library shelves and burned. All of this fuss over a children's book may seem silly to us half a century later, but with systemic racism rearing its ugly head in our 21st century world, it's a timely look at ourselves. Jones gives us echos from a past that many of us believed was gone forever, but resonates in daily headlines. A wonderfully crafted script flows from beginning to end and shifts focus from the office of state librarian Emily Wheelock Reed (Nancy Gray) and her assistant Thomas (Stephen Phillips), to the statehouse itself where state Senator Higgins (Scott Galbreath) tries to enforce the mid century laws of segregation in the Deep South. In addition, the story is told through two childhood friends of different races and from different ends of the socioeconomic scale. Lily (Sarah Joy Byington), a rich white woman brought up in luxury and privilege and Joshua (Ryan Sterling Smith) the son of the family housekeeper who lived in poverty and has returned to his native Montgomery to join the battle for Civil Rights. Time and circumstance have separated the two when they meet by accident. The pair begin reminisce about times past but there's a dark secret looming and when it bursts to the surface it is explosive and life changing. The story, while charming and endearing has a deeper message of equality and acceptance; perhaps some folks unfamiliar with the struggles of the Civil Rights Movement may learn that the battle for racial equality, while still incomplete, has been fought for a very long time and will likely continue past 2018.
Director Kat Sparks has a feel for the script and presents it in a lovely, unhurried pace that the material requires. The Deep South of 1959 is a world away from the one we live in today, and Sparks gives us a comforting, nostalgic setting for the play. The set designed by Chris Conard is elegant in its simplicity and perfectly divides the various playing areas. Costumes designed by Laura Gonzales are sweet in concept and rich in detail. The use of gloves for each of Lily's outfits, with matching scarfs reminded me of my mother in those years. A southern lady did not leave the house without a hat or headscarf, a handbag, gloves and a brooch for her blouse, jacket or sweater. All of the male characters were properly dressed with the inclusion of the de rigueur handkerchief and other lovely details. My only peeve with the look of the show is the unshaven appearance of Scott Galbreath, a gentleman of the era would never leave home with less than a perfect shave. I remember my father shaved twice a day if he had an evening engagement. The acting of the entire cast is superb. They are each excellent and give outstanding performances. My favorites include; Nancy Gray as the stubborn librarian who went toe to toe with the powers that be and won. Her tenacity is palpable and her fury bubbles just below the surface, exactly what the role requires. Ryan Sterling Smith as Joshua is powerful in his ability to recall a past that was ripped from him with just the smallest hint of bitterness, a subtlety that could have been easily overplayed. Perhaps my favorite was Derek Webster as Garth Williams, among other roles. His charm flows freely enveloping the audience in his storytelling with a wry twinkle in his eye. His ability to switch characters in mere seconds is startling and flat out amazing. ALABAMA STORY takes on important subjects that we would do well to remember, but this is not an in you face confrontation, it's a heartening look back on mistakes that were made in the past and reminds us that even the most controversial of issues can be resolved and society can move forward together. Perhaps the greatest lesson we can take from this play, is that there is always hope that people can change. I give my highest recommendation ALABAMA STORY at Trinity Street Theatre, its echoes of the past are those we need to hear.
ALABAMA STORY
Southwest Theatre Productions, @ Trinity Street Theatre, 9th and Trinity, Austin
July 12 - 28, 2018
Running Time: 2 hours 10 minutes with one 15 minute intermission
Tickets: $15 - $22, swtproductions.com
Related Articles View More Austin

Stories

Shows