BWW REVIEW: BAREFOOT IN THE PARK delivers light-hearted charm at Georgetown Palace Playhouse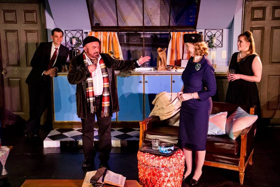 If you were a theatre nerd in the 70's or 80's you were bound to be subject to the rightfully popular offerings of the prolific playwright Neil Simon. No doubt as a theatre nerd, you've even been involved in some production or another. THE ODD COUPLE, CALIFORNIA SUITE, and later works, BILOXI BLUES and BRIGHTON BEACH MEMOIRS, among many, landed Simon 17 Tony nominations, 3 wins, and countless other awards including a Pulitzer for LOST IN YONKERS and a Kennedy Center Honor for his incredible body of work.
BAREFOOT IN THE PARK premiered the year I was born, which means the characters in this play could be my parents, living in that hopeful and optimistic era that followed WWII. A time just over a month before, according to the date of its opening on Broadway, Kennedy's assassination took our collective innocence as a nation. It's important to note, as this charming mid century tone informs the entire theme of BAREFOOT IN THE PARK.
At its core is our quirky ingenue Corie (Rachel Middleton Britain) who has been married a total of six thrilling days to Paul Bratton (Matt Gauck) a twenty six year old aspiring lawyer. Corie has rented a flat on the top floor of a five story brownstone walk-up in New York. She's doing her best to make the place palatable for her new husband and even more so for her mother (Mrs. Banks, played by Linda Myers) who unexpectedly drops in so soon she beats the furniture delivery. The apartment itself is a kind of metaphor for Corie - quirky, uninhibited, and not quite, but just on, this side of reality. Corie meets neighbor Victor Velasco (Michael Costilla) who apparently lives in the attic, gets the idea that her uptight mother would do well to loosen up, and decides Mr. Velasco is just the guy to help make that happen. When the four get together for a night on the town, the flamboyant Velasco gets everyone drunk on ouzo and the sparks fly. Unfortunately for Paul and Corey, they fly in the wrong direction. Their differences come to light and the two have their first big fight.
This is a classic formula that Simon perfected. The comedy here depends on the contrast between Corie and her straight-laced new husband, and the neurotic Mrs. Banks and Victor. This is exacerbated by surroundings that include a "bedroom" that is only as big as a single bed, a furnace that won't work in February, and snow through the hole in the skylight at just the right time. The problem is, this show, like so many of Simon's earlier works, doesn't hold up as a laugh out loud comedy. In 2017, it's a charming little chamber piece, which is fitting for the Palace Playhouse and its ever so intimate stage.
Britain gives us a believably innocent and cute Corie that works effectively with Gauck's Paul, whose comedic presence is just wonderful. It's unfortunate that the space is so small that he can't cut entirely loose. Perhaps this is just as well, as it leaves room for Myers' dotty Ethel and Costilla's flamboyant Victor. Assistant Stage Manager Jayson Peebles jumps in as the Delivery Man, and, in a performance I kept wishing would last longer, Chris Sundgren gives us the Telephone Repairman. Sundgren seems to know exactly how to deliver Simon's lines, and his timing is just perfect. Director Jessie Drollette has done a great job of casting this ensemble, and her staging on the teensy stage is nimble if a little too oriented toward center for a thrust stage.
Faith Castaneda's lighting is clean, and even extends to a very pretty skylight set in a low ceilinged space. Nancy Penner's costume design is true to to period, and includes some quite enviable looks.
On the whole, this production of BAREFOOT IN THE PARK is well executed, but doing Neil Simon's earlier works comes with risks. His earlier works can easily fall flat but here the performances are authentic and avoid stereotype, giving this show a believable tone. This is an accomplishment when producing a playwright who cut his teeth on 1950's sketch comedy. While his usual formula doesn't go over as well as it used to, this cast and Drollette manage to work it with charm and nostalgia. Simon fans won't be disappointed, and if you're aren't one, you'll enjoy this sweet production as well.
BAREFOOT IN THE PARK
by Neil Simon
Georgetown Palace Theatre
809 S Austin Ave
Georgetown
Fridays-Sundays through March 11
For tickets call 512-869-7469
Photo courtesy Georgetown Palace
Related Articles View More Austin

Stories

Shows