Cast Announced For SPAMALOT at City Springs Theatre
The show will be performed March 10-26, 2023.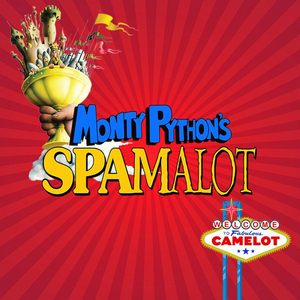 City Springs Theatre Company has brought together a cast of acclaimed musical performance and comedic actors for MONTY PYTHON'S SPAMALOT, its first production of 2023. The Tony Award winning, riotous romp through the world of Monty Python will be performed March 10-26, 2023, in the Byers Theatre at the Sandy Springs Performing Arts Center (1 Galambos Way, Sandy Springs).
The cast includes Broadway veterans David Rossetti (Broadway: Annie) as the not-so-brave Sir Robin, Billy Harrigan Tighe (Broadway: The Book of Mormon, Pippin) as Sir Galahad, and Kristine Reese (Broadway: Les Misérables) as the Lady of the Lake, and stars local favorite and City Springs Theatre Company regular Googie Uterhardt in the lead role of King Arthur.
MONTY PYTHON'S SPAMALOT also features Nick Walker-Jones as Sir Lancelot, Roberto Mendez as Patsy, Kyle Robert Garder as Sir Bedevere, and Tyler Pirrung as The Historian.
Cast members also include Grace Arnold, Danny Iktomi-Bevens, Tecia Chavez, Emmanuel Cologne, Leigh Ellen Jones, Imani Joseph, Emmanuel Kikoni, Paige McCormick, Robert Millerick, Hamilton Moore, Ryley Perry, and Charles Pruitt.
"Lovingly ripped off" from the 1975 classic comedy film Monty Python and the Holy Grail, MONTY PYTHON'S SPAMALOT hilariously retells the legend of King Arthur and his Knights of the Round Table in their search for the elusive Holy Grail, and how they "always look on the bright side of life." Assisted in their journey by the glamorous Lady of the Lake, the knights sing and dance their way through medieval England, where they encounter cows, chorus girls, a killer rabbit, and assorted Frenchmen. With the book and lyrics written by Monty Python member Eric Idle and music by John Du Prez, the original 2005 Broadway production won three Tony Awards, including Best Musical.
Lauded for being "resplendently silly" by the New York Times and as "a big, crowd-pleasing Broadway musical comedy" by Newsday, MONTY PYTHON'S SPAMALOT led Variety to applaud that "the irreverent Arthurian romp's brash, lunatic spirit is impossible to ignore and almost as hard to resist," and The Telegraph to pronounce, "I suppose there are a few people who won't enjoy 'Spamalot.' The chronically depressed, the criminally insane and the snootier drama critics may find it hard to raise a smile. The loss is all theirs, however, and I suspect everyone else will have an absolute ball."
"Monty Python has been bringing laughter and delight to audiences for generations," said Artistic Director Shuler Hensley. "We're thrilled to have an incredible, entirely local cast with Broadway and National Tour experience, as well as some that have been a part of past City Springs Theatre Company productions. It's a delightful way to kick off 2023 and guaranteed to be an incredible evening of fun and laughter for all patrons."
Bringing together the City Springs Theatre Company's first musical of 2023 is the creative team of Shane DeLancey (Director), Greg Matteson (Music Director), Liz LeGrande (Choreographer), John Clanton (Vocal Director), Dalton Hamilton (Lighting Designer), and Anthony Narcisso (Sound Designer). Set, costumes, and props provided by 3-D Theatricals. This production is stage managed by Shay Holihan.
All performances are held at the Sandy Springs Performing Arts Center's Byers Theatre at 1 Galambos Way, Sandy Springs.
MONTY PYTHON'S SPAMALOT is included in current subscriber season packages. Individual tickets range from $37-$100 with discounts for seniors, students, groups, and active and retired military personnel, and are on sale now. Visit www.CitySpringsTheatre.com or call 404-477-4365 for more information. Two-show season subscription packages are also available for sale now that include the May performances of Andrew Lloyd Webber's CATS.