BWW Review: The Alliance Theatre's CANDIDE Reinvigorates a Classic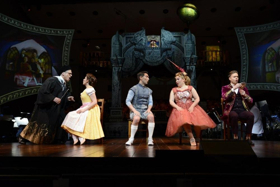 "Everything is for the best in this best of all possible worlds," the title character parrots incessantly on his quest around the world. Bless his optimistic heart.
The ALLIANCE THEATRE's CANDIDE concludes its "on the road season," playing at Symphony Hall through May 20 with the Atlanta Symphony Orchestra. Modeled after a 2005 New York Philharmonic concert of Leonard Bernstein's operetta adaptation of the Voltaire novella, this show uses Hugh Wheeler's new (ish) libretto from the 1974 Broadway run. It's self-aware, cheeky, and hilarious.
A puppeteering concept informs director Susan V. Booth's production, which really starts the moment the musicians begin taking their seats. Using a mini theatre above center stage, a puppet master's hands can be seen setting miniature rows of musicians in his miniature stage. Large framed screens show his actions projected above stage left and right. The house lights dim. The puppet master descends to the main stage to summon the narrator and conductor, giving them a baton and book, respectively. The overture begins.
Each character is wrapped up in an eternal cycle: Candide's looks like searching for his love Cunegonde from whom he almost immediately gets separated upon reunion. Repeat. Those closest to him go from apparent death to apparent death. With absurd, fairy tale-like luck and no semblance of a fourth wall, it's* Mel Brooks-meets-THE DROWSY CHAPERONE-meets French literature.
Throughout the show, the puppet master (an impressive Matt Acheson who also serves as Puppetry Designer) mimics the characters' every action, giving a new meaning to the phrase "higher power." And they are not only aware of his presence, they are dependent. In one instance the puppet master is nowhere to be found, leaving his bewildered characters unable to continue their story as they frantically look for their lifeline.
Booth's strong use of a "higher power" blends so seamlessly with this piece that it's hard to imagine any other design. The satire already features a self-aware, shade-throwing narrator, so additional commentary in the form of figurines and sassy charts fits right in. It seems like such a logical interpretation of Candide's absurd traipse around the globe that it must be the traditional performance medium, like "the LES MIS march," or "the CHORUS LINE triangle."
The tale is nothing if not simultaneously far-fetched and predictable, and Wheeler gives the audience credit- occasionally directly- for "seeing it coming." The characters themselves give up on making sense of their own story and all but tell the audience as much by offering a shrug or a simple, "It's a miracle!" One of the highlights of the show occurs when the narrator gives historical background on the operetta itself, mentioning Leonard Bernstein by name. All of the characters tread the line between establishing comradery with the audience and maintaining the integrity of the piece with ease.
Back for his second ALLIANCE THEATRE appearance, Tony-nominated Broadway actor Christopher Sieber (Alliance's THE PROM, Broadway's MATILDA, SHREK) portrays both Narrator and the all-wise teacher Dr. Pangloss. Trading his broad character acting for which Broadway patrons remember him for a subtle humor and winking naïveté, Sieber immediately establishes a connection with the audience that ends up being the backbone of the show. He narrates the evening as though showing one of his favorite musicals to his friends, personal commentary and all. The audience barely gets a taste of his singing voice, which is the only drawback to this casting.
Aaron Blake captures Candide's impossibly optimistic spirit with a soaring tenor voice. This mostly masks his flat characterization, which leaves much to be desired. As the tragic Cunegonde, Alexandra Schoeny embodies melodrama with flair. In recounting her circumstances, always being kidnapped and ravished repeatedly, she gives the impression that she secretly has the upper hand in every situation and thrives off the adventure, not to mention the attention. Her flawless soprano notes unfortunately pair with minimal articulation, giving the audience only the gist of her words, albeit beautifully, so that her story mostly comes from characters around her.
Other notable standout performances come from the entire ensemble, as well as Hunter Ryan Herdlicka (Broadway's A LITTLE NIGHT MUSIC) whose lavish voice is egregiously underused as the impossibly beautiful and lucky Maximillian. Both he and Atlanta favorite Terry Burrell (playing the Old Woman) bring down the house with their impeccable comedic timing.
Well y'all, what can one say about a timeless score by one of THE American musical mainstays? In a completely shocking twist, the score is still brilliant 60 years later! You go, Lenny! But seriously, Bernstein's magnificent music radiates in the hands of ASO's musicians and conductor Robert Spano.
CANDIDE shows audiences what inventive work can be accomplished when three major arts forces collaborate- namely a Tony Award-winning theatre, a Grammy Award-winning symphony, and the ever-growing art form of puppetry. Booth simultaneously preserves the integrity of both Voltaire and Bernstein's works and makes CANDIDE accessible to a modern audience in a triumphantly refreshing way. It's the best of all possible adaptations in this best of all possible worlds.
---
Click here to purchase tickets to CANDIDE, running now through May 20. The ALLIANCE THEATRE and Atlanta Symphony Orchestra will co-produce a concert staging of the Tony Award-winning musical Candide in Symphony Hall. In this popular adaptation of Voltaire's satirical novel, the naïve Candide is separated from his beloved and journeys around the world to find her while fiercely retaining his mentor's belief that "this is the best of all possible worlds" in the face of ever-increasing catastrophes. Candide will feature a cast of actors, the Atlanta Symphony Orchestra, and the Atlanta Symphony Chorus in this historic ALLIANCE THEATRE/Atlanta Symphony Orchestra co-production.
*the Mel Brooks thing is totally not a Sally Henry original. A brilliant friend made this comparison, and I had to use it.
Related Articles View More Atlanta

Stories

Shows