12 Shows Hitting Atlanta Stages This Spring
Check out these top picks!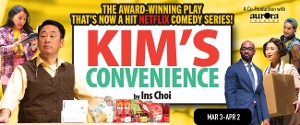 Everything comes back to life in the spring, right? This spring, Atlanta stages welcome a variety of comedies and light-hearted favorites, perfect for a little emotional lift. Whether you're inside the perimeter, or looking for something new a little bit outside the heart of Atlanta, you're covered.
KIM'S CONVENIENCE at Horizon Theatre Company
Running March 3 - April 2, 2023. Tickets starting at $35.
Mr. Kim, a Korean immigrant, dispenses fatherly wisdom, history lessons and potato chips from behind his Toronto convenience store counter in an up-and-coming neighborhood. When he receives an unexpected offer for his property, he has a difficult decision to make: take the money and give in to soulless developers or convince his daughter to follow in his footsteps. Amidst these challenges, Mr. Kim navigates the needs of his customers and a strong-willed family.
MONTY PYTHON'S SPAMALOT at City Springs Theatre Company
Running March 10-26, 2023. Tickets starting at $37.
"Lovingly ripped off" from the classic 1975 film Monty Python and the Holy Grail, MONTY PYTHON'S SPAMALOT retells the legend of King Arthur and his Knights of the Round Table and of their search for the elusive Holy Grail. Assisted in their journey by the glamorous Lady of the Lake, the knights sing and dance their way through medieval England, where they encounter cows, chorus girls, a killer rabbit, and assorted French people.
PERICLES, PRINCE OF TYRE at Shakespeare Tavern
Running March 11 - April 1, 2023. Tickets starting at $20.
A dark and troubling riddle starts the heroic adventure of one man's lifetime, a story of love gained, lost, and gained again. Shakespeare woos us with his most epic theatrical journey. Join us as we follow the noble Pericles over continents and decades, goddesses and pirates, jousts and tempests. Featuring award-winning singer-songwriter-storyteller-professional whistler Andy Offutt Irwin (Covington, GA native) as John Gower the Narrator.
SUMMER: THE Donna Summer MUSICAL at Aurora Theatre
Running March 16 - April 9, 2023. Tickets starting at $21.
The electrifying Queen of Disco shot through the stars from gospel choir to dance floor diva. The 5-time Grammy Award-winner and Rock & Roll Hall of Fame legend is known for mega-hits like Hot Stuff, Bad Girls and No More Tears (Enough Is Enough). What the world didn't know was how Donna Summer risked it all to break through barriers, becoming the icon of an era and the inspiration for every music diva who followed.
A SOLDIER'S PLAY at The Fox Theatre
Running March 28 - April 2, 2023. Tickets starting at $31.
In 1944, on a Louisiana Army base, two shots ring out. A Black sergeant is murdered. And a series of interrogations triggers a gripping barrage of questions about sacrifice, service, and identity in America.Broadway's Norm Lewis leads a powerhouse cast in the show Variety calls "a knock-your-socks-off-drama," directed by Tony winner (and Atlanta native) Kenny Leon.
"This is a play that deserves to be staged regularly all over America-though it's hard to imagine that it will ever be done better than this. It keeps you guessing all the way to the final curtain" (The Wall Street Journal).
TINY BEAUTIFUL THINGS at Theatrical Outfit
Running March 29 - April 23. Tickets starting at $50.
HIGH HEART. Based on the New York Times bestselling book by Cheryl Strayed (author of Wild) and adapted by Academy Award nominee Nia Vardalos (My Big Fat Greek Wedding), TINY BEAUTIFUL THINGS explores Strayed's time as the anonymous, unpaid, advice columnist Dear Sugar. While strangers on the internet tell her their most personal secrets (which they are terrified to even share with their own families), Strayed weaves together her own personal experiences to create a column full of light, laughter, and humanity. TINY BEAUTIFUL THINGS is "A Theatrical Hug In Turbulent Times" (Variety).
Douglas Post's BY MY WILL at Shakespeare Tavern
Running April 8-30, 2023. Tickets starting at $20.
It's a play...on words! For hundreds of years, literary scholars and historians have debated the true authorship of Shakspere's plays. In this new Comedy, commissioned by ASC's Artistic Director Jeff Watkins, an assortment of 16th century playwrights, poets and regal figures meet up in a...unique location...to determine who among them may have written the works attributed to the man from Stratford. It's a veritable comic vivisection of the authorship question with twists, turns, and bawdy humor.
PIPPIN at Atlanta Lyric Theatre
Running April 13-23, 2023. Tickets starting at $48.
As told by a traveling troupe of actors led by the cunning and charming Leading Player, Pippin is the story of a young prince, heir to the throne, who is searching for his own "corner of the sky." Pippin returns from university certain that he will find a fulfilling purpose in life. As encouraged by the Leading Player, Pippin dabbles in bloody battle, licentious and lusty sexual entanglements, and savvy political maneuvers, only to discover that true happiness is more complicated than he thought. With infectious tunes by Stephen Schwartz, PIPPIN is both a humorous allegory about growing up and a dark tale of the danger of false appearances and empty promises.
MOULIN ROUGE at The Fox Theatre
Running April 19-30, 2023. Tickets starting at $31.
Enter a world of splendor and romance, of eye-popping excess, of glitz, grandeur, and glory! A world where Bohemians and aristocrats rub elbows and revel in electrifying enchantment. Baz Luhrmann's revolutionary film comes to life onstage, remixed in a new musical mash-up extravaganza. Directed by Tony Award winner Alex Timbers, MOULIN ROUGE! THE MUSICAL is a theatrical celebration of Truth, Beauty, Freedom, and - above all - Love. With a book by Tony Award winner John Logan; music supervision, orchestrations, and arrangements by Tony Award winner Justin Levine; and choreography by Tony Award winner Sonya Tayeh, MOULIN ROUGE! is more than a musical - it is a state of mind.
SUPPORT GROUP FOR MEN at Horizon Theatre Company
Running April 21 - May 21. Tickets starting at $30, currently available for reserve.
Every Thursday is Guys' Night for a small group of friends who gather to vent - with a "No Ladies" policy strictly enforced. Passing a baseball bat as a "talking stick", this motley crew of men support each other through stalled careers, dashed romances, and a fast-changing world. When an unexpected visitor crashes the party, their notions of what it means to be a man in today's America are suddenly upended. Don't miss this hilarious comedy by Ellen Fairey, whose work has been hailed "a must-see for anyone who follows important new plays." (Chicago Tribune)
CATS at City Springs Theatre Company
Running May 5-21, 2023. Tickets starting at $37.
Directed and Choreographed by Tony® Award Recipient Baayork Lee the international hit musical has audiences and critics alike rediscovering this beloved musical with breathtaking music, including one of the most treasured songs in musical theatre - "Memory". CATS tells the story of one magical night when an extraordinary tribe of cats gathers for its annual ball to rejoice and decide which cat will be reborn. This all-singing, all-dancing musical spectacular has been translated into 16 languages, seen by more than 73 million people worldwide, and is still one of the longest-running shows in West End and Broadway history.
AS YOU LIKE IT at Shakespeare Tavern
Running May 6-28, 2023. Tickets starting at $20.
"All the world's a stage . . ." We invite you to join us on a trip into Shakespeare's enchanted woods. . . where Rosalind disguises herself as a man as Orlando litters the trees with love notes praising her beauty and virtue. Will the two lovers be united? Will Orlando survive the wrestling match? Will you have a great time?
At the time of publication of this post, Synchronicity hasn't yet published the shows for the remainder of 2023. Additionally, Georgia Ensemble Theatre has delayed a few productions due to funding constraints. Don't forget to support your local arts! Stay tuned for even more shows hitting Atlanta stages this summer.