'When There Are High Stakes, We Hit High Notes': Laura Bell Bundy Gears Up for DOUBLE STANDARDS Concert for Women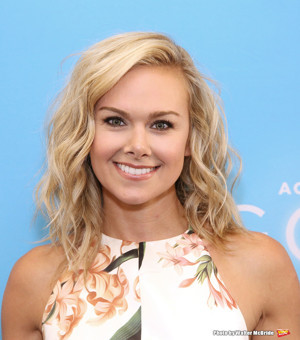 Earlier this week, BroadwayWorld's Steve Schonberg got up close and personal with Bundy about her current gig starring in The Honeymooners at Paper Mill Playhouse and her important upcoming Double Standards concert to celebrate women at NYC's Town Hall.
Planned as a response to the obvious disparity between gender and behavior exhibited throughout last year's election, Ms. Bundy has decided to take action.
Planning a star-studded, large-scale concert to raise funds and awareness for equal rights and the ongoing battle to protect women's healthcare, Laura has tapped into her Elle Woods feisty know-how to mobilize Broadway to empower women and make radical change in and outside of our community.
Double Standards, a star-studded benefit concert, will star Rosie O Donnell, Sara Bareilles, Ingrid Michaelson, Jessie Mueller, Annaleigh Ashford, Cady Huffman, Marissa Winokur, Laura Bell Bundy, Lena Hall, Ana Gasteyer, Morgan James, Denee Benton, Leslie Margherita, Judy Kuhn, Linda Hart, Eden Espinosa, Leslie Kritzer, and other special guest stars!
Check out our interview with Laura below to find out more about the concert, The Honeymooners and more! And don't forget to pick up YOUR tickets to Double Standards
here
! But first, check out Laura in her own words on why you should join her at Double Standards to assist in the ongoing fight for females:
"This year marks the 100-year anniversary of women getting the right to vote in New York and the centennial birthday of Planned Parenthood. It also marks the year that millions of women reacted to the glaring double standard in our country by marching on Washington and in cities all over the world.
We are living in a political climate where many of our achievements are at risk - such as denying women control over their own bodies, preventing access to vital medical and social services, and blocking equal pay for equal work. Instead of just posting on Facebook or choosing to ignore it (in order to keep my sanity), I decided to activate the women in the Broadway community and do something about it.
I'm producing a large scale concert event to celebrate how far we've have come as a gender and to remind folks how far we still have to go...
On Sunday evening November 12th, at NYC's Town Hall (founded by suffragettes in the 1920's), Broadway stars and recording artists will come together to sing duets on jazz standards appropriately entitled 'Double Standards' all in the name of women's rights and health. It will be sponsored by Is Clinical Skincare so that ALL of the proceeds will go to ACLU, Planned Parenthood and National Breast Cancer Coalition.
The Town Hall is also the perfect spot for this because it was founded by suffragists in 1921 for female causes. We look at our evening like a Town Hall meeting of sorts. To literally raise our voices and discuss the issues while entertaining our audience, it will be irreverent, funny and powerful, backed up by an all female band. The performers of this concert all took to the streets for the Women's March. They want to stay woke, united, activated and aware. That is why we are doing this concert. We know we must be vigilant and pro-active. We must support the organizations that support our gender.
Oh yeah, we can march, but they ain't heard nothin' till they hear us sing.
This is the way the women of Broadway march. When there are high stakes. We hit high notes.
Xo,