Click Here for More Articles on WICKED
WICKED Surpasses PHANTOM OF THE THE OPERA at Broadway Box Office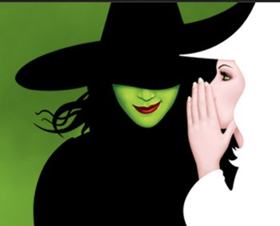 WICKED is flying high at the Broadway box office. According to Variety, the long-running musical has hit $1 billion faster than any other show in Broadway history, surpassing THE PHANTOM OF THE OPERA at the Broadway box office. According to the site, the show, which tells the backstory of THE WIZARD OF OZ, has earned $1.12 billion in New York sales alone, surpassing PHANTOM's current earnings of $1.11 billion.
The total earnings now puts Wicked in second place overall, behind THE LION KING, which has grossed over $1.38 billion. Disney's stage adaptation of its hit 1994 animated film, is currently the top-grossing musical in history, with over $6 billion in worldwide sales. 'PHANTOM', which is about to celebrate its 30th anniversary on the Great White Way, retains its title of the longest-running show in Broadway history. It has also earned over $6 billion worldwide. Wicked premiered in 2003 and has since grossed close to $4.5 billion worldwide, according to a representative for the show.
WICKED is now a top-grossing property at Universal Pictures. A film adaptation of the musical is currently in the works. In addition, the show has been produced in Chicago, San Francisco and LA as well as in 14 countries around the world. A national tour is now performing throughout North America, while a West End production of the show has been running since 2006.
Read the article in full here
Featuring music and lyrics by Stephen Schwartz and book by Winnie Holzman, Wicked based on the 1995 Gregory Maguire novel Wicked: The Life and Times of the Wicked Witch of the West, an alternative telling of the 1939 film The Wizard of Oz and L. Frank Baum's classic 1900 story, The Wonderful Wizard of Oz. The musical is told from the perspective of the witches of the Land of Oz; its plot begins before and continues after Dorothy's arrival in Oz from Kansas, and it includes several references to the 1939 film and Baum's novel. Wicked tells the story of two unlikely friends, Elphaba (the Wicked Witch of the West) and Galinda (whose name later changes to Glinda the Good Witch), who struggle through opposing personalities and viewpoints, rivalry over the same love-interest, reactions to the Wizard's corrupt government and, ultimately, Elphaba's public fall from grace.
Related Articles