WICKED CLONE The Cinema Musical Features Theater, Film, Music, And Dracula's Daughters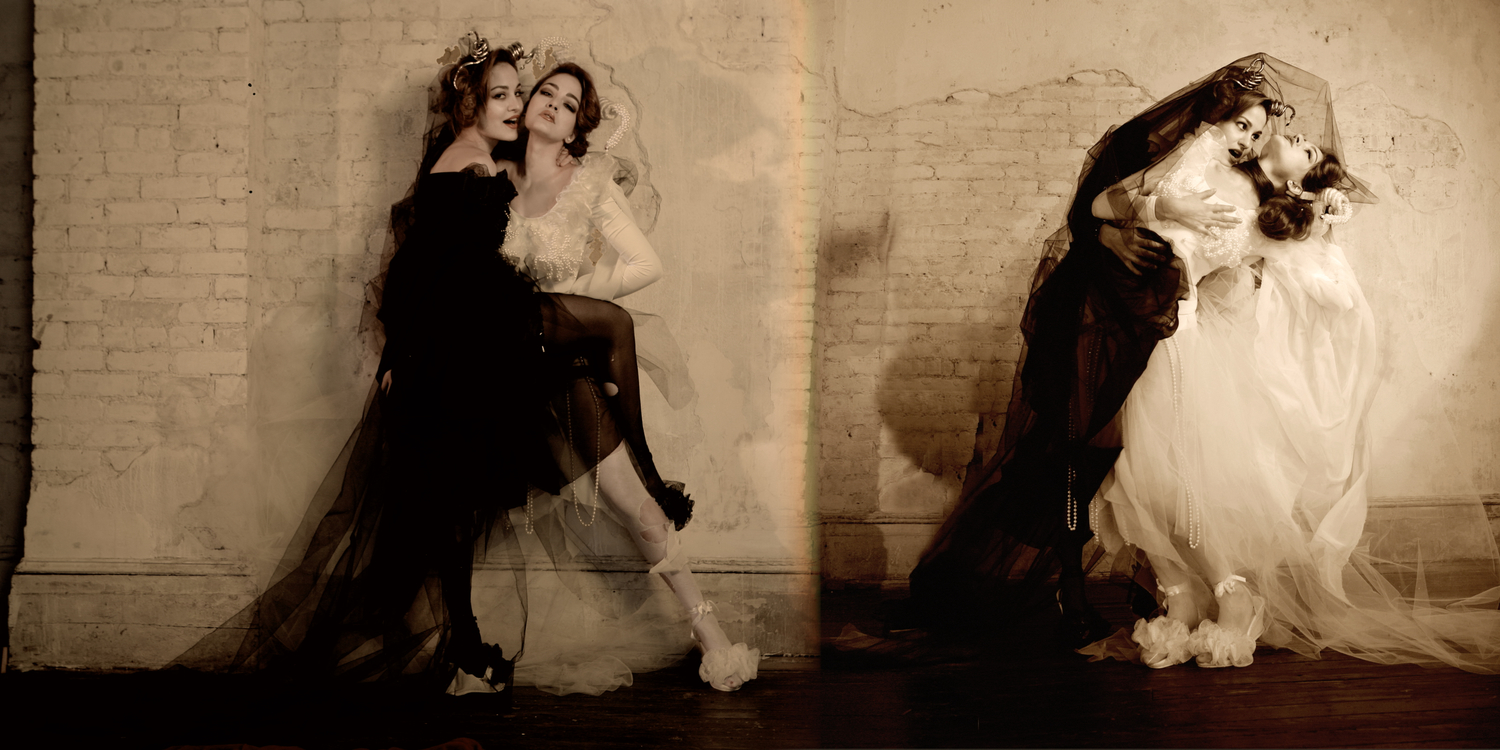 Gabriela & Mihaela Modorcea - the multi-talented INDIGGO TWINS - revive their wildly popular "Wicked Clone, The Cinema Musical," a live stage musical based on "Wicked Clone or how to deal with the evil" a cinema novel written by Mihaela Modorcea, which has been a bestseller at Barnes & Noble.
"Wicked Clone" is an immersive blend of musical theater, epic film projections depicting 15th century Transylvania to modern day NYC (and beyond,) and a "magic realist" story about a vampire bitten by a human being which "turns the tables on tradition."
Wicked Clone is a book, a film, a musical play - and a soon-to-be-release original cast-recording album in partnership with BROADWAY RECORDS..
"A rare piece of audio and video creativity" says City Guide NY, the musical takes the audience to a realm reminiscent of Dante Alligheri's Divine Comedy or Inferno.
The impending symphonic recording album in partnership with BROADWAY RECORDS features 25 original songs written, arranged and produced by the Indiggo Twins who play piano, guitar, drums and sing in multiple harmonies which "could bewitch the spirits and make one live 1000 years more" (a lyric from the song, "Dracula's Land," on the album.
The revival of Wicked Clone is part of a multi-media experience that includes the performance, the record launch, and even opportunities to purchase the album and the book. The event will be at the John Cullum Theatre of the legendary American Theatre of Actors.
Running Thursday September 20 - Saturday, September 22 @ 8 p.m.; Sunday, September 23 @ 3 p.m.; Thursday, September 27 - Saturday; September 29 @ 8 p.m. and Sunday, September 30 @ 3 p.m. with special showings on Monday, September 24 @ 8 p.m. and Wednesday, September 26 @ 8 p.m., when you can meet and speak with the Twins after the show; "Wicked Clone" will surely be a thrill ride for all audiences.
The American Theatre of Actors is located at 314 W 54th St, New York City. Contact 646-338-5472 / JMAE.events@gmail.com for further information.
THE PLOT: Each performance starts with a symphonic overture of original compositions before wide-screen film projections allow us to meet Transylvania's most famous citizen, Vlad the Impaler, and his army fighting the Ottomans, culminating with Vlad's wife's tragic death - and his dark resurrection. The film, the 90-minute original soundtrack & stage musical further introduces us to the native land of Indiggo Twins (they are ACTUALLY from Transylvania).
The story reveals that - after a week-long ritual guided by Vlad The Impaler, Violeta, a poor mother from Transylvania, gives birth. Not to one baby as planned by Vlad, but to identical twin daughters "as different as day and night" - one wicked and cruel as Vlad's revengeful "spirit of the night"- the other as beautiful and chaste as Vlad's dead wife.
The twins portray Vlad's Daughters and interact with characters on screen - and with the audience.
Wicked Clone weaves a "magical and healing story alike Anderson's fairytales; it begins in a dark place but arises to a divine realm," Mihaela relates.
"Go for the glam, but stay for the supernatural ambiance, unique staging, and, of course, the performances: immortal," says theatre critic, Griffin Miller.
Watch Wicked Clone THE CINEMA TRAILER:
https://www.youtube.com/watch?v=Pekb4V322oU
Read the bestselling novel written by Mihaela Modorcea:
https://www.barnesandnoble.com/w/wicked-clone-or-how-to-deal-with-the-evil-mihaela-modorcea/1123648466?ean=9780990446712
The musical has been advertised in 125 subway locations and 50 movie theaters: https://www.youtube.com/watch?v=mSZPpVICF8o
Related Articles

More Hot Stories For You
VIDEO: HAMILTON Fan Creates a Side-By-Side Comparison of 'Helpless' and 'Satisfied'
One Hamilton fan saw some parallels while watching the musical on Disney+, specifically between A Winter's Ball/Helpless and Satisfied....

Ben Vereen's Son, Ben Vereen Jr., Has Died
BroadwayWorld is saddened to hear of the passing of Benjamin Vereen Jr., the son of Tony-winning actor Ben Vereen....

Disney Employee Pulls the Curtain Back on What it is Like to Work at Disney World During the Pandemic
Rolling Stone has reported on a conversation they had with one Disney World employee, pulling the curtain back on issues of safety, whether social dis...

Photo Flash: Berkshire Theatre Group's GODSPELL Takes Bows as First Equity-Approved Musical
The first musical in the United States to be approved by Actors' Equity Association has officially begun performances. Berkshire Theatre Group's Godsp...

Debra Messing and Eric McCormack Will Moderate an Online Discussion and Fundraiser For Joe Biden
Debra Messing and Eric McCormack will moderate an upcoming online discussion and fundraiser for Joe Biden....

Jason Robert Brown, Carolee Carmello, Chita Rivera & More Pay Tribute to Brent Carver
As BroadwayWorld reported yesterday, Tony Award winning actor Brent Carver has passed away at age 68. This evening, Carver's Broadway colleagues took ...