Click Here for More Articles on CATS
VIDEO: GMA Celebrates Andrew Lloyd Webber with Epic Mash-Up of 3 Broadway Musicals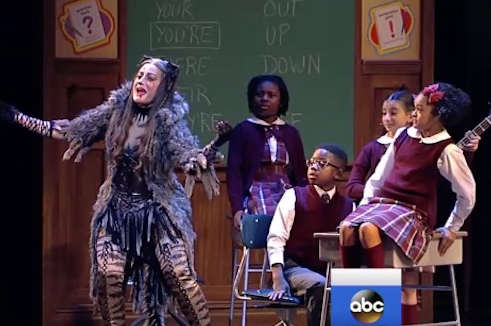 This morning, ABC's GOOD MORNING AMERICA celebrated legendary composer Andrew Lloyd Webber with an ultimate mash-up performance featuring all three of his currently running Broadway musicals, broadcast live from New York's Winter Garden Theatre.
The Andrew Lloyd Webber "GMA" take-over featured an interview with Lloyd Webber direct from the Phantom's lair at Her Majesty's Theatre in London, several mini performances, and a unique mash-up performance of "You're in the Band" featuring cast members from the smash hit Broadway musicals THE PHANTOM OF THE OPERA, Cats, and SCHOOL OF ROCK.
This is the second time in history that Lloyd Webber has had three of his musicals running simultaneously on Broadway. That number will increase to four when Glenn Close opens in Sunset Boulevard this February, an achievement previously accomplished only by Rogers and Hammerstein.
Speaking on his many iconic musicals, Lloyd Webber tells GMA, "I always thought that Cats was going to be the big one, but "Phantom" changed everyone's lives." Watch the interview and the musical mash-up below!