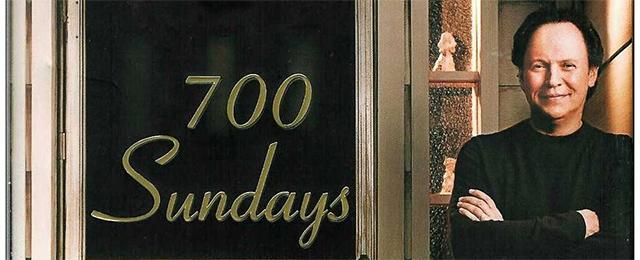 Click Here for More Articles on 700 SUNDAYS WITH BILLY CRYSTAL
VIDEO: Billy Crystal & Stephen Colbert Compete for GRAMMY Award on 'Colbert'
Billy Crystal was a surprise guest on last night's THE COLBERT REPORT on Comedy Central. The legendary comedian stopped by to maintain that he was more deserved of the Grammy Award for "Best Spoken Word Album" over host Colbert, who was also nominated in the category.
"I deserve that award," argued Crystal. "All I got left are my Tonys, my six Emmys, my Mark Twain prize, my star on The Hollywood Walk of Fame and my Blockbuster Entertainment Award." Responded an irate Colbert, "You got a 'Blockie? - You son of a bitch!" Check out the appearance below!
Crystal recently returned to Broadway to star in a 9-week-only limited engagement of his Tony Award-winning, record-breaking play 700 Sundays. The production is set to close January 5, 2014.
700 SUNDAYS, an autobiographical journey, is an original two-act play in which Billy plays numerous characters that have influenced who he is today. It deals with his youth, growing up in the jazz world of Manhattan, his teenage years, and finally adulthood. It is about family and fate, loving and loss.
Crystal was pronounced "The King of Broadway" by The New York Post for the Broadway debut of 700 Sundayswhich, in its opening week on Broadway, broke the house record for highest weekly gross at the Broadhurst Theatre and then continued to top its own record every week. With a cumulative gross of over $21 million, 700 Sundays set a record for the highest weekly grossing non-musical in Broadway history at that time ($1,061,689 for the week ending 5/22/05) and was one of the top ten grossing shows every single week of its run, despite playing only six performances per week. The show won the 2005 Tony Award for Special Theatrical Experience and both the 2005 Drama Desk and Outer Critics Circle Awards for Outstanding Solo Performance.
Following the Broadway production, Billy played sold-out limited engagements of 700 Sundays in Toronto, Boston, Chicago, San Francisco and Los Angeles. Billy then took 700 Sundays to Melbourne and Sydney, Australia, where both engagements sold out upon announcement and won the 2007 Helpmann Award for Best Special Event. In 2009, Billy brought the show back to the United States with engagements in six major cities: Washington, DC; Philadelphia; Dallas; Palm Beach; Miami; and Atlanta. This fall's Broadway engagement will mark the show's first return to New York since its Broadway debut.
Buy Tickets to 700 Sundays - click here.

Related Articles
More Hot Stories For You