Click Here for More Articles on Avenue Q
VIDEO: AVENUE Q Cast Featured In Music Video For Ledinsky's Controversial Donald Trump Song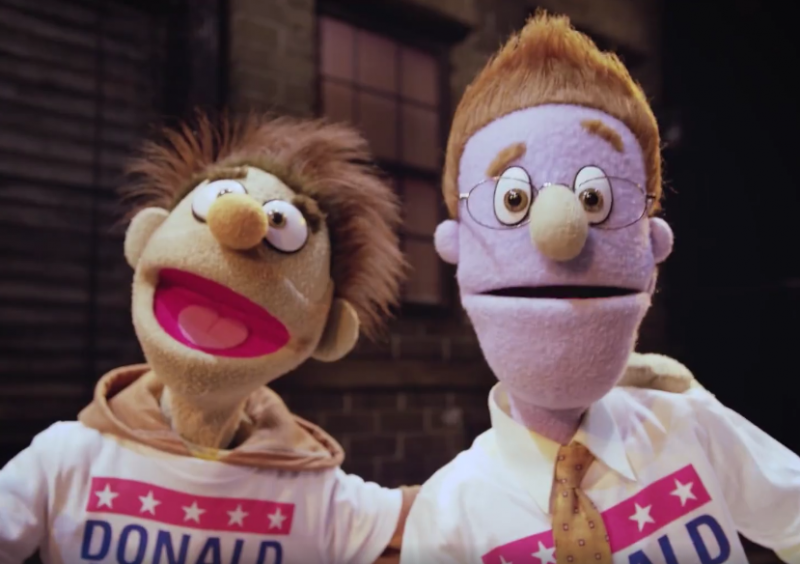 With its attention-grabbing title, Swedish singer/songwriter Ledinsky's single "Donald Trump Makes Me Wanna Smoke Crack" has been mounting up controversy and YouTube hits.
As a newly-signed Atlantic Records artist, his debut EP "High Society," has dropped online with the catchy protest anthem as its lead single.
Tomorrow, August 25th, the music video for "Donald Trump Makes Me Wanna Smoke Crack" premieres on Rolling Stone and, believe it or not, it features the cast of the most irreverent Tony-winning Best Musical in history, AVENUE Q.
The video below offers a sneak preview.
Winner of the TONY "TRIPLE CROWN" for BEST MUSICAL, BEST SCORE and BEST BOOK, Avenue Q is part flesh, part felt and packed with heart. Don't miss out on this chance to save big on this long-running Broadway hit!
AVENUE Q is a laugh-out-loud musical that tells the timeless story of a recent college grad named PRINCETON who moves into a shabby New York apartment all the way out on
Avenue Q
. There, he meets KATE (the girl next door), ROD (the Republican), TREKKIE (the internet sexpert),
Lucy The Slut
(need we say more?), and other colorful types who help PRINCETON finally discover his purpose in life! Adults love
Avenue Q
, but they seem a little, er, fuzzy on whether it's appropriate for kids. We'll try to clear that up.
Avenue Q
is great for teenagers because it's about real life. It may not be appropriate for young children because
Avenue Q
addresses issues like sex, drinking, and surfing the web for porn. It's hard to say what exact age is right to see
Avenue Q
- parents should use their discretion based on the maturity level of their children. But we promise you this- if you DO bring your teenagers to
Avenue Q
, they'll think you're really cool.