U.S. Premiere Of GROUPIE by Sir Arnold Wesker Announced for New York City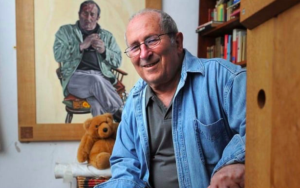 The late Arnold Wesker is highly regarded as a distinguished voice of the British Theater. Following his death in January 2016, Vicky Featherstone, artistic director at the Royal Court Theater, said that "his working-class characters and his outsider status changed who theater was for, and enabled a new generation of audience, actors and playwrights to feel they had a right to belong." Yet much of his work, while celebrated by scholars and historians the world over, is hardly ever produced for an American audience. But Director Charles Maryan is about to change that with GROUPIE.
Mr. Maryan recently won the Audelco Award for his revival of In White America at the new Federal Theater. Over his extensive career, he has directed Murray Schisgal's The Typist and the Tiger on London's West End, plus plays and contemporary operas all across America.
For GROUPIE, he has recruited veteran stage actors Barbara Eda-Young, OBIE Award winner for Tony Kushner's Slavs, and Joseph Ragno, Gogo in a much acclaimed revival of Waiting For Godot, to portray the play's two characters: Mark Gorman, a famously reclusive painter and the eponymous groupie, one Mathilda Beancourt.
When Mathilda, a woman "of a certain age," decides to write a letter to the curmudgeonly Mark, she sets in motion a relationship, both touching and humorous, with several unexpected consequences. Consequences that ultimately enrich their lives. Lives they thought were over. Lives that instead begin again.
In May of 2016, producer Patrick Terry saw a reading of GROUPIE at The Drama Book Shop and became so enamored with the project that he offered to help realize a full production. Following a presentation at the legendary Players social club, which was attended by an enthusiastic audience of theatre artists and investors, the show continued to generate positive word of mouth for a US Premiere.
Enter Benjamin Simpson and Joseph Longthorne. The dynamic General Management duo, whose Broadway co-producing credits include The Band's Visit,Waitress, and Steve Martin's Meteor Shower, has joined forces with Maryan and Terry to stage an Off-Broadway production of GROUPIE for a limited engagement in the new year.
On the potential for the show's American success, poet Frederick Feirstein notes that "of the fifty plays Wesker has written, GROUPIE is one of his very best. It is beautifully directed and acted, and should become a classic in its own right."
As for the reception of his own work, Arnold Wesker (who was knighted in 2006) once wrote, "I want an audience to suspend its own prejudiced intelligence in order to concentrate solely on what I am trying to communicate. Therein lies the true democratic nature of art, and, also, in the fact that a single creative work is one man's act of reverence for all men."
The producers recently published the show's official website which includes interviews with the cast, and options for investors and donors interested to support the production. For more details about making a tax-deductible contribution, please visit www.groupie2018.com.