Transplants Announced Outdoors Comedy Show and Zoom August 8
The show features comedians who are not New Yorkers telling jokes and stories about NYC and their hometowns.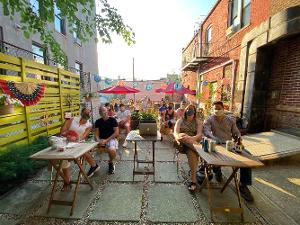 Transplants presents its live backyard comedy show and Zoom presentation by comedians who are not New Yorkers telling jokes and stories about NYC and their hometowns.
The lineup for this week's show includes Mike Cannon Amazon Prime, Lindsay Theisen Laughing Skull (South Carolina)
Lucie Pohl Overwatch (Germany)Daniel Vezza Take it outside comedy Brittany Carney Comedy Cellar (DC)Irene Morales NYCC (Florida)Marisa Riley (Texas)Ashton Womack Comedy Central (Texas)
August 8th doors at 5:30pm show at 6pm QED 27-16 23rd Avenue, Astoria or via Zoom link. Tickets $8-15 online. Find more information here.
Related Articles
More Hot Stories For You
Betty Buckley Demands Trump Stops Using 'Memory' at Rallies- 'Your Presidency is the Very Antithesis of Art'
As BroadwayWorld reported earlier this month, at a campaign rally in Sanford, Florida, the Trump campaign continued its use of the song 'Memory' from ...

Photos/Video: First Look at the Russian Premiere of CHESS The Musical
On October 17, Chess the Musical made its Russian premiere at the MDM Theatre, Moscow....

Actors' Equity Comments On SAG-AFTRA Members Condemning the Union's Raiding of Equity Employers
Actors Equity has released the following roundup of quotes addressing SAG-AFTRA members who are speaking out against the union's battle with Equity. ...

Exclusive: Keala Settle Sings 'Being Alive' from COMPANY as Part of The Seth Concert Series; Re-Airs Today at 3pm and Available On Demand!
Her concert re-airs today at 3pm and is now available On Demand, get your tickets here!...

BEETLEJUICE Will Premiere in South Korea in 2021
It has been confirmed that the first Korean production of Beetlejuice, performed in the Korean language, will come to Seoul, South Korea next year....

Bernadette Peters, Kristin Chenoweth, and More Share Their Thoughts on STICKS & STONES
There are just two more days to watch Sticks & Stones right here on BroadwayWorld before it disappears forever. The concert benefits Broadway Cares &...