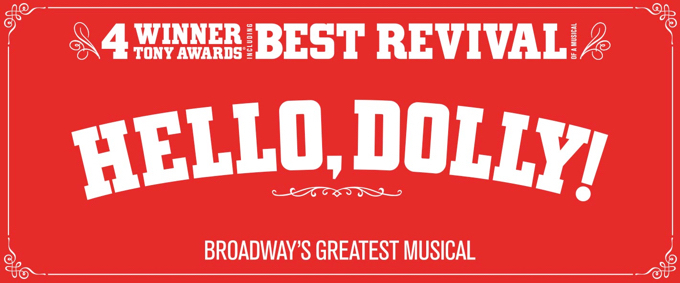 Click Here for More Articles on HELLO, DOLLY!
Tomorrow Is 'Dolly Day' in New York City in Honor of HELLO, DOLLY! Broadway Opening
To commemorate tonight's official opening of Hello, Dolly! starring Bette Midler on Broadway, Mayor Bill de Blasio will officially proclaim tomorrow, Friday, April 21, "Dolly Day" in New York City.
The proclamation, which will be hand-delivered to the Sam S. Shubert Theatre before tonight's performance, reads:
Whereas: As a global hub of arts and culture, New York has a proud tradition of launching plays and musicals that have shaped the history of theater in the five boroughs and far beyond. When the romantic comedy "Hello, Dolly!" premiered on Broadway in 1964, it became an immediate smash hit that had a groundbreaking run of seven years. Since its debut, this influential musical has been made into a Hollywood film, presented in London's West End, and produced by countless theater companies and school groups around the world. Written by Michael Stewart and Jerry Herman, and set in New York at the turn of the last century, this beloved show endures today as a timeless classic of American theater.

Whereas: Last night, the Shubert Theatre curtain rose on the much-anticipated first-ever Broadway revival of "Hello, Dolly!" starring the phenomenally talented Bette Midler as the indomitable Dolly Gallagher Levi. It takes a quintessential New York woman to play one, and with her powerful voice, deft comedic timing, and gregarious personality, the Divine Miss M. is ideally suited to embody the charmingly meddlesome matchmaker. In addition to thanking their lucky stars for the opportunity to see this award-winning actor, singer, and dancer perform on stage, New Yorkers owe a debt of gratitude to Midler for her efforts to revitalize abandoned parks, gardens and open spaces in all five boroughs through the New York Restoration Project, a non-profit organization that she founded in 1995.

Whereas: In addition to Bette Midler's star turn as Dolly, this thrilling production's accomplished cast includes David Hyde Pierce - another remarkable New Yorker - in the role of Horace Vandergelder, a crotchety widower and Dolly's romantic interest. As the orchestra starts playing all of your old favorite songs from this wonderful musical, Chirlane and I join in applauding the show's cast, musicians, crew, designers and producers for their efforts to enrich New York's dynamic performing arts landscape, strengthen our city's economic vibrancy, and captivate our diverse residents and visitors through the power of musical theater. On the occasion of its triumphant return, I am pleased to welcome "Hello, Dolly!" back where it belongs - on Broadway!

Now therefore, I, Bill de Blasio, Mayor of the City of New York, do hereby proclaim Friday, April 21, 2017 in the City of New York as: "Dolly Day".
The Broadway revival of Michael Stewart and Jerry Herman's masterpiece Hello, Dolly! is directed by four-time Tony Award winner Jerry Zaks and choreographed by Tony Award winner Warren Carlyle.
Hello, Dolly! instantly became the hottest ticket of the year when it broke the record for best first day of ticket sales in Broadway history. By the time it began previews, it had the largest pre-performance advance sale in Broadway history. Recently, the production shattered the record for the highest weekly gross of any show in the history of the Sam S. Shubert Theatre (built in 1913) - a record set by a previous tenant over a nine-performance week - in just seven performances, and then (just two weeks later) shattered that record again with the same number of performances.
Bette Midler is joined by Tony Award and four-time Emmy Award winner David Hyde Pierce (Horace Vandergelder), two-time Tony Award nominee Gavin Creel (Cornelius Hackl), Tony Award nominee Kate Baldwin (Irene Molloy), Taylor Trensch (Barnaby Tucker), Beanie Feldstein (Minnie Fay), Will Burton (Ambrose Kemper), Melanie Moore (Ermengarde), Tony Award nominee Jennifer Simard (Ernestina), and an ensemble of twenty-eight.
The complete creative/design team for the production features three-time Tony Award winner Santo Loquasto (Scenic & Costume Design), five-time Tony Award winner Natasha Katz (Lighting Design), Tony Award winner Scott Lehrer (Sound Design), Andy Einhorn (Music Direction), Tony Award winner Larry Hochman (Orchestrations), Tony Award winner Don Pippin (Vocal Arrangements), David Chase (Dance Arrangements), and Telsey + Company (Casting).
The ensemble features Cameron Adams, Phillip Attmore, Giuseppe Bausilio, Justin Bowen, Taeler Cyrus, Elizabeth Earley, Leslie Donna Flesner, Jenifer Foote, Jessica Lee Goldyn, Stephen Hanna, Michael Hartung, Robert Hartwell, Aaron Kaburick, Amanda LaMotte, Analisa Leaming, Jess LeProtto, Ian Liberto, Kevin Ligon, Nathan Madden, Michael McCormick,Linda Mugleston, Hayley Podschun, Jessica Sheridan, Michaeljon Slinger, Christian Dante White, Branch Woodman, Ryan Worsing, and Richard Riaz Yoder.
This Hello, Dolly!, the first new production of this classic musical (based on Thornton Wilder's The Matchmaker) to appear on Broadway since it opened more than fifty years ago, pays tribute to the original work of legendary director/ choreographer Gower Champion, which has been hailed both then and now as one of the greatest stagings in musical theater history.