Theater For The New City Presents A Reading Of PIE LESSONS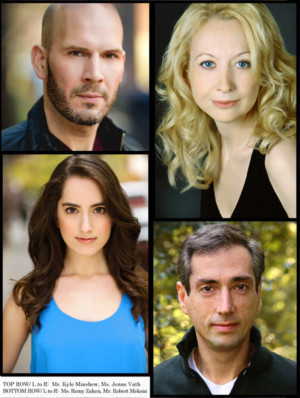 Theater for the New City and Executive Artistic Director Crystal Field will present a reading of PIE LESSONS by Carrie Robbins, on MONDAY, MARCH 11, 2019, 7:00 PM in the Community Space Theater at The Theater for the New City. PIE LESSONS will be presented as part of TNC's SCRATCH NIGHT performance program, which offers the opportunity for artists to present work in progress to an audience for one night.
Eight-year old Gloria Levski just wants a piece of pie. Not the little bitty sliver of pie that her dad usually gives her after supper. A generous, glorious, plate-filling PIECE OF PIE. But Mr. Levski is concerned that Gloria has a tendency toward chubbiness (she takes after her mom, don't you know), and Mr. Levski also knows that if Gloria gets her piece of pie, she may not be motivated to focus on the evening's lesson. Mr. Levski, you see, is a teacher of political science and history, and a proud immigrant. He knows that those who don't learn from the past are doomed to repeat it, a good lesson from the Old Country. So, Mr. Levski is stingy with the pie. But what he doesn't know is that Gloria has an ally in Mrs. Levski, who right this minute is whipping up yet another tasty confection...
Pie-deprived Gloria Levski is played by Remy Zakin* Broadway and Off-Bway: SPRING AWAKENING (original Broadway production), DEAR EVAN HANSEN, FRECKLEFACE STRAWBERRY; Regional: A TREE GROWS IN BROOKLYN (Goodspeed Opera House, Connecticut Critics Circle Award for Best Debut), THE DIARY OF ANNE FRANK; TV: GOSSIP GIRL, BULL.
Kyle Minshew* takes the role of pie task-master Mr. Levski; currently appearing in THE STATE OF THE UNION (Metropolitan Playhouse); PROMETHEUS BOUND (NYTW), A CHRISTMAS CAROL, A FEW GOOD MEN, THE MYSTERY OF EDWIN DROOD. FILM/TV: THE MURDERS OF CANE HILL, LIFE SUCKS, GHETTO NERD GIRL; he will appear next in GIRL OF GLASS, THML Theatre Co.
The perpetually pie-baking Mrs. Levski is played by Jenne Vath* whose New York credits include SAWBONES & THE DIAMOND EATER (NYITAward Nomination - Best Featured Actress), THE DRAGON GRISWYND at Theater for the New City, and many appearances at TNC, Regeneration Theatre, La MaMa, Yorick Theatre. Film: RISEN.
PIE LESSONS is narrated by Robert Meksin* whose Off-Broadway credits include the title role in THE CANTERVILLE GHOST and workshops with Playwrights Horizons & Ensemble Studio Theatre.
PIE LESSONS is directed by Jonathan Cerullo*, whose Broadway/NYC credits include choreography consultant for SAY GOODNIGHT GRACIE; assistant director and/or choreographer BAND IN BERLIN, ANNA KARENINA, THE THREE MUSKETEERS; original cast: LEGS DIAMOND; choreographer Big Apple Circus' CARNIVALE and Lincoln Center's PICTURESQUE. Films include FIRST WIVES CLUB, THE STEPFORD WIVES, THE COWBOY WAY. Mr. Cerullo is a proud member of SDC, AEA, DG, and was vice-chair and producer of the 2016 SDC Foundation's Joe A. Callaway Award.
Award-winning costume designer/playwright Carrie Robbins' scripts have appeared in numerous New York festivals over the past five years. Many have been awarded semi-finalist and finalist positions, including SAWBONES and THE DIAMOND EATER, which received six NYITAwards nominations, more than any other production in 2014. PIE LESSONS is her 16th of 17 plays.
PIE LESSONS is Stage Managed by Liza Penney.
PIE LESSONS will be presented for one reading only on Monday, March 11, 2019 at 7:00 PM. PIE WILL BE SERVED! Guests who RSVP through Eventbrite are invited to arrive at 6:30 PM to sample Master Baker Christopher Stratis' low-carb, Keto-friendly dessert confections.
Theater for the New City's Community Space Theater is located at 155 1st Avenue (9th/10th Streets), New York City.
Reservations are free and can be made through eventbrite.
Related Articles
More Hot Stories For You
The Drama Book Shop, Now Co-Owned by Lin-Manuel Miranda, Will Reopen in March
 It was announced today that The Drama Book Shop will reopen its doors in March 2020 at its new Times Square home at 266 West 39th Street (between 7th... (read more)

Voting Now Open For The 2019 BroadwayWorld New Jersey Awards, Presented by TodayTix!
Voting is NOW OPEN for the 2019 BroadwayWorld New Jersey Awards, brought to you by TodayTix! The nominees are set, and now you can vote to make sure y... (read more)

HADESTOWN Becomes First Musical Of 2018-2019 Season To Recoup Investment
Hadestown, the Tony Award-winning Best New Musical has become the first musical of the 2018-2019 Broadway season to recoup its initial investment of $... (read more)

TOOTSIE To Play Final Broadway Performance in January
It was announced today that the Tony-nominated musical TOOTSIE will play its final performance at at the Marquis Theatre on Sunday, January 5, 2020.... (read more)

Betsy Wolfe and Matt Bogart Will Star in Developmental Reading of Original New Musical INDIGO
Sing Out, Louise! Productions will hold a developmental reading of Indigo, an original new musical featuring music & lyrics by MAC Award winning compo... (read more)

LES MISERABLES Changes Dates of Broadcast in U.S. Cinemas
Les Misérables a?" The Staged Concert will be shown in cinemas across North America on Sunday December 8 & Wednesday, December 11 from the Gielgud The... (read more)