The Tank's New Cabaret Series to Feature Underrepresented Artists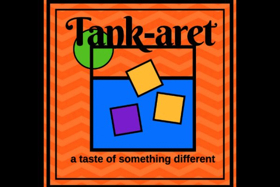 After several exciting and successful shows in the fall of 2017 (Only You, A Queer Cabaret; Love: A How (Not) To Guide; and No Way To Say Goodbye by artists Donnie and Rebecca Cianciotto, Jen Anaya and Deepali Gupta) The Tank (Meghan Finn and Rosalind Grush, Artistic Directors) is launching a full season of monthly cabaret events for 2018! Tank-aret: A Taste of Something Different, a new cabaret series featuring underrepresented artists, will kick off on Saturday, January 20 at 10:30pm, in the 99-seat theater space at The Tank (312 West 36th Street between 8th and 9th Avenues). Tickets ($14, with a 1 drink minimun) are available for advance purchase at www.thetanknyc.org.
Every month Tank-aret will feature an evening of exciting new work by artists not traditionally represented in cabaret and musical theater spaces. The intention is to lift up the voices of women, queer and trans artists, artists of color, differently abled artists, and anyone else who has some cabaret magic to make but is usually not given the space to take risks and bite off more than they can chew.
Tank-aret artists include Jen Anaya (Tamar and The River), EllaRose Chary and Brandon James Gwinn, Donnie Cianciotto (Southern Comfort) and Rebecca Cianciotto, Maggie-Kate Coleman (Jonathan Larson Award, POP!), Dyan Flores, Deepali Gupta (Ski End), Sam Kaseta, Marcus Scott, Brin Solomon, Ellen Winter (36 Questions) and more!
Tank-aret: A Taste of Something Different is curated by musical theater writing team EllaRose Chary and Brandon James Gwinn (Dramatists Guild Fellows, Ars Nova Uncharted Residents, Cotton Candy and Cocaine, TL;DR: Thelma Louise; Dyke Remix). Hosted by Glam Award winning drag queen Chelsea Piers (Shade: Queens of New York), the January 20th Kickoff is a sampling of work by Tank-aret artists including the shows you may have missed in 2017 and an exciting preview of what's to come in 2018.
The upcoming Tank-aret schedule is:
February 19 @ 7pm- TL;DR: Thelma Louise;Dyke Remix in Concert! After a sold-out run at The Tank's PrideFest in July 2017, T and L are back in concert at the Tank's bad ass new space. Thanks in part to an Anna Sosenko Trust Grant, EllaRose Chary and Brandon James Gwinn's queer, parody rock musical will have another chance to ask the question why do strong female characters always gotta die while T and L take on the patriarchy, the gaytriarchy, and anything else standing in the way of their love.
March 26 @ 7pm - Cherry Bomb B. Marcus Scott. Marcus Scott is a journalist, reporter, playwright, musical theater writer, songwriter, dramaturge, sketch comic and blogger. His musical, Cherry Bomb also received a reading at NYU Tisch. Selections from that musical were performed as part of the New York Musical Theatre Festival's "Inheritance" concert (sponsored by Student Leadership Program) at the Pershing Square Signature Theatre, and the Goodspeed Opera House. With Cherry Bomb, Scott became the recipient of the Drama League's 2017 First Stage Artist In Residence. Marcus will make his Tank debut with songs from the show as part of Tank-aret.
April 23 @ 7pm - To be announced
May 21 @ 7pm - The May edition of Tank-aret will feature the work of Ellen Winter. Ellen is a performer, composer, and theater-maker hailing from the woods of Fairfax, Virginia currently camping out in Brooklyn, NY. She and Chris Littler wrote, directed, and composed the 36 Questions; a musical podcast, produced by Two Up, starring Jonathan Groff and Jessie Shelton. She is a founding member of the Electric Eye Ensemble and Daughters of Elysium. She sings, hits keys, and composes with Chamber Band, a coffee-fueled nerd-rock group that belts of love, capitalism and dragons with three national tours under their belts. She made her Tank debut music directing TL;DR: Thelma Louise; Dyke Remix in summer 2017.
June 11 @ 7pm - Burn It Down: The Rahm Emanuel Musical by Dyan Flores is the comic tragic musical telling of the story of aspiring ballet dancer Rahm Emanuel who is forced to give up on his dream and go into politics. Dyan Flores is a musical theatre writer and comedian. She was a regular on the Chicago improv and sketch comedy scene before she moved to New York and shifted her focus to musical theatre writing. Dyan is a member of the BMI Lehman Engel Advanced Musical Theatre Writing workshop, and she has had shows performed at the New York Library for the Performing Arts, American Theater Company, The Metropolitan Room, Milk Can Theatre Company, and NYU. She's also hilarious on Twitter: @dyanysus1116
The July Tank-aret will feature Brin Solomon's song cycle Defiant, Majestic, and Beautiful - Ranging from depictions of dissociation to odes to salt, Defiant, Majestic, and Beautiful is a zine in the form of a song cycle about transfeminine mundanity. Join four singers and dozens of characters as they question, kvetch, deteriorate, and rejoice in this window into the agony and the estrogen of life under transmisogyny.
Tank-aret events in August-October will feature the work of Sam Kaseta, Donnie Cianciotto, and EllaRose Chary and Maggie-Kate Coleman's revue One White Penis Short A Kleban featuring the work of women songwriters who get a lot of unpaid opportunities.
The Tank is a non-profit arts presenter serving emerging artists engaged in the pursuit of new ideas and forms of expression. We serve over 1,000 artists every year in over 400 performances, and work across all disciplines, including theater, comedy, dance, film, music, public affairs, and storytelling. Our goal is to foster an environment of inclusiveness and remove the burden of cost from the creation of new work for artists launching their careers and experimenting within their art form. The heart of our services is providing free performance space in our 98 seat proscenium and 56 seat blackbox that we operate in Manhattan, and we also offer a suite of other services such as free rehearsal space, promotional support, artist fees, and much more. We keep ticket prices affordable and view our work as democratic, opening up both the creation and attendance of the arts to all. Since its founding in 2003, artists who have come through The Tank include Alex Timbers, Amy Herzog, Lucy Alibar, Mike Daisey, Reggie Watts, Kyle Abraham, Andrew Bujalski, We Are Scientists, and tens of thousands of others. www.thetanknyc.org