The Playwriting Collective Extends Deadline for First Annual $1000 Ball Grant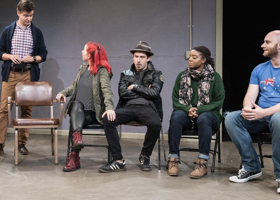 The application deadline for the first annual Ball Grant has been extended to November 1st, 2017 at midnight! This grant is expressly designed for a writer who identifies as living in or emerging from a lower economic status. Fundamentally The Playwriting Collective believes playwriting is an incredible tool of expression that isn't nurtured in America's poorest communities. The company wants applicants to start a conversation with their letter of intent: playwrights should explain what they identify as a lower economic status and how this grant will help them. Details on how to apply are found here: https://www.theplaywritingcollective.com/the-ball-grant
The Playwriting Collective is a playwright driven initiative to support voices from lower economic backgrounds. The company puts the playwright first and seeks out writers as well as stories, narratives, and characters that shine a light on the current state of America's lower class. Cultivating work that is transmedia and encouraging artists to indulge their imaginations - from vast multimedia spectacle, to puppetry, to audience participation... The Playwriting Collective hopes to uplift people artistically and socially through stories armed with all the weapons of Modern Stagecraft.
The Playwriting Collective has an ongoing reading series, a yearly writers group, and their upcoming full-scale production will be a new play by Artistic Director Phillip Christian Smith, segments of whose work can currently be seen in ECC's A Ribbon About A Bomb on Governor's Island.
The company's Artistic Directors are playwrights Joshua Young (Father-Daughter at The Brick - 2017, Who Mourns for Bob the Goon? at The HERE Arts Center - 2016) and the above mentioned Phillip Christian Smith. Advisory panel and company staff include actor/ playwright John Carhart and dramaturg/ playwright Allison Salazar. Donations can be made in assisting the company's mission of outreach to the poor by visiting www.ThePlaywritingCollective.com or email: contact@ThePlaywritingCollective.com The Playwriting Collective is a recognized 501c3 non-profit.