Click Here for More Articles on Podcasts
The 'Broadwaysted' Podcast Welcomes SUMMER's Jared Zirilli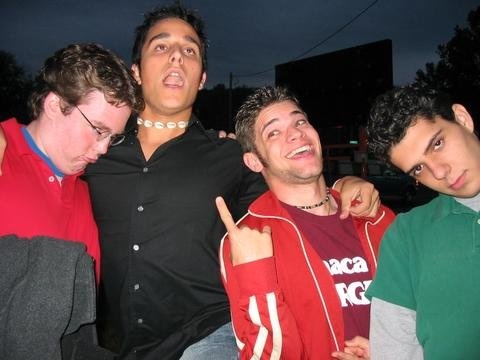 We're thrilled this week to be joined by our good #FriendoftheShow and one of the stars of Summer: The Donna Summer Musical, the hilarious and talented Jared Zirilli!
We're pouring out some Kona Beers and a couple MANCANs while Jared spills about his love of professional wrestling, his donut-filled birthday, and his incredible Insta-story Takeover talents. Jared also shares about his new role as a Father with superhero wife Whitney Bashor then visits "Kevin's Corner" where he opens up about "Memoirs of a Guido" and casts a Forrest Gump fantasy musical.
Game Master Kimberly keeps the laughs coming by introducing the plot guessing game "Glazed Over" before leading us through the fan-favorite "Dirty Hands on a Hardbody." We also crack up at Jared's Ithaca College stories (see the pic of Bryan, Jay, Jared, and #Friendoftheshow Jeremy Jordan!) about Bryan's extra choreography rehearsal for Ithaca's Sweeney Todd, Jay's bedazzled jazz shoes, and the exclusive band called Pizza.
Our feed was hacked again this week to bring you another segment of the "Embargo Report" featuring #swingoftheshow Aaron J. Albano sitting down with fellow Hamilton Philip Tour castmates Lili Froehlich and Phil Colgan. If Aaron keeps bringing such fun content, we may have to lift the Embargo!
We have a blast backstage with Jared so listen in and then be sure to get your tickets to see him and the amazing cast of Summer: The Donna Summer Musical!
Listen to the episode here:
Don't forget to join the "What Have You Seen This Week" conversation by getting your tickets at Goldstar! Visit www.goldstar.com/broadwaysted and use the code BROADWAYSTED to get an additional $10 off your order for the best tickets to Live Entertainment! Make sure to share what you see with us on social media!
---
About Jared: Talented triple threat Jared Zirilli is currently appearing on Broadway in Summer: The Donna Summer Musical. He previously appeared in the first national tours of both Wicked and We Will Rock You and in the World Premiere of Michael John LaChiusa's Rain opposite Eden Espinosa. Jared made his Broadway debut in the cast of Lysistrata Jones and has also been seen in by New York theatre audiences in Ars Nova's Romance Language and Fat Camp. On television, Jared has been seen on ABC's Pan Am, CBS's Blue Bloods, and NBC's Blindspot and Law and Order: SVU. Follow Jared @jaredzirilli
---
About the Show: Join the hilarious happy hour antics on Broadwaysted every Tuesday as the Brightest Stars of Broadway have a few drinks, play a few games, and share a lot of laughs with host Bryan Plofsky, co-host Kevin Jaeger, and Game Master Kimberly Schmidt.
The recipe is simple. We take a generous pour of Delightful, Delicious, and Delovely featured show segments like "What Have You Seen This Week," "Stage Door Stories," and "Tuesdays in the Corner with Kevin"--mix in a few original games created by our resident Game Master Kimberly--and top it off with a healthy serving of Bryan's Pun-tastic Ponderings. What you get is a podcast filled to the brim with laughs, insight into the NYC Theatre Scene, and a hangover-free cocktail hour with your favorite stars.
Since May of 2016, Broadwaysted has released over 100 episodes and their growing #FriendsoftheShow guest list includes Broadway Legends, Fan Favorites, Fresh Faces, and a whole lot of Newsies,
Follow and Subscribe to Broadwaysted free on iTunes to join the fun every Tuesday!
Twitter: @Broadwaysted
Instagram: @Broadwaysted
Bryan's Twitter: @nuttyplofessor
Kevin's Twitter: @JaegerKev
Kimberly's Twitter: @KimberCoops
Facebook: Join our group Broadwaysted #FansoftheShow to exchange game ideas, share theatre thoughts, or chat with other #FansoftheShow
Related Articles