Click Here for More Articles on Podcasts
The Broadwaysted Podcast Welcomes INDECENT Stars Mimi Lieber and Tom Nelis
D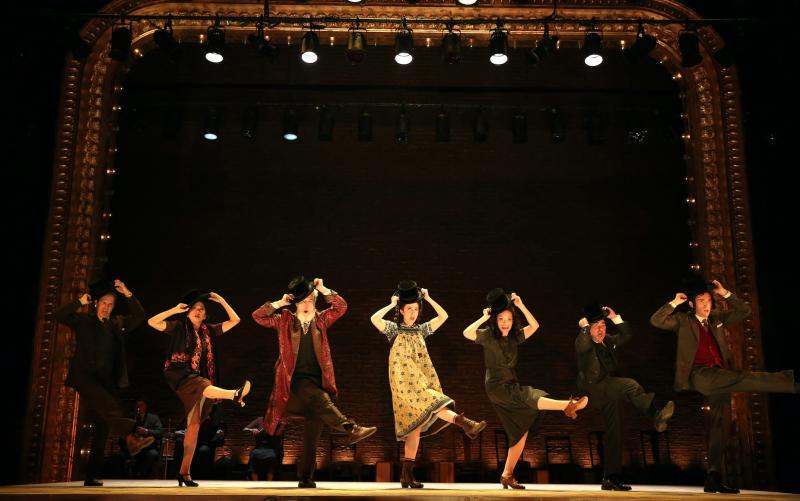 on't worry--our two new #FriendsoftheShow aren't salacious or obscene. They're just Indecent's Mimi Lieber and Tom Nelis!
We're pouring out white wine and Gin and Tonics (not Seltzer, Kevin...Tonic!) while Mimi and Tom talk about Indecent'S exciting Tony wins and the amazing move by Super Star Producer Daryl Roth to resurrect Indecent beyond the initial closing date (you have until August 6th people, so GO!)
Tom admits to constantly saying "Ish Kabibble," Mimi spills about her double reaction to the Best Director Tony, and they both laugh their way through their stories about Rebecca Taichman's lovely parents, Dr. Ruth's request for Tom, and the audience's input about the Yiddish in the show.
Game Master Kimberly leads us through a round of #BroadwayRegrets and then introduced a game with Lights of Broadway Show Cards where we make things Indecent for the 1920s. We're also chatting about Chita Rivera, Tommy Tune, and the powerful ending of CABARET. Don't let Indecent be your #BroadwayRegret--listen to our episode with Mimi and Tom and then get your ticket before August 6th!
Listen to the episode here:
---
Mimi's Bio: Mimi Lieber is an incredible actress who has appeared on Broadway in Indecent, ACT ONE, Brooklyn Boy, I'M NOT RAPPAPORT and Off-Broadway in Indecent and DISTRACTED. Select Regional credits include PERSEPHONE, THE SISTERS ROSENSWEIG, WE WON'T PAY! WE WON'T PAY!, TAKING SIDES, THE GREEKS, LOVE COUNCIL, FIGARO GETS A DIVORCE, and MUCH ADO ABOUT NOTHING. SHE HAS ALSO HAD ROLES ON MULTIPLE TV SHOWS, INCLUDING "THE SOPRANOS," "LAW & ORDER," "MEDIUM," "FRIENDS," "SEINFELD," "ER," "THE X-FILES," and "NYPD BLUE."
Tom's Bio: Talented actor Tom Nelis has appeared on Broadway in Indecent, THE VISIT, ENRON, THE CAINE MUTINY COURT-MARTIAL, and AIDA. Tom has performed Off-Broadway at The Pearl Theatre, The Public Theater, New York Theatre Workshop, Playwrights Horizons, Signature Theatre, Classic Stage Company, Theatre for a New Audience, Manhattan Theatre Club, BAM, and En Garde Arts. Mr. Nelis is a founding member of Siti Company, now in its 25th year.
---
About the Show:
Broadwaysted: Where we're drunk on Broadway! Literally. This isn't your typical theatre podcast. Come "take a glass together" with us every Tuesday!
Join our cocktail hour as we pour a few rounds, play some games, and chat all things theatre with your favorite members of the Broadway community. From current hits, to past flops, and future stars, Broadwaysted drinks to it all. It's a place to unwind, be yourself, and hang out among friends who love what you love. Feel like you're at the table with your host Bryan Plofsky, co-host Kevin Jaeger, game master Kimberly Cooper, and amazing guests! Let's all get Broadwaysted!
Twitter: @Broadwaysted
Instagram: @Broadwaysted
Bryan's Twitter: @nuttyplofessor
Kevin's Twitter: @JaegerKev
Kimberly's Twitter: @KimberCoops
Related Articles