Click Here for More Articles on Debut of the Month Features
Debut of the Month: Taylor Symone Jackson Makes Her Broadway Debut in AIN'T TOO PROUD
Get Ready, Cause Here She Comes!
Taylor Symone Jackson makes her Broadway debut in the dual role of Johnnie Mae Matthews and Mary Wilson in AIN'T TOO PROUD. The electrifying new musical follows The Temptations extraordinary journey from the streets of Detroit to the Rock & Roll Hall of Fame. Today, Ms. Jackson speaks with BroadwayWorld about making her Broadway debut and the sense of responsibility she feels to accurately portray these two music legends.
[NOTE: BroadwayWorld's fabulous photographer Walter McBride captures images of the Broadway stars profiled in our monthly column in a special photo shoot. Check out the pics of Ms. Jackson throughout the feature!]
How familiar were with the music of The Temptations and Motown in general, prior to becoming involved with this show?
Well my parents introduced me to the music of Motown at a very young age. I'm from Atlanta, Georgia so there's a lot of soul in that city and Motown music would be playing in the grocery store, or if you went to a football game, the marching band would play it. And my family would listen to it in the car, Motown was very heavy for us. If it wasn't gospel music then it was definitely old school Motown, that was really the only secular music we could listen to. So I think I must have started hearing this music at the age of three from what I can remember.
So you really knew these songs.
I did! Although I did not know that some of them were from The Temptations, I didn't realize they had originated some of these songs, like "Get Ready." I thought those were other artist's songs. But that made me realize how much The Temptations touched our music. So yes, I have learned many things about their music from doing this show.
You portray Johnnie Mae Matthews and Mary Wilson in the show. Do you feel a certain sense of responsibility in taking on these two music legends?
Absolutely! The first character that I portray is Johnnie Mae, who is responsible for a lot of artists. She got Smokey Robinson on his feet, she got Marvin Gaye on his feet, and The Temptations, and she even had a record herself. So she was almost like the Berry Gordy, only a smaller version, for the Detroit singers. And she isn't recognized enough for it. She was sassy and a little snappy, but her goal and her intention was to get these artists out there. And I think it was very, very strong of her to do that as a female back in that era, to really hold her own and make a name for herself. I also feel a deep passion and responsibility to uphold the image of Mary Wilson, she's an icon. She was one of the first black females to be on national television, so you had young ladies like my mom, or my grandmother that really looked up to her and her colleagues Diana Ross and Flo Ballard. So you want to make sure that everything is pristine, you want to make sure that you are moving correctly and have the posture of a princess, so that you are able to accurately portray that image, that iconic vision that everyone else saw back in that day.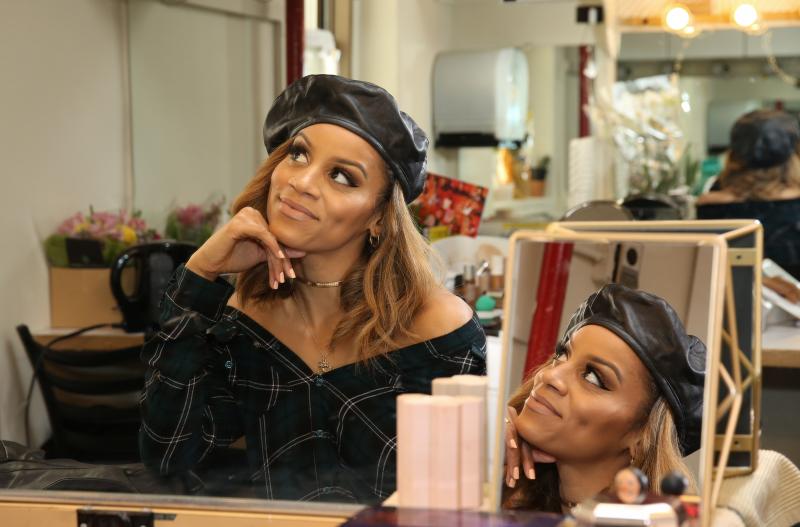 Sounds like you did your research on both of these icons in preparation for the roles.
Oh absolutely! But also Des [McAnuff] and Dominique [Morisseau] allowed us to put our own spin on it, because obviously we were not going to be verbatim, we don't exactly know how they were back in the day, I obviously wasn't alive. So you try your best and then they allow you to put a little sprinkle into the personality. God rest her soul, I don't know how Johnnie Mae actually talked, I knew how she sang, so I threw a little bit of Atlanta in there, and then mixed it up with some Detroit so that I could come up with an appropriate character.
The show really incorporates the social and political context of the times, which in many ways resonates with what is happening in our country today.
Yes, I think unfortunately we are kind of backtracking in a sense, not necessarily all the way, but at least now we are able to engage all ages with this show. Broadway now has such a wide spectrum of audience, to the point where it reaches just about every generation and I think these issues are able to be received more fully. Back in the day, people would listen to the group on the radio, but they didn't really know or understand their backstory. And now we're actually zooming in on that time, showing you exactly what the hardships were that this group went through. And there is still a lot of racism, there is still a lot of segregation whether it's in front of you or behind closed doors and this show helps us reveal the way we feel about it as a culture. So I do think this show will be an important piece from now until these problems finally get fixed. And I feel that it is relevant. You know someone once told me, "if it's not urgent, it shouldn't be up on stage." And I believe that this really is a very urgent piece.
Why do you think the music of The Temptations endures so many years after it was first released?
I think it's because their music is talking about real life. It's talking about love, it's talking about unity, it's talking about brotherhood, sisterhood, the trials and tribulations of life, and I think everyone can relate to at least one song in the show. Whether it's being in love with a girl, whether it's a rainy day outside and it's a tough day, but you have your brothers or your sisters or your loved ones to lift you up. Or it can even be about war, and how it's either going to fit your political views or not. So I think their music definitely hits on every part of someone's life, or at least some point in their life. Like the song "I Wish It Would Rain," it's talking about depression, and I'm pretty sure everyone has had a gloomy day in their lives. And sometimes you can listen to that song and it can really help you get through it.
Do you have a personal favorite?
You know it used to be "I Can't Get Next To You," because I love the percussion, but I've actually been thinking about this lately, and now I'd probably have to say, "Papa Was A Rollin' Stone." It's so iconic, the strings at the beginning, and Kenny Seymour has just done a great job with the arrangements. It's just so powerful. If you're in the audience you cannot sit still when that song is playing! Even if it's a tapping foot, or a head nod, or a snap or something like that. Norman Whitfield did a great job with it. And the song has a funny backstory too because the group hated it at first, well I wouldn't say hated it, but they just didn't love the song very much. And then it went on to become their number one. It's just so funny but it's also such a great song and it showcases all of the vocal parts, you have Eddie Kendricks singing high and then you have Melvin Franklin singing so low, it just showcases all the vocal parts.
What has the experience been like to work with this cast and creative team?
So I can just say that I am completely grateful for all of them. I don't know if you can tell on stage, but we are having a blast. And when we leave the stage we are still having a blast. I am probably belly laughing on stage twice a night and off-stage twice a night. It's just a family and I could tell it was special by the workshop because we would talk to each other even outside of rehearsal. We were calling each other like a genuine family and we are able to give each other criticisms, we're able to laugh, and we're also able to give each other praise, and I think that started from the top down. Dominique really infused family and roles and culture into the piece, and so did Otis [Williams], he really wanted us to be a family. And then that trickles down to Des and Sergio [Trujillo] and what they expected of us. And then with that expectation, Derrick [Baskin] held everyone together, he made us accountable for each other and he also encouraged love. We have a prayer circle every show, five minutes to curtain everyone prays, and it's just incredible. It's almost like church. I've never really seen a cast be such a strong family like this, and I'm honored to be a part of it.
What was it like to make your Broadway debut in AIN'T TOO PROUD?
So I remember that first we prayed, and then my cast mates just told us to breathe and I breathed and I breathed as much as I could. And they said, 'You got this, you were picked, this is Divine will and you are here in this moment because you are supposed to be in this moment, so own it." And I remember stepping out on stage, with the butterflies and the shakes, and then that final bow, I just broke and Jeremy [Pope] was actually there holding me up as I wept. See, I'm about to cry again now! So it was beautiful, it was just so beautiful.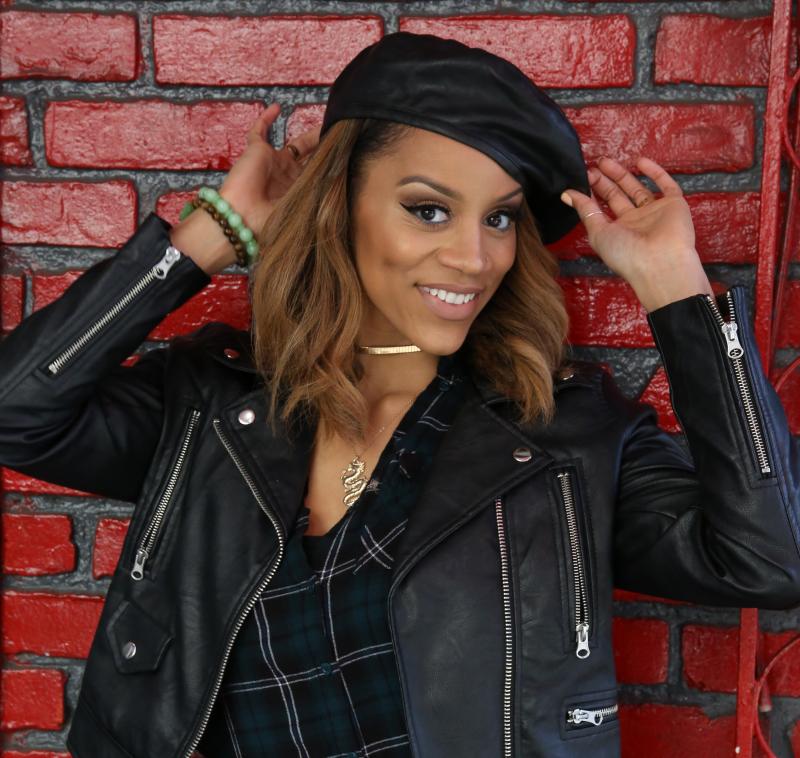 BroadwayWorld congratulates Taylor Symone Jackson on her Broadway debut in AIN'T TOO PROUD. Her regional credits include AIN'T TOO PROUD (Berkeley Repertory Theatre) THE WIZ (Oregon Shakespeare Festival) and SHAKIN' THE MESS OUTTA MISERY (Spellman College). Her New York credits include BECOMING DAVID (Playwrights Horizons) and VIVA LAS VEGAS (AMDA). TV credits include My Parents, My Sister & Me, The Game, and Born to Dance.