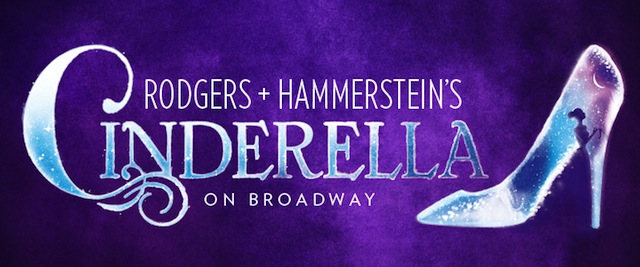 Click Here for More Articles on CINDERELLA THE MUSICAL
TDF to Bring 450 Deaf or Hard-of-Hearing Students to CINDERELLA, 10/30, 11/6 & 13
Over 450 elementary and secondary school students who are either deaf or hard of hearing from 17 schools in the tri-State region, will attended one of the next three Wednesday matinee performances of the hit musical Rodgers + Hammerstein's Cinderella. Three upcoming matinee performances (October 30, November 6 and 13) of the show will be simultaneously sign language interpreted and open captioned by TDF's Accessibility Programs (TAP), which is bringing the students with mild to severe hearing loss to the theatre through their "Access for Young Audiences" program. Additionally, earlier this month, TAP brought 100 students who are blind or have low vision to the Wednesday matinee performance on October 9, which featured audio description.
By the time the students attend their performance, TDF will have sent a teaching artist to each class to provide a workshop in preparation for their theatre outing. "Access for Young Audiences" is provided at no cost to the school or the students.
"We're thrilled to begin our eighteenth season of 'Access for Young Audiences' with the Broadway production of Cinderella," said Lisa Carling, TDF's Director of Accessibility Programs. "The show will provide a wonderful gateway to the theatre for these children for whom Broadway has, until now, been completely inaccessible. For these students, the ability to attend live performance is often a life-altering event."
Approximately 150 students from the following schools will be attending each of the three upcoming performances. They are from the following schools:
October 30, 2pm: John Hancock Elementary School (Philadelphia, PA), Mountain Lakes HS (Mountain Lakes, NJ), ER Murrow HS (Brooklyn, NY) and St. Joseph's School for the Deaf (Bronx, NY)
November 6 at 2pm: New Jersey School for the Deaf (Trenton, NJ), Katzenbach School for the Deaf (West Trenton, NJ) and Middle College HS (Long Island City, NY)
November 13 at 2pm: NY School for the Deaf (White Plains, NY), Martin Van Buren HS (Queens Village, NY), PS347 (New York, NY) Midland Park HS (Midland Park, NJ) and Westinghouse HS (Brooklyn, NY)
ABOUT OPEN CAPTIONING: Open captioning, which TDF introduced on Broadway in 1997, is more inclusive of all hard-of-hearing audiences than traditional sign language interpretation. Through open captioning, an electronic text display, placed on the side of the stage, shows what the actors are saying or singing and describes sound effects on stage, simultaneously with the performance.
ABOUT "ACCESS FOR YOUNG AUDIENCES": Theatre Development Fund's Arts-in-Education program for elementary and secondary school students with hearing or vision loss in the tri-State area. The program falls under the umbrella of TDF's Accessibility Programs (TAP) and provides access to the theatre for these mostly first-time theatergoers by simultaneously providing sign language interpretation and open captioning at performances of Broadway productions for students with hearing loss and audio description services for those with vision loss.. Prior to attending the performances, TDF provides a teaching artist who meets with the students in their classrooms for a pre-performance workshop. This program is offered by TDF to schools at no cost. Since it was founded in 1995 with special sign language interpreted performances of Disney's Beauty and the Beast, Access for Young audiences has reached over 15,000 students who are deaf or hard of hearing or who are blind and have low vision from 34 different schools in the New York area. To see a short, 2 minute video on the program from TDFStages click here: http://bit.ly/1bWYvLM. For more information, please contact TDF's Accessibility Department at: tap@tdf.org (212) 719-4537, TTY • (212) 768-1563, FAX • (212) 221-1103, VOICE • or on our Web site, www.tdf.org.
RODGERS + HAMMERSTEIN'S Cinderella is the Tony Award-winning musical now in its 9th month at the Broadway Theatre (1681 Broadway). Cinderella has music by Richard Rodgers, lyrics by Oscar Hammerstein II, a new book by Douglas Carter Beane and original book by Oscar Hammerstein II. The musical is directed by Mark Brokaw. Josh Rhodes is choreographer. Music adaptation, supervision and arrangements are by David Chase. Orchestrations are by Danny Troob. Andy Einhorn is music director and conductor. Leading the cast of RODGERS + HAMMERSTEIN'S Cinderella are Laura Osnes as Cinderella and Santino Fontana as the Prince, Three-time Tony nominee Rebecca Luker as Marie the fairy godmother, Tony winner Harriet Harris as Madame, Cinderella's stepmother; Ann Harada as stepsister Charlotte; Marla Mindelle as stepsister Gabrielle; Peter Bartlett as Sebastian, Prince Topher's mentor and Lord Chancellor, Greg Hildreth as the rebel Jean-Michel and Phumzile Sojola as Lord Pinkleton.
Theatre Development Fund, a not-for-profit service organization for the performing arts, was created in the conviction that the live theatrical arts afford a unique expression of the human condition that must be sustained and nurtured. It is dedicated to developing diverse audiences for Live Theatre and dance, and strengthening the performing arts community in New York City. Since 1968, TDF's programs have provided over 85 million people with access to performances at affordable prices and have returned over $2.2 billion to thousands of productions. Best known for its TKTS Discount Booths, TDF's membership, outreach, access (including its newly formed Autism Theatre Initiative) and education programs - as well as its Costume Collection - have introduced thousands of people to the theatre and helped make the unique experience of theatre available to everyone, including students and people with disabilities. Recent TDF honors include a 2011 Mayor's Award for Arts and Culture, a 2012 Tony Honor for Excellence for its Open Doors Arts Education Program, a 2012 New York Innovative Theatre Award for its support of the off-Off Broadway community and a 2013 Lucille Lortel honor for "Outstanding Body of Work" in support of the Off Broadway community. For more information go to: www.tdf.org.
Photo Credit: Carol Rosegg