Rodgers + Hammerstein's Cinderella - 2013 - Broadway
Rodgers + Hammerstein's Cinderella is the Tony Award-winning Broadway musical from the creators of South Pacific and The Sound of Music that's delighting audiences with its surprisingly contemporary take on the classic tale. This lush production features an incredible orchestra, jaw-dropping transformations and all the moments you love - the pumpkin, the glass slipper, the masked ball and more-plus some surprising new twists! Be transported back to your childhood as you rediscover some of Rodgers + Hammerstein's most beloved songs, including 'In My Own Little Corner,' 'Impossible/It's Possible' and 'Ten Minutes Ago' in this hilarious and romantic Broadway experience for anyone who's ever had a dream.
"The ultimate and most enduring of makeover shows is back in town, and this CINDERELLA is no passive damsel waiting for a rescuing knight. She takes charge of her destiny."
-The New York Times
"EYE-POPPINGLY OPULENT enough to wow any six-year-old at heart!"
-The New Yorker
Video preview
Photo preview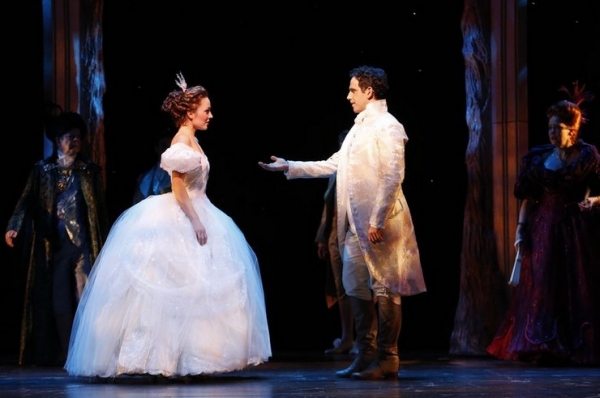 Schedule
Running Time: 2 hours and 20 minutes, with one intermission
Featured Reviews For Rodgers + Hammerstein's Cinderella
Is Cinderella Enchanted? My Review - Village Voice
Rodgers and Hammerstein's Cinderella--which originated as a light and lovely 1957 TV special--has been fleshed out with theatrics, jokes, a political subplot, puppets, extra songs, and anachronisms. The result is an unwieldy but crowd pleasing concoction that ends up being reasonably entertaining despite its jarring multiple tones.
Gowns From the House of Sincere & Snark - New York Times
To my surprise the Academy Awards came to mind quite often as I watched this glittery patchwork of a show...It wasn't just the parade of big-skirted, Technicolor dresses in the ball sequence that inspired such reflections, or the presence of a fairy godmother (poor Victoria Clark) in a humped, sparkly number that would have sent Joan Rivers into overdrive. No, the main and most affecting parallel is how these two productions were confronting the knotty problem of being both traditional and up to date in a culture that has no tone to call its own.
Rodgers + Hammerstein's Cinderella Broadway Cast