Rodgers + Hammerstein's Cinderella - 2013 - Broadway Tickets, News, Info & More
Rodgers + Hammerstein's Cinderella is the Tony Award-winning Broadway musical from the creators of South Pacific and The Sound of Music that's delighting audiences with its surprisingly contemporary take on the classic tale. This lush production features an incredible orchestra, jaw-dropping transformations and all the moments you love - the pumpkin, the glass slipper, the masked ball and more-plus some surprising new twists! Be transported back to your childhood as you rediscover some of Rodgers + Hammerstein's most beloved songs, including 'In My Own Little Corner,' 'Impossible/It's Possible' and 'Ten Minutes Ago' in this hilarious and romantic Broadway experience for anyone who's ever had a dream.
"The ultimate and most enduring of makeover shows is back in town, and this CINDERELLA is no passive damsel waiting for a rescuing knight. She takes charge of her destiny."
-The New York Times
"EYE-POPPINGLY OPULENT enough to wow any six-year-old at heart!"
-The New Yorker
Video preview
Photo preview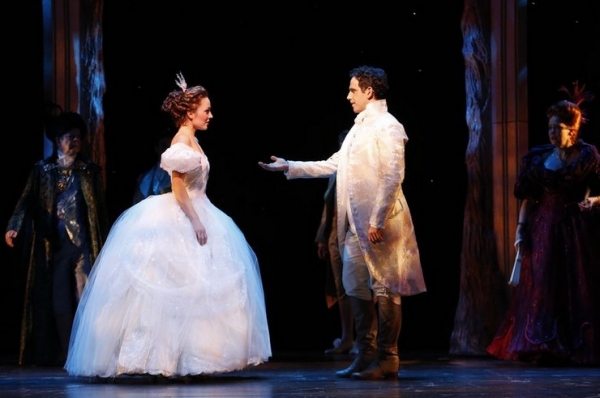 Schedule
Running Time: 2 hours and 20 minutes, with one intermission
Featured Reviews For Rodgers + Hammerstein's Cinderella
Heavy themes make this 'Cinderella' too slippery - Chicago Tribune
The fundamental problem with Douglas Carter Beane's perplexing, wholly unromantic and mostly laugh-free new book for this Broadway "Cinderella" - which turns the heroine into a social reformer like a better-looking Jane Addams, the stepsisters (Marla Mindelle and Ann Harada) into sympathetic, wounded creatures of thwarted desire, and Prince Charming (Santino Fontana) into a myopic dunce who needs his eyes opened to the poverty of his people - is that it denies the audience the pleasure of instant reversals of fortune....Not for the first time, Broadway wants it all ways - the hip and the retro, romance and self-aware sniping, Rodgers and Hammerstein melodies and atonal satirical jabs, a golden title for family audiences and yet something else entirely once their credit cards have been charged.
Theater Review: Rodgers & Hammerstein's Cinderella - NY Magazine
Beane's book is good-humored and well-tempered, and it stops just short of attempting too much. Why bother with a Chomsky exegesis here? Cinderella may not be an infinitely interpretable text-Beane's always on the razor's edge of ridiculousness-but every age is entitled to its own stock fantasies. Rodgers & Hammerstein's (and Beane's and Brokaw's) Cinderella is as solidly entertaining a commercial proposition as they come, featuring one of Broadway's finest ensembles and what might be its couple of the year: Just a couple of regular folks, the soul-searching blue-blood and the enchanted-orphan, trying to get along, and getting along rather well indeed.
Rodgers + Hammerstein's Cinderella Broadway Cast