Sumayya Ali Joins Cast of F. Scott Fitzgerald's THE DIAMOND AS BIG AS THE RITZ Reading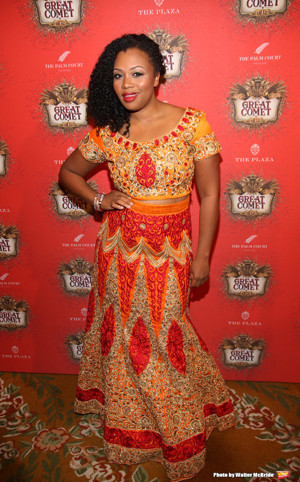 Sumayya Ali (Great Comet, The Gershwins' Porgy and Bess) joins the cast of the reading of F. Scott Fitzgerald's The Diamond as Big as The Ritz, (www.theritzmusical.com) at 7pm, Monday, June 18, and 1PM Tuesday, June 19 at the Dramatists Guild Fund's The Music Hall, 356 W. 40th St., 2nd Floor.
Other cast members include James Seol (KPOP, Nomination, Outstanding Lead Actor), Carol Angeli (Miss Saigon revival, Here Lies Love), Reji Woods (Rocktopia), and Cooper Grodin (Phantom and Les Miserables tours).
Set to the rhythms of early 20th century music, F. Scott Fitzgerald's comic novella is told through the eyes of foreigners seeking to immigrate to the U.S. With Fitzgerald's deliberate satire involving impossibly wealthy Americans and the author's cavalier treatment of race issues, the story takes on an edgy, engrossing perspective. A multi-ethnic cast of five actors bring to life characters from the present and the 1920s.
Directing the reading is Aaron Galligan-Stierle, whose directing credits include The Tempest at Sacramento Theater Company, Under the Bodhi Tree at the Royal Family Theater in Times Square, Dr. Seuss' How the Grinch Stole Christmas at The Grand Old Opry and Madison Square Garden (Associate Director), and Twelve Angry Men and Charlie's Aunt at the Utah Shakespeare Festival (Associate Director). Cody Dry is music directing.
The Diamond as Big as The Ritz features music and lyrics by Seth Bisen-Hersh and book and additional lyrics by R.C. Staab. Among his many projects, Bisen-Hersh has written Love Quirks (three-week NYC run), Stanley's Party (Manhattan Children's Theatre) and More to Love (WVMTF Award winner for Best Lyrics), over 200 cabaret songs and three books. Staab's musicals and plays have been produced in New York, San Francisco, Madison and England and include Dumb Luck, winner of the TRU Voices New Musical Series 2017 and How The Westons Won, earlier this year at presented at NYFA's Professional Conservatory of Musical Theatre.
"The Diamond as Big as the Ritz" was previously workshopped in November 2017. A new framework and songs have been added for this reading.
Admission is free but seating is limited. Reservations are required. To RSVP email: rcstaab@me.com .
Photo Credit: Walter McBride / WM Photos