Click Here to Visit the College Center

Blogs are the opinions of the authors and do not necessarily reflect the opinions of BroadwayWorld. BroadwayWorld believes in providing a platform for open and constructive conversation.

Student Blog: Ok, See You!
Kim's Convenience is one for the history books.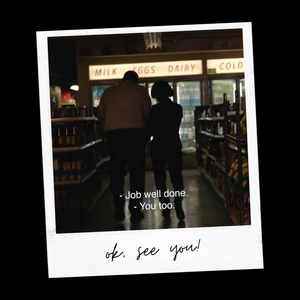 On the 13th of April, one of the greatest shows of all time ended. I am sure it has happened before but honestly; this was the first time I have ever seen a show get renewed for new seasons and then watch the showrunners or writers opt to end it before even attempting a proper final season which was gifted to the show.
Kim's Convenience is one of the greatest shows of all time. This show has heart, comedy and representation. And I bet you didn't even know it was a stage play first. Why can't we have nice things? This show meant so much to so many. It represented Asian immigrants and just Asians in general. As a half Chinese child, I related a lot to Janet in particular. Janet dealt with a lot in the show and I related so much to her.
Janet was the second-born, relatable. Janet was into art, lowkey relatable - theatre and photography, close enough. Janet didn't feel "Korean enough" around her cousin, relatable. Her parents basically favoured her older sibling over her, relatable. The only major difference is that Janet had the brains and I do not, oh and she had like a million love interests and in my almost twenty years, I have had zero but anyways.
There was something in the show for everyone.
I have seen what has been happening specifically in America with all this Asian hate. I think if there was ever a time for a show to continue, it would be now and it would be Kim's Convenience. This show showed the world how people of any race and sexuality can live together in harmony, believe it or not. I have genuinely lost an interest of going to America again out of fear of what could happen.
I think Kim's Convenience is a great show that has been given an untimely death sentence. Life imitating art, really. All the people who have died due to COVID, a shortened life. All the people who have lost their lives to Asian hate or any race-based attack. For me, it is really ironic that a show rooted in Asian culture and community has been abruptly ended for reasons unbeknownst to me while all of this Asian hate is occurring.
Don't get me wrong, I don't think by any means it was cancelled for race-related issues. But then again only the cast and crew would know.
But all the chaos aside, I am sad to see this beloved show go. This show helped me while I was alone at res, away from my family. I would watch it every night to calm myself down. I think I have rewatched the show eight times, at least.
So, to the actors: Thank you for representing our community. Thank you for telling this story. Simu Liu, thanks for representing the Chinese people. We had a joke where we would say,
"Oh! Jung got kicked out because his dad found out he was Chinese".
Words cannot express how much love I have for this cast, I love every single cast member, as if I know them...
Paul Sun-Hyung Lee, you have my heart, kind sir.
I am sure the crew are as amazing as the talents that are on screen, made respect for you guys.
To the writers, I hear it was your decision to end the show...
Lowkey angry, but I get it - I think, maybe. Just know we appreciated the time you gave us and as much as we will miss it, it's your loss. But seriously, thank you for this piece of art that you created. It was great for the time that we had so thank you for putting these stories out there.